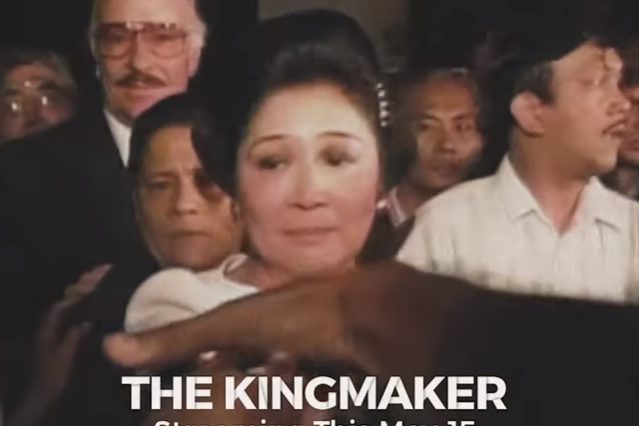 Today (May 15) was supposed to be the day "The Kingmaker" would premiere on iWant, but director Lauren Greenfield said it will be postponed to a later date.
"ABS-CBN just informed us of their decision to postpone today's broadcast of ['The Kingmaker'] on iWant to a later date," said Greenfield in a tweet to Preen.ph. For now, people can get the documentary via Vimeo on Demand and iTunes.
ABS-CBN just informed us of their decision to postpone today's broadcast of THE KINGMAKER on iWant to a later date. As such, we are making the film available immediately on TVOD to all via Vimeo at https://t.co/bEpTduK8cg and on Apple TV at https://t.co/kj3vdpEnTA

— Lauren Greenfield (@lgreen66) May 14, 2020
"The Kingmaker" is a documentary that explores "the Marcos family's long history of corruption, extravagance and brutality." It also revolves around the 2016 elections and how former first lady Imelda Marcos helped her son Bongbong Marcos in the race. (Leni Robredo won that year and Bongbong accused her of cheating.)
In a press conference last year, Greenfield said Marcos would often defend her family's history amid the controversies they faced. "I think she's extremely confident about her story, her place in history and her legacy and that's what I wanted to hear from her."
***
Originally posted on May 11, 2020
"The Kingmaker," a documentary and biopic about Imelda Marcos will debut exclusively in Filipino streaming service, iWant this coming Friday, May 15. Written and directed by Lauren Greenfield, the documentary chronicles the political career of Imelda Marcos, her efforts to salvage the Marcos family's reputation after the First People Power Revolution and her family's eventual return to politics.
In an interview on Amanpour and Company, Greenfield says that Imelda Marcos "wants to be a star in the dark of the night for the poor. It's about being that queenly figure that [brings] her love and adoration from the people."
The film debuted internationally in the 76th Venice Film Festival last August 2019 and premiered at the Cultural Center of the Philippines last Jan. 15, 2020.
Aside from that, the documentary earned nominations from the London Film Festival and Stockholm Film Festival. The film also won in last year's Critic's Choice Documentary Awards, taking home the award for Most Compelling Living Subject of a Documentary. It also bagged the Audience Award for Best Documentary Film at the Warsaw International Film Festival 2019.
Streaming service iWant describes the film as "an illuminating examination of Imelda Marcos' life and legacy." The film features accounts from Imelda Marcos herself, her family's political rivals like Leni Robredo and former President Benigno Aquino III, Martial Law survivors as well as select journalists.
Catch the documentary that unveils Imelda Marcos' version of history for free on iWant this coming Friday.
Photo courtesy of ABS-CBN PR
Follow Preen on Facebook, Instagram, Twitter, YouTube, and Viber
Related stories:
'The Kingmaker' director compares the Marcoses to the Trumps
#NeverForget the violence against women during the Marcos regime
Don't let anyone change martial law history—not even the Marcoses
Disinformation nation: The ABS-CBN shutdown is a suppression of truth