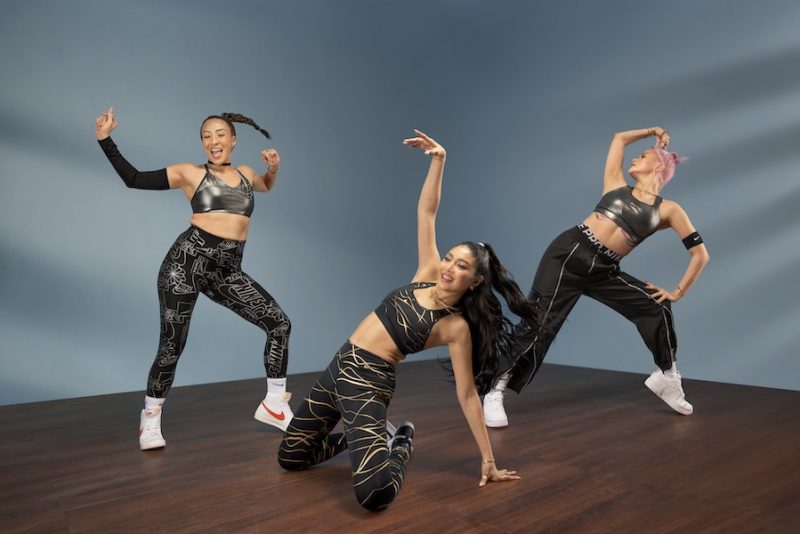 Dance is an art, but also a sport. It's fun and invigorating, but it's a tool for empowerment and social change as well. There's something so exciting about where dance is headed, and how it can transform a person. "Dance is about what's happening in the world as much as it's about the poetry of bodies on a stage," says a recent ​New York Times article.
If there's any activity that all Filipinas should start doing, it's dancing. It's empowering, and helps unlock your inner fierceness—even if you think you don't have one—when you give in to the moment and express yourself. It doesn't matter why you're dancing, if it's for fitness, mental clarity, emotional stability, or even just for fun! It's both a profound and joyous way of expressing yourself when words are insufficient; a medium where you can show who you really are and who you can be.
That's why Nike, a champion of sports for women, is bringing together the dance community and inspiring a new generation of athletes by giving women a platform to share their stories about dance and how it has empowered them. This month, they're running the You Can't Stop Us Camp, a month-long series of virtual masterclasses and workout sessions focused on dance hosted by female icons. I sat down with the dance catalysts to talk about the empowering and transformative nature of dance.
Nadine Lustre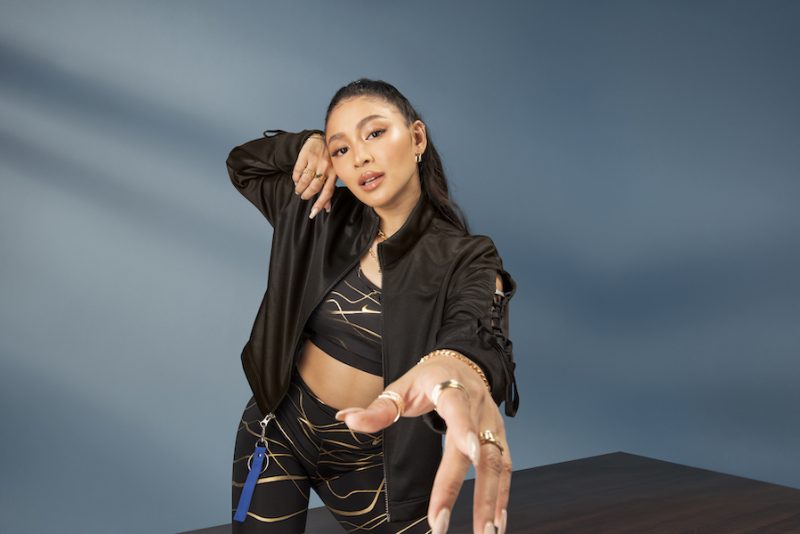 Nadine Lustre is a household name. Everyone knows her, whether by her acting, music, business or advocacies, and her name carries a certain social cache and influence that can't be replicated. Don't believe me? She's not really on the internet, but the internet has claimed her as its president. That's incredibly impressive, and if she was one to flex (she isn't), that would be the biggest flex of all.
Nadine has been on stage and onscreen longer than most of her peers. In fact, she started performing in public when she was eight, for a variety show called "Storyland." "As a kid, dancing is one of the things that I loved doing," she says. "Performing gives me this rush."
Though more people know her as an actress now, she says her heart belongs to singing and dancing, "because [performing] gives me a different rush… I get to express myself. I get to express who I really am."
What does Nadine consider a life-changing moment for her? It might surprise you, but she says it was when she auditioned and got accepted for a girl group she was part of from 2009 to 2012. Training with the group taught her perfectionism and gave her the strong work ethic she has now. "It really taught me how to be disciplined, because when you dance, you really have to give your all."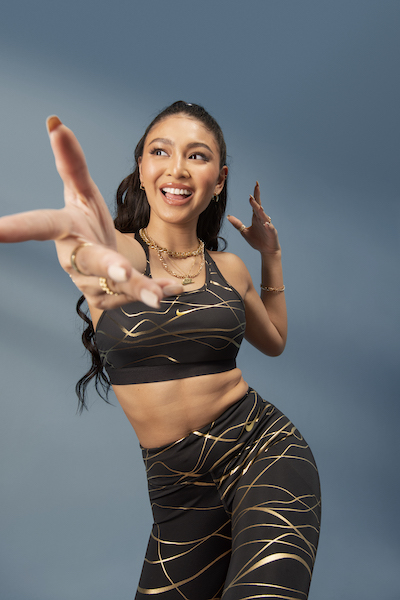 Perfectionism-aside, she wishes that she had known how important it was to let go when she was younger. She recalls that she used to have a hard time dealing with making mistakes while performing, but she's since realized that "it doesn't matter if you mess up as long as you're having a good time like everyone else. [If you mess up] when you're in the moment and enjoying the performance, it won't translate because you're owning the stage."
Dancing also helped pull Nadine out of a dark point in her life. Stepping away from the limelight, she sat herself down and dealt with "all the issues in my life I [had] never really dealt with." And about time, too. "I would always put it aside and deal with [it] later but eventually it all started building up, and came to a point when I would just break down. It came to a point when I didn't know how to feel… I kinda forgot who I was."
Stepping away was not easy. "I was confused about what I wanted to do, how else to express myself. I didn't have any backup." But dancing and music helped Nadine find her way again. It's probably because "dancing and music [really are] a form of self-expression," and thus allowed her to find herself. "I am my truest self when I am dancing," she says.
Madelle Paltu-ob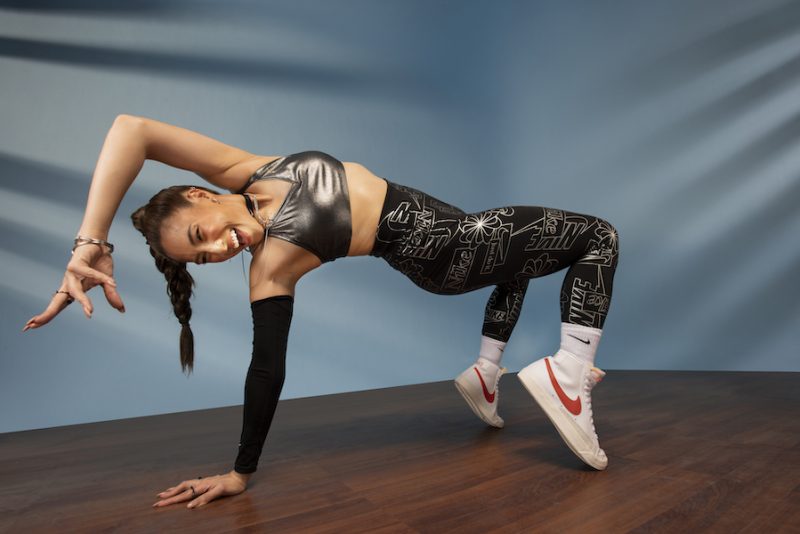 "It wasn't a decision, it was a calling," says Madelle Paltu-ob about the start of her dancing career. The seemingly spiritual response might sound surprising, coming from a former member of the now-legendary dance crew Philippine All Stars, which took the international hip hop dancing scene by storm and shot the rep of Filipino dancers to dizzying new heights. But the woman has always been sharp-eyed about her role as teacher and a community builder in dance.
Dancing didn't come early for Madelle, but when it did, it changed her life. "There wasn't any direction. There was this girl who didn't know who she wanted to be," she says. When she joined an all-girl dance group in college, she found that direction and fell in love with the craft and the training that came with it. "I was addicted to training," she adds, laughing.
"I just love the connection that's shared when we dance," says Madelle, adding that there's so much acceptance and encouragement that comes when "you express yourself" with other dancers. It's something that comes naturally to dancing. "You can't dance alone forever. Dance is meant to be shared."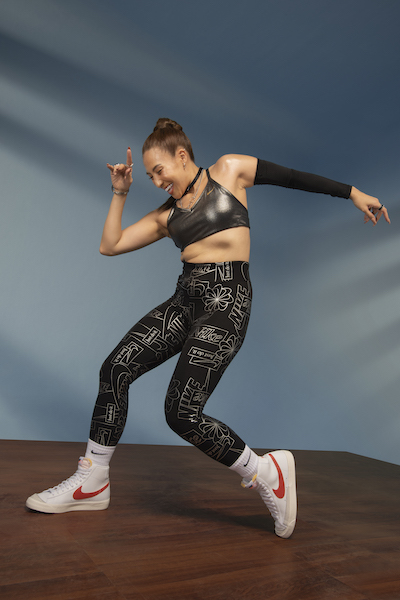 Talking to Madelle gives one a sense of her deep desire to build up other dancers. "My greatest success is seeing other people succeed. That brings me so much joy and accomplishment," she says, recounting how she would organize local dancing competitions to be able to bring the winners to other contests abroad, despite this not being financially sound. "The change in the community" itself was worth it, she says. "I'm just so happy and honored to be part of it."
Building up the community is so important to her now since it played a huge hand in her own growth. Before All Stars, Madelle became part of the national hip hop team when she was 19. "It opened doors for me," she says. "[I want to] give the same opportunity to other dancers."
It's especially important to build a community of women dancers, she says. "I surrounded myself with women who believed in me," she reveals, adding that she believes it's important to curate "a safe space where [women dancers] can be themselves." It's important that female dancers "lift each other up."
AC Lalata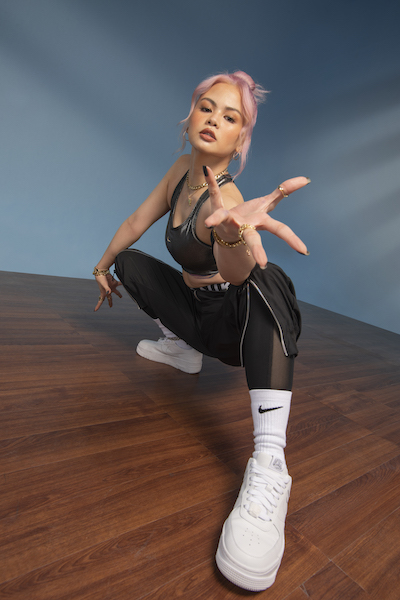 AC Lalata, another former member of All Stars, knew she wanted to be a dancer even as a kid. "I just wanted to perform and be one of my idols. I always imitated the artists [on TV]. I always wanted to be like [them.]"
This eventually carried over to her, as a young dancer, looking up to the All Stars crew. "I wanted to have stage presence like them." Joining the team was a life-changing experience for AC, as hard as it was, being the youngest member on the team. "My knowledge [of dancing] was just 10%… I learned a lot. [The team] unlocked my own character." That's not to say it was easy; "growing up with them was hard," she says.
One of the biggest challenges she faced as a dancer is overcoming the Boys' Club nature of dance which drove her to always do better. "Dancing beside the boys [was a challenge]. The boys outnumber the girls. We have to move and be 200 percent at all times."
Being in solidarity with other female dancers is important—but you need to share a common goal and be able to communicate well and respect each other, she says. "If there are a lot of strong women [in the same room], it [can be hard to communicate]. But as long as you have the same goal, it's okay."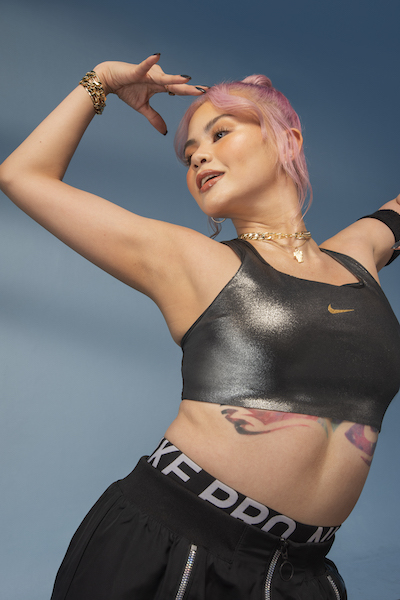 It may surprise many, but AC says she is actually pretty shy in real life. She recounts how embarrassed she was to receive compliments. "On my first day in class, I didn't know the [Philippine All Stars] were eyeing me. I remember clearly [how] this girl, one of its members, came in and interrupted the class and just gave me compliments… I didn't know what to do, I was really red. I wanted to bury myself."
Dancing is her outlet, her way to bring herself out of her own shell, she says. "I'm really, really shy. I use dancing to express myself more," she explains. In her head, she imagines it like having her own Sasha Fierce, a different AC she gets to unlock by performing. "I don't know her name, but I know she's strong and fierce in front of thousands of people." That persona doesn't only come out when she's on stage—"I get to unlock her when I dance in front of the TV or even when we have workshops," says AC.
Like Madelle, she values being able to open doors for the younger generation. "I want to be that bridge to their success. If they're successful, then I'm good." As a teacher, AC wants to help other fledgling dancers unlock their inner fierceness. She conducts at least one free workshop every year. "[I don't only] teach choreography. I teach students to embrace themselves, to move outside the box, to unlock their inner selves. I'm really happy [being] able to witness a lot of people overcome their fear, their shyness, because I've been through that. I was them before [all this]."
Niana Guerrero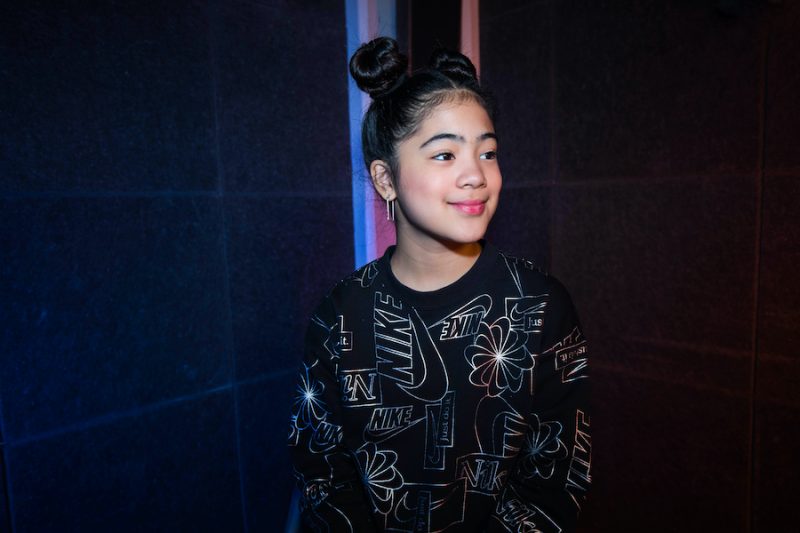 Niana Guerrero is the youngest performer in this group. At just 14, she's cultivated a following with her older brother Ranz. But her brother isn't just her YouTube dancing partner, he was her first teacher. "When I was three to five years old, I would see my brother dance [and he would teach me how to dance with him]."
What drove her to dance? "Dance expresses who I am as a person. If words aren't enough, dancing allows me to express myself, to clear my mind with anything that's troubling me. [It] allows me to let go and enjoy the moment of the movement," she says. Unsurprisingly, she likes freestyle dancing the most because of this. "Freestyling is just whatever, you're not thinking about anything, you're just moving."
As a young dancer, Niana looks up to a lot of dance idols—she calls them her lodis. "There are a lot of dancers I look up to, so many I couldn't name them. Here in the Philippines, there's Matt and AC, but there [are] still many others." And though she's currently just going with the flow, Niana knows what she wants to do when it comes to dancing. "I'm learning new styles, [improving] my [dance] vocabulary," she says.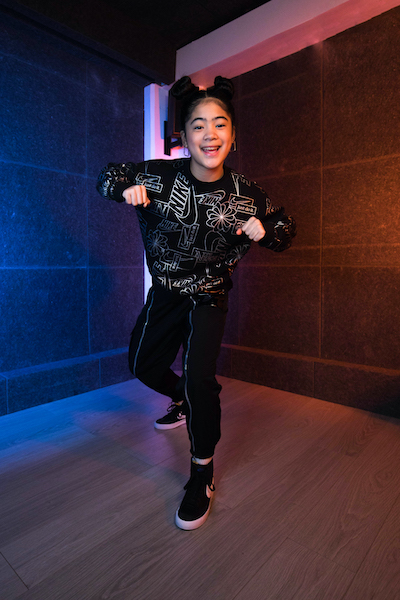 "Keep pushing," is a mantra Niana says both to herself and to other aspiring dancers to push past their personal limits. "If you really like dancing, don't give up. If you fail, keep on failing until you succeed." It's a piece of advice that she received from her parents who've given her so much support, fueling her drive to keep doing what she's doing. It's the same advice she gives to other dancers who might not have the same kind of parental support or are otherwise facing different challenges: "Don't give up and always find a way to pursue your passion. The important thing is to push past any obstacles or challenges." No matter your age, Niana believes that dancing can provide the positive energy you need to do just that.
Dancing is empowerment
Dancing is powerful. As in AC's case, it can help unlock your inner badass or, like Nadine, it can help you find yourself. It's not just an inner power, either. Dancing builds communities and fosters connections with others. Like what Madelle said, that's probably because dance, at its very core, is meant to be shared. And when you dance with others, you're partaking in a different kind of language, a physical language that transcends the need for words. It doesn't matter where or who you are, nor who you're dancing with: When you're dancing together, you're moving as one.
If you want to start your own dance journey, you can check out Nike's ​You Can't Stop Us Camp to get started on the basics of dance and to connect with the rest of the dance community. Nadine, Madelle, AC and Niana will all be hosting a class, as well as fellow dancers Kristal Bermudo, Xyza Ragunja and Elly Burgonio. Chi Gibbs, co-founder of Neon Island, will also be doing a workshop on upcycling clothes, while yoga instructor Jen Martinez and Filipino Taekwondo champion Pauline Lopez will be co-hosting a session of Inside Flow Yoga—"an evolution of Vinyasa Yoga where music and choreography come together in unity." These will all be happening via Zoom Live.
Featured photos courtesy of Nike
Follow Preen on Facebook, Instagram, Twitter, YouTube, and Viber
Related Stories:
Watch the queer slaysians of radical dance party Bubble_T
The House of Mizrahi and Elephant talk Philippine ball culture in 2020
This is how Taekwondo athlete Pauline Lopez empowers women
Nadine Lustre says you weren't the only one scammed by water kisses