Warning: Spoilers ahead!
If you've ever told someone or yourself, "Di ko afford makipag-date," then you may just find yourself crying while watching "Third World Romance" by director and screenwriter Dwein Baltazar ("Oda Sa Wala," "Gusto Kita With All My Hypothalamus"). 
And I don't mean can't afford to fit a relationship into a busy schedule but can't afford to literally buy happiness when the combined suckerpunch of soaring bills, prices of basic commodities, and debt leave you in despair and an empty bank account.
But don't worry, it's not defeatist or dehumanizing. No self-respecting rom-com would be. At the heart of it is the assertion that everyone has the right—the right to receive ayuda during a pandemic, the right to not be exploited at work, and the right to love. Dating discourse be damned. 
Girl meets "Mr. Medyo lang" manic pixie dream boy 
The film starts with a classic meet-cute, except it's not exactly cute. Similar to DonBelle's "An Inconvenient Love," the two main characters don't meet in the best circumstances, which helps set the tone of its politicized narrative.
In the film's opening, Charlie Dizon's outspoken Polytechnic University of the Philippines dropout Britney "Bree" Gatmaitan enlists the help of Carlo Aquino's laid-back grocery bagger Alvin "Vin" Tolentino to "steal" ayuda seemingly being hoarded by their local government unit. Bree contends that it's not stealing because they deserve to receive aid during the pandemic as taxpayers. She also badly needs it so Vin hands her most of their loot because he only needs it "medyo lang."
It wasn't as obvious in the first few scenes that Vin is a manic pixie dream boy or MPDB—a term Anna Breslaw coined in 2015 to describe "the self-mythologizing 'free-spirited' dude who's determined to make [the female protagonist's] life magical, whether [they] want it or not." After all, Bree has a rule-breaking streak and is shaking up Vin's own worldviews by being her palaban self. But I clocked Vin the moment he offered his slippers to Bree and wore plastic bags on his feet, the moment he nonchalantly said "medyo lang."
Although there are contextual differences, "Third World Romance" presents a contrast in class status and/or priorities as a relationship hurdle akin to other MPDB/-esque stories. I tack on that -esque because  just like in more recent Asian iterations like K-drama "Our Beloved Summer", our MPDB isn't really a "burden" to our overworked and family debt-ridden female protagonist nor is he kuh-razy.
The Asian MPD-esque boyfriend wants his girl to understand that she doesn't have to choose between him and her job. He may not fully fathom the depth of her financial insecurities and anxieties, but he's sure that they can overcome it together. He's still there to make her see that life is about being happy and he'll feel hurt when the protagonist wavers in the face of, as the movie puts it, ang kupal na buhay na 'to.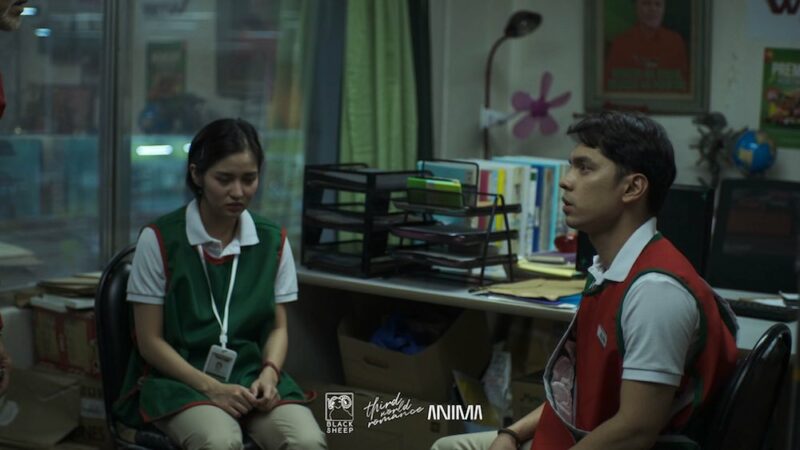 I wouldn't say I'm opposed to the Asian MPD-esque boyfriend trope. Let the girls cry and fantasize! There are worse types of boyfriends to be had. What I did wonder about was how much Vin was really making to be offering what seems like a huge chunk of his paycheck to his fairly new girlfriend. But I'm not doing the math. May grocery baggers and other low-income earners receive a significant wage hike!
Bringing social realist cinema back into the mainstream and showcasing queer family rep
What I appreciate the most about Baltazar and Jericho Aguado's ("Run To Me," "Tenement 66") script is the evident care they took into attempting to incorporate Bree and Vin's social environments and the issues they face into the central narrative.
Sure, at some points it lacked subtlety with Bree as their biggest mouthpiece. But we get the sense that these characters are part of society and the climax is an overtly political call to action. It wasn't just belatedly added to score points with the audience. 
There are clunky moments that could have played out better. There's a scene where drag queen Lady Morgana's character asks Bree, "NPA? Namundok ka, ate?" Drag queen and artist Brian Black's character quips,  "No to red-tagging" before Bree clarifies that she meant no permanent address. But to acknowledge the ongoing Philippine civil war and the unrighteousness of the government's "anti-terror" campaign in a rom-com? It's a bold move that harks back to how the Marcos Sr. and Cory Aquino era of social realist cinema normalized being political. Injecting politics in films doesn't have to look miserable.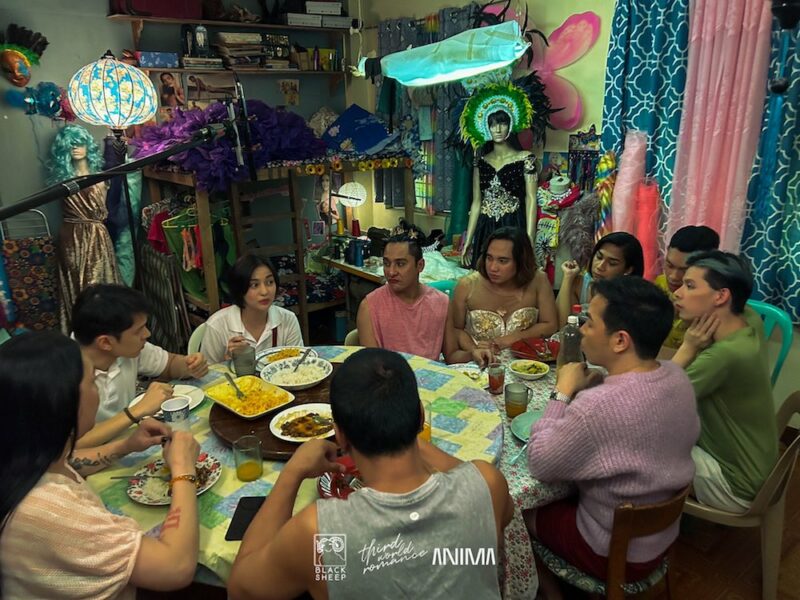 And speaking of the queens, Drag Race PH and Drag Den fans are sure to love Vin's scene-stealing modern queer family. Vin's parents are played by Iyah Mina and Gardo Versoza. Vin's "Papa" is house mother to Lady M, Black, and Esnyr Ranollo's characters. Xilhouete also appears as their tita. While their characters certainly lighten up the mood, they're not the butt of jokes and the lens isn't inviting us to gawk at them. Their family just is. 
Ana Abad Santos, Junjun Quintana, and Donna Cariaga also carried their characters with a sort of grace that I found to be such a joy to watch.
The verdict
Is "Third World Romance" worth going to the cinema for? Yes, it is.
Dizon further cements herself as a top leading lady. I felt her laughter, tears, and string of expletives. Baltazar explores a variety of interesting shots like long takes and tracking shots that make for a more immersive experience. I've already listed other reasons above.
And honestly? Watching it with a crowd makes you realize: Marami kang  kakampi, kailangan lang matapang ka. These days, we all need to hear that.
Photo from Anima Studios
Follow Preen on Facebook, Instagram, Twitter, TikTok, YouTube, and Viber