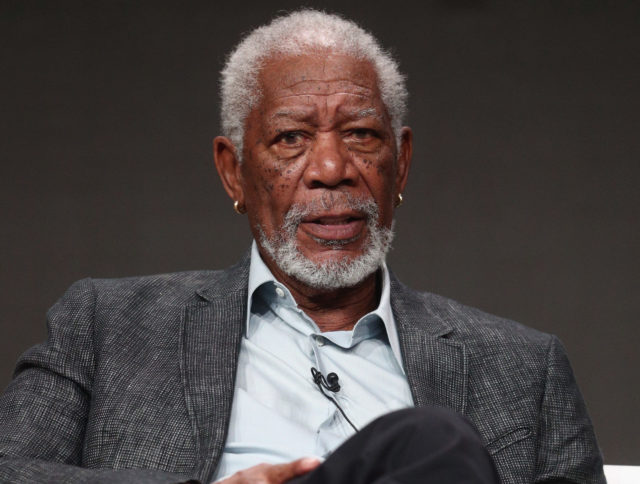 Today on well-loved celebrities who are actually disappointments: Morgan Freeman. The Oscar-winning actor, best known for his roles in Million Dollar Baby and Bruce Almighty, has been accused of sexual misconduct by eight women.
CNN broke the news with an exclusive detailing his inappropriate behavior on movie sets and even on a press junket. There's a lot to take in, but here's a quick rundown.
1. A production assistant who worked on the set of Going in Style said she was subjected to unwanted touching almost every day. He also tried to lift up her skirt, checking if she had underwear on. Alan Arkin saved her once by telling Morgan to stop.
2. Three women, including the production assistant above, claimed that Morgan would comment on their clothing and figures. "We knew that if he was coming by … not to wear any top that would show our breasts, not to wear anything that would show our bottoms, meaning not wearing clothes that [were] fitted," one woman said.
3. Three entertainment reporters also accused Morgan of saying inappropriate comments. One of them was CNN reporter Claire Melas who was told "I wish I was there" and "You are ripe" while she was pregnant at the time.
4. A former staffer at Revelations Entertainment, a company founded by Morgan, said she was flanked by him and other men in the office once. She was asked, "What do you think about sexual harassment?" After she responded sarcastically, he said, "That's how you do it."
5. Another staffer accused Morgan of constantly staring at her breasts when they would cross paths.
6. Morgan allegedly went up to an intern and started massaging her shoulders. "The intern got visibly red and wiggled out of his grasp, it was awkward," a former employee said.
And the list goes on, but the pattern is the same: Morgan openly did this where people could see. Did someone call him out aside from Alan Arkin? No, mostly out of fear to lose their jobs. Many have also alleged that co-founder Lori McCreary knew about Morgan's actions but never did anything.
Since the report broke, Morgan has issued an apology: "Anyone who knows me or has worked with me knows I am not someone who would intentionally offend or knowingly make anyone feel uneasy. I apologize to anyone who felt uncomfortable or disrespected — that was never my intent."
This is another example of how power is used to silence victims, as well as witnesses. How many others will come forward about Morgan's behavior in the future? CNN hinted that there are others who would rather not comment, so let's see how this will unfold.
[
CNN
]
Photo courtesy of Getty Images via Hello Giggles
Follow Preen on Facebook, Instagram, Twitter, YouTube, and Viber
Related stories:
Power and fame can't save sexual predators anymore
Jeremy Scott and Tom Ford are being accused of sexual misconduct
5 warning signs of sexual harassment in the workplace
Anthony Bourdain speaks up against Harvey Weinstein, more men should too