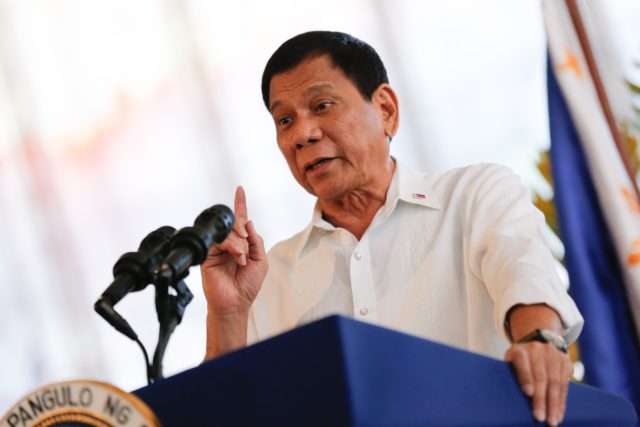 Summarizing the state of an entire nation is no easy task but presidents do it anyway. When you think about it as well, SONA day is where you will be able to see just where different members of our nation stand. From the youth sector to every other politician, someone has got something to say.
This is magnified by social media. Even if you didn't want to care, you had to as comments and memes flooded your timelines. News channels did their best to cover every angle possible, trying to predict how this day is reflective of the next few months. As the President addressed different issues such as the war on drugs, climate change, and the situation in Marawi, human rights, and the TRO on birth control, among many other issues, we also were able to address the various things we care about in our lives.
So here's where #SONA2017 found us.
When it's a Monday and the first thing you do at work is make a mental note to pick up some bleach at the grocery.
When 4 of your senators used Ariel and the rest used Brand X. Guess who's dilawan now#SONA2017 pic.twitter.com/K8jkgKGqXB

— The Diliman Files (@kwentongupd) July 24, 2017
When some of us didn't have to report to class or the office, but still knew there's still lots of work to be done.
Hundreds of PNP troops have been deployed near Batasan Pambansa in QC in anticipation of #SONA2017 protests. | @pnagovph pic.twitter.com/ceKdYg46UZ

— Angela Coloma (@angelacoloms) July 24, 2017
The feeling when you really didn't know what to expect from Pres. Duterte's speech. So you just expected the worst.
NEWS IN PHOTOS: #PresidentDuterte rehearses for one of several #SONA2017 'intermission numbers' later this afternoon. #SuperficialGazette pic.twitter.com/kFjYwQ2Ndw

— Superficial Gazette (@SuperficialGZT) July 24, 2017
When you're glad that classes got suspended but still care about education.
I'm looking forward PDU30's speech about the economy and education. Parang given na kasi yung war against drugs and martial law. #SONA2017

— Jolly Per (@jalibieber) July 24, 2017
When you wanted to make a drinking game out of the SONA but thought 4 p.m. is too early for alcohol, so you resorted to a different game.
Join our SONA 2017: The Duterte Report Shooting Game! Tara na FACT buddies, tirahan na! #DU30SOwhatNA #SONA2017 pic.twitter.com/KloSUASCG5

— yFACTph (@yFACTph) July 24, 2017
When all you wanted was to livestream the speech, but was reminded of yet another problem you wish the president would help solve.
Fast internet connection please #SONA2017

— ㅤ (@kyymaaa) July 24, 2017
When even during a major political event, you realize you watch too much Netflix.
Me: What are the odds of a Designated Survivor scenario happening in #SONA2017?
Also me: What if Bongbong Marcos is the Designated Survivor?

— Carlos Brodit (@cbrodit) July 24, 2017
When the irony got a little too thick as Pres. Duterte delivered his speech.
"I value human life" *hysteric laughter attack* #SONA2017

— Duterte Watchdog (@DuterteWatchdog) July 24, 2017
The moment Pres. Duterte mentioned the drug war again.
While watching the SONA

#SONA2017 pic.twitter.com/xDmxC7U7yl

— Ms_Dee (@MsM1995) July 24, 2017
When your eyebrows went so high up your forehead as he stopped reading from the teleprompter.
Kilay not found ??? #SONA2017 pic.twitter.com/0fpojMIATB

— arya (@_smnthxkate) July 24, 2017
When you didn't quite get what the president was talking about so you gave up a little bit.
Speech writer ni DU30 #SONA2017 pic.twitter.com/3F3YXs8JoZ

— Jai Cabajar-dashian (@jaicabajar) July 24, 2017
Your face when he started talking about Sen. Leila De Lima and challenging human rights advocates.
While listening to Du30's SONA #SONA2017

Me: pic.twitter.com/o3mcRBdvyS

— No To Martial Law (@dpgramos) July 24, 2017
When you gave up counting how many times he said a curse word.
Shout out to that one foreign representative who already took off his headset. Same gurl, same. #SONAnuna #CHONA2017 #SONA2017

— Cassie #MHActNow (@cassiedeluria) July 24, 2017
And when he was getting too angry over just about everything.
rant of the nation address 2017

— Bea (@bealegaspi_) July 24, 2017
So you're just going to give up completely.
Same #SONA2017 pic.twitter.com/h4udk67nqs

— Joshua (@ACJooom) July 24, 2017
Hey, at least you're not the only one.
#SONA2017 moodboard pic.twitter.com/AhXcGbvat3

— . (@gigavioh) July 24, 2017
When Pres. Duterte went back on-script but you got so tired from asking yourself if you heard what you actually did.
Nancy Binay at #SONA2017 is me. pic.twitter.com/DLDgoKAQGv

— Deanne (@DeanneRoseBueno) July 24, 2017
But when he talked about the lifting the #TRO on the contraceptives.
Retweeted temyuy (@temytabsy):

I am one with the President in lifting the TRO on Reproductive Health Law! #SONA2017 #RHLaw

— Denmark Pajarito (@jorgden) July 24, 2017
When you realized it's already two hours and it's still not done.
No Direction. #SONA2017 pic.twitter.com/k3Kevnwzk6

— Jai Cabajar-dashian (@jaicabajar) July 24, 2017
And so by this time, we became a little concerned for the interpreter.
From a scale of 1 to #SONA2017 interpreter, how hardworking are you?

— Breanne of Tarth (@breelimbaga) July 24, 2017
the interpreter represents the whole country right now #SONA2017 pic.twitter.com/YnYGOnShin

— ㅤ (@slothymigs) July 24, 2017
But when he finally reached the end of his speech.
Breaking: Enrile has outlived another milestone. #SONA2017

— Editors of Manila (@edsMNL) July 24, 2017
Photo courtesy of Inquirer.net
Follow Preen on Facebook, Instagram, Twitter, Snapchat, and Viber
Related stories: 
Roundup: See Heart Evangelista and Sen. Legarda's Muslim-Inspired SONA 2017 Outfits
Duterte Makes a Rape Joke in Light of Martial Law Declaration
Pres. Duterte Thinks Men Have Balls If They Rape Miss Universe Candidates
If Men Needed to Take Birth Control, the TRO Would Be Lifted ASAP
Watch: A Chilling Look at Duterte's War on Drugs