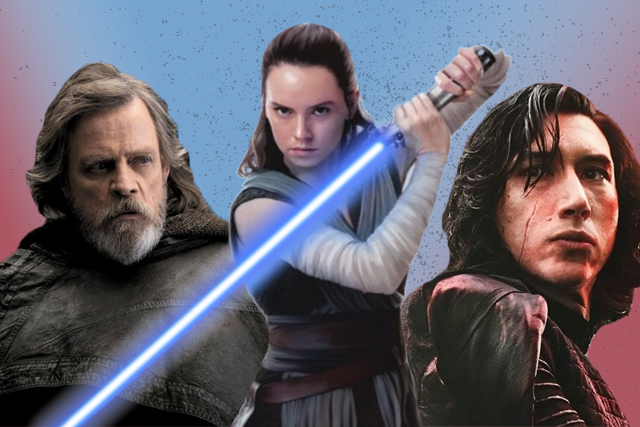 It's that time of the year again when Star Wars unites us all. The trailer of The Last Jedi has earned numerous excited reactions from fans across the globe. Meanwhile, there were also those who felt sad when they saw Carrie Fisher's last scenes. There were also those who already picked up on a few Easter eggs and pinpointed the new characters.
A lot of us here in the office are huge fans as well so we totally get it. So we're rounding up some of the notable reactions (mostly memes) and theories that netizens have been sharing for the past few hours.
#1 When you don't know whether to scream or cry for joy
I have only two moods #TheLastJedi pic.twitter.com/TN0vsnSNoq

— Anacleto. (@imtoolazy_) October 10, 2017
Yes, we relate with Chewbacca's new companion, a sea creature-bird hybrid called Porg. Isn't it cute?!
#2 Carrie Fisher's dog saw the trailer too
Of course, Carrie's dog Gary wouldn't pass up the opportunity to see his late mom. On his Instagram page, the caption read: "Just watched the new trailer of The Last Jedi and my mom looks more beautiful than ever." [Sobs]
DO NOT GO LOOK AT GARY FISHER'S INSTAGRAM UNLESS YOU WANT TO CRY FOREVER

— CanDoAnHour (@TheSickness85) October 10, 2017
#3 Lots of recall from the previous films
Count on observant netizens to notice details from the other Star Wars films. Some saw the parallel between scenes from The Last Jedi and Revenge of the Sith. They also noted how Kylo Ren is just like his grandfather, Anakin Skywalker aka Darth Vader.
Love this parallel #TheLastJedi #RevengeoftheSith pic.twitter.com/rXmfXNVsab

— Chris (@ChrisRogers1138) October 10, 2017
https://twitter.com/ComicsWthKenobi/status/917574862855725056
Another expressed his gratitude for making C-3PO gold again just like in Revenge of the Sith.
I love that we'll see C-3PO all golden in #TheLastJedi like he used to be in #RevengeOfTheSith! Thank you @rianjohnson pic.twitter.com/4EcNWmGg2v

— Thomas Storaï (@ThomasStorai) September 2, 2017
One netizen also spotted the AT-AT Walkers from The Empire Strikes Back and Return of the Jedi.
Is anyone else seeing the old AT-AT and AT-ST's in this #TheLastJedi shot? 🤔 pic.twitter.com/pX24MCz9eF

— 𝗧𝗵𝗲 𝗚𝗮𝗹𝗮𝗰𝘁𝗶𝗰 𝗘𝗺𝗽𝗶𝗿𝗲 (@ImperialBase) October 10, 2017
#4 Showing some love to the new creatures
As early as now, Porg is already popular among netizens. One even said that his seven-year-old daughter was so happy that it was around to keep Chewie company. Awww.
My 7 yr old daughter loves the Porgs in #TheLastJedi trailer, not just cos they are cute but she is pleased that Chewie isn't lonely. Bless pic.twitter.com/Qet92Y4hq8

— Dean Newman (@Loxley_1975) October 10, 2017
Another creature that's worth noting is the "ice fox" which has crystallized fur. According to Comic Book, the name and origin of the creature is still unknown. But we're betting they'll play an important role in the film.
GREAT. INSTANTLY WORRIED ABOUT THE ADORABLE ICE CRYSTAL FOXES. #TheLastJedi pic.twitter.com/CWrcpunhYX

— Jenna Quigley (@JBomb11) October 10, 2017
#5 So who's "The Last Jedi"?
The movies not even out yet but people are already making their predictions. They have a good feeling that Rey might go to the dark side especially with how the trailer ended. Plus, one noted that the Rey's poster is similar to Anakin's Revenge of the Sith poster.
https://twitter.com/MTMovieCritic/status/887679026587983873
But Cinematic Capture, an account dedicated to film and game screenshots, isn't sold on the last scene. They even put up a poll to find out if people thought it was real or an editing trick to catch our attention.
For those who have seen The Last Jedi Trailer. Do you think that last scene is real or editing trickery?

— Cinematic Captures (@CineCaptures) October 10, 2017
Or who knows? Maybe we'll get a plot twist like what this user said.
Plot Twist: Kylo Ren IS the last jedi.

Just kidding 😂 No one will know until December! https://t.co/gxkVDqY2sy pic.twitter.com/ZPaBW1Edj8

— Job E. (@_thefakebrit) October 10, 2017
So many questions and possibilities! We can't wait to finally see the movie.
Art by Lara Intong
Follow Preen on Facebook, Instagram, Twitter, Snapchat, and Viber
Related stories:
WATCH: The 'Star Wars: The Last Jedi' Official Trailer Is Now Here
'Star Wars' Actress Carrie Fisher Passes Away at 60
How to Properly Display Your Excitement for 'Star Wars: The Force Awakens'
Explore the Cosmos and Artificial Intelligence Through These Sci-Fi Shows
What Building a Lego Sculpture Taught Me About My Relationship