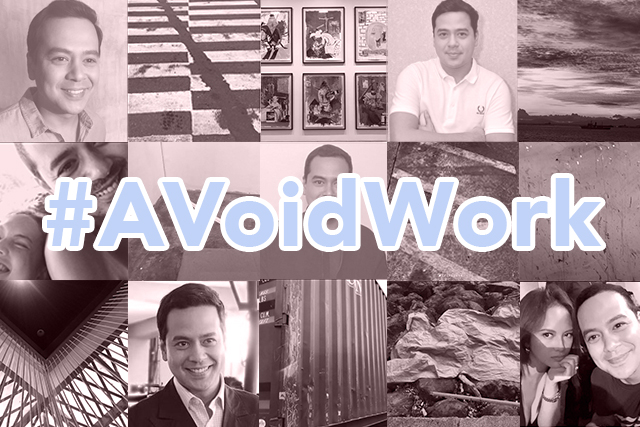 Curiosity surrounds John Lloyd Cruz lately. It's further fueled by the fact he took a leave from showbiz out of the blue. The timing of this is great though: Right after his drunk videos, making it official with Ellen Adarna, and his debut as artist Idan Cruz. I wonder who signs off leave forms over at ABS-CBN. When a big star files for a leave, does it have to come with a week's notice like the rest of us? Oh, how formalities equalize us all.
Anyway, back to the main topic. The fact that John Lloyd isn't saying much about anything from his new relationship to his decision to take a vacation, makes it even all the more interesting. Remember: If you want people to talk about you, create that balance between being visible and being incognito. Go to one of the hottest events of the year, aka Star Magic Ball but don't walk the red carpet. Don't grant too many interviews but post photos on Instagram sans captions. You get what I mean? It's like how Kylie Jenner's baby rumors are all around and yet all the 20-year-old talks about is her new fall makeup collection. Right, Kylie, we're so riveted by that.
It's then not so much of a reach to speculate that there's something hidden in John Lloyd's recent shirt of choice. On his Instagram account, which is a treasure trove of existential finds, he posted a photo of himself with a shirt that says #AVoidWork.
https://www.instagram.com/p/BaCAKY3Az8G/?taken-by=ekomsi
There are two ways to read the seemingly innocent statement. First is the obvious "avoid work." It's a given that he's set on doing just that as he's away with Ellen in Morocco, playing cheesy paparazzi boyfriend. Stars taking a leave isn't something new. Some celebrities lie low especially after getting married or just having a baby. Others take time off without a word, only to use it as a buildup for another blockbuster.
But we all know it could be just more than that. Capitalization is key as the A and the V in the hashtag are emphasized. This leads to the second reading of the statement: "A Void Work." Inquirer.net goes ahead that this could be taken as a big move from the star as it asks, "Is the actor really just taking a time off or is he slowly hinting at finally quitting showbiz?"
Could it be that after his last movie, Finally Found Someone, John Lloyd has hit a wall? With the surge of younger celebrities and the likes of Aga Muhlach and Piolo Pascual going strong on the big screen, does John Lloyd feel that his mother station isn't giving him top gun status anymore?
When you think about this landscape, John Lloyd is somewhere in between. He's no longer young enough to dance on a noontime show in a bomber jacket to the tune of Dua Lipa's "New Rules." But he's neither old to join the ranks of Gabby Concepcion, et. al.
What's he left with? He tried successfully with the artistic route through working with Lav Diaz and the film The Woman Who Left. He hit a career high with Honor Thy Father, with a shaved head that helped him nab a Gawad Urian Award for Best Actor. Though his show with Toni Gonzaga Home Sweetie Home is a comfortable niche to be in, it's not exactly the primetime soap opera the actor commanded before. Can you see now where the search to find the next big thing might be a little trying for dear Lloydie?
We must also consider how the shirt references artist Pokling Anading. As the caption explains, it touches on Poklong's work concept. If you're familiar with Poklong, you'll see how the hashtag can be taken with consideration to how the artist never operates in a bubble. As 1335 Mabini writes of Poklong's work it is "based on an interactive approach, engaging with the subject and the audience." So this means the interpretations are also part of the artwork's meaning. But I digress. It could just be John Lloyd appreciating a friend and fellow artist's recent endeavor. He does have more time to do so anyway.
I may have just spent quite a number of words on nothing. John Lloyd's on a break and he's just taking a photo of his cool shirt like a #millennial. His did indicate that he's #justsaying along with #itsjustashirtalso. But, John Lloyd, given everything we know so far, it is REALLY just a shirt?
Art by Lara Intong 
Follow Preen on Facebook, Instagram, Twitter, Snapchat, and Viber
Related stories:
John Lloyd Cruz and Ellen Adarna Take a Break in Casablanca
John Lloyd Cruz Is Taking a Break from Showbiz
Watch the Trailer of the Local Film That Raked in 20-Million on its First Day
5 Local Female Celebrities Who Won't Take Your Crap