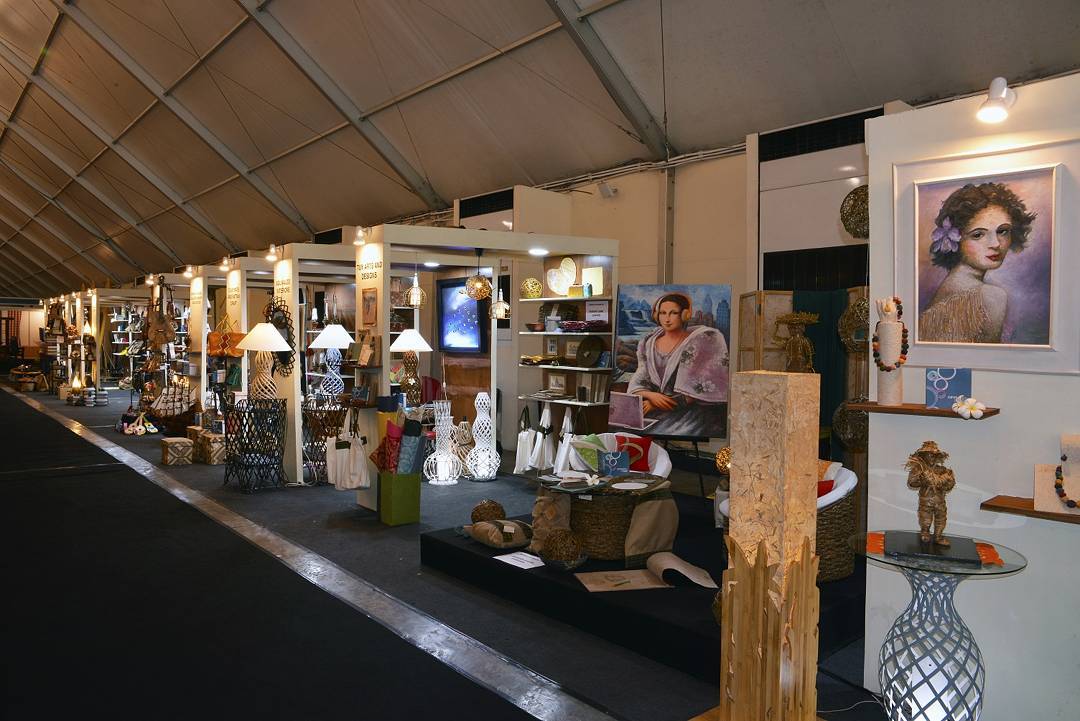 Before Christmas hits, one must definitely go to Manila FAME. This huge event is unique to the country as it gathers hundreds of small to medium enterprises, your favorite space and lifestyle designers, along with international names to make your life better. Not kidding. Click through their website and you'll see how the list of exhibitors range from heath and wellness, to fashion accessories, and from furniture to visual arts.
My first trip ever to Manila FAME overwhelmed me. That cute minaudière that goes with every evening dress? It's there. The collectible seat from a celebrated artisan? It was there too. Your favorite furniture designer showing off pieces that have been copped abroad? Yup, it's there also. If you're feeling confused, we'll break down these five reasons you need to dedicate a day to this event.
#1 See the best of the Philippines without the hassle of flying
One fixture at Manila FAME is the Artisans Village. Here you will find different fashion and home dècor pieces from Bohol, Central Luzon, and Bulacan. You will get your fill of handcrafted materials and one-of-a kind pieces that even international buyers can't get enough of.
#2 Support the growing local industry
https://www.instagram.com/p/BXpkAWAjT84/?hl=en&taken-by=manilafame
With the help of the Department of Trade and Industry, the event will feature 350 micro, small, and medium enterprises. You'll get your fill of organic treats along with innovative products to support the emerging generation of craft. The GREAT Women Project 2, for example, will showcase 40 women-led enterprises.
#3 Get your fill of new ideas
This year's Manila FAME will feature designer Tony Gonzalez. Particularly for this run, he created curated settings that "marry the different works of every Manila FAME participant" to match one's needs and price point. I don't know about you but it will be exciting to see what the acclaimed designer can suggest for our own space and lifestyle needs.
#4 Update your fashion choices
https://www.instagram.com/p/BaOdD20jmQ4/?hl=en&taken-by=manilafame
If you're sick of the usual clothing options, Manila FAME is hosting a few of your favorite designers and labels. You'll surely get yourself out of a style rut with Jared Servano, Joanique, Island Girl, Arnel Papa, Micki Olaguer, and Maco Custodio among many others.
#5 Connect with your favorite artist
Manila FAME isn't just a trade event. It's an enriching social one too. Usually, the designers and exhibitors are right there to personally explain their wares. Here you can exchange ideas and even contact information to stay in the loop and to fuel your next project. Or to simply know who to call when you want something customized.
Manila FAME happens this Oct. 20 to 22 at the World Trade Center. For more information, visit their website.
Photo courtesy of Manila FAME's Instagram account
Follow Preen on Facebook, Instagram, Twitter, Snapchat, and Viber
Related stories:
How Local Furniture Designer Joseph Rastrullo Found His Works in Milan
When Fashion and Home Luxury Design Meet
Filipino Design Stands Out at This Year's Milan Furniture Fair
9 Local Home Brands You Should Support