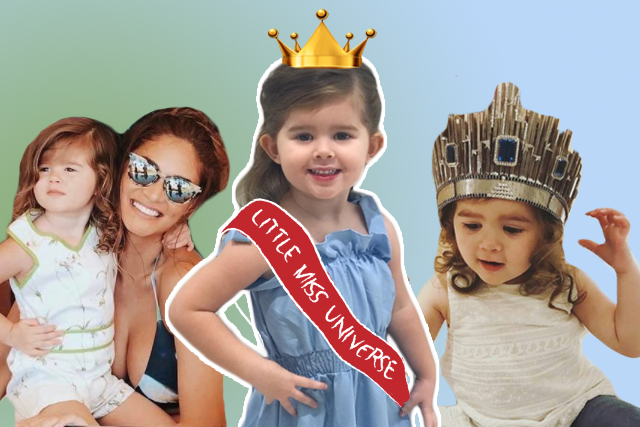 What does it feel to have Miss Universe 2015 Pia Wurtzbach as your aunt? By the looks of little Lara Wurtzbach-Manze's photos, it seems that she was taught well on how to pose and project for the camera. No wonder she already earned the nickname "Little Ms. Universe."
Pia often shares her cute interactions with Lara on Instagram. Now that Lara has her own page, and also recognized as one of Mercator's models, we're seeing more of her personality and sass. And we're here to round up these moments to hopefully make your week better.
Photogenic angles
Whether Lara's doing a smile or a duck pout, she's obviously a natural when it comes to taking photos. It also helps that she's got the "arm on the waist" pose down. (All thanks to aunt Pia's tips!)
Walking the walk
Lara is already showing grace and a little bit of smize while practicing her catwalk. This will come in handy once she does her first fashion show or pageant.
Looking cute(r) with Snapchat filters
Kids love playing with Snapchat's many filters—Lara is no exception. Her mom Sara Wurtzbach often records her while making faces on the app. The clips are fun to watch, especially how she switches up her expressions for each filter.
Musical talent
Lara loves to sing too. Whether it's during a car ride or while waking her mom up with "Happy Birthday."
Her love for Jollibee
When Lara's in Manila, she somehow makes it a point to take a photo next to a Jollibee statue. One caption read that he's Lara's "best friend." Not to mention that she also owns a Jollibee plushie.
Stealing Pia's man
We're noticing that Lara loves her uncle Marlon Stockinger. So much that she even told Pia, "My boyfriend!" while hugging him. Pia's reaction was priceless too.
Art by Lara Intong
Follow Preen on Facebook, Instagram, Twitter, Snapchat, and Viber
Related stories:
8 Reasons Why We Will Always Love Pia Wurtzbach
All the Skills and Talents Scarlet Snow Belo Can Do at Two Years Old
The Cute Trait that Baby Primo Got From Iya Vilania and Drew Arellano
Why Pia Wurtzbach Likes Kim K's Fashion Sense
Scarlet Snow Belo, Kendra Kramer, and Archie Burnand Show You Their Best Halloween 2017 Costumes