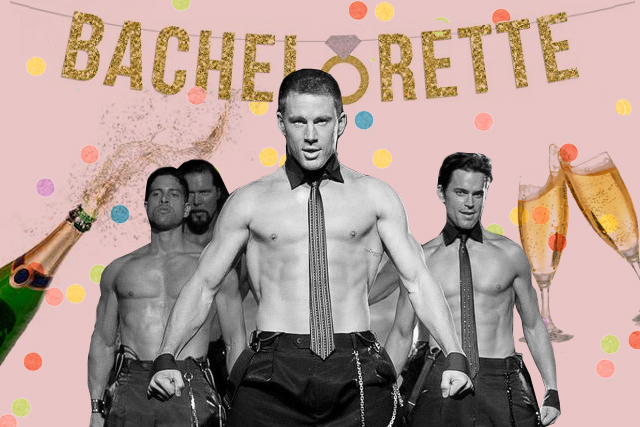 Movies make bachelorette parties seem so fun and entertaining. They have drinks, good company, games, and sometimes a couple of phallic treats just for the hell of it. And of course, such parties wouldn't be complete without a male performer.
I recently went to my first bachelorette party and admittedly, I had all the film tropes in mind just to mentally prepare myself. Most especially since another friend told me that they hired a male stripper. "No big deal," I thought. "I watched Magic Mike."
Funnily enough, when I entered the room, the show was just about to start and they played "Pony" from Magic Mike XXL. A few moments later, a man came out of the bathroom and started dancing in front of the bride-to-be. It was entertaining to see how surprised and shocked she was to see the dancer standing over her and later kneeling in between her legs. I laughed and screamed with everyone in the room.
After the show, we talked over food and drinks. I was also able to scan the whole room—there were cupcakes decorated with penises and breasts, and the walls and floors were filled with balloons. But the semi-quiet time was cut short when they said that the stripper will come out again and we were told to participate in the games and lap dances.
I felt my gut drop. I immediately convinced my friend that I wouldn't join. I just watched everyone get consensually manhandled by the dancer, who was now wearing skimpy undies, and getting hip thrusts from him to the tune of "Versace on the Floor" and "Wrecking Ball."
I texted my boyfriend and told him that I said no to lap dances. He thought that I declined because I was in a relationship and gave me his blessing. "I wouldn't do this even if we weren't together. Even if the stripper looked like Ryan Gosling," I replied.
I didn't want a random guy spreading my legs and grinding his privates on me, even if he was paid to do so. It looked hot on Magic Mike, but when you're already in that position, you can't help but feel uncomfortable. Whenever he would go near me, I would cover myself with my bag. No amount of drinks would convince me to change my mind. I was fine with documenting my friend's experiences with the stripper so she could laugh at it later.
The night came to an end and the stripper left. My friend and I were still talking about the whole thing and saying that we'll hire one too if anyone in our group got engaged. Based on what happened that night, I'm pretty sure my friends won't expect a male performer in my bachelorette party. I think I'll be okay with having a penis-shaped cake and just binge-watching erotic films no matter how bad they are—I'll even consider watching the Fifty Shades trilogy—just to ogle at the attractive actors. Then just go to sleep and wake up with a hangover.
Art by Lara Intong
Follow Preen on Facebook, Instagram, Twitter, and Viber
Related stories:
Magic Mike XXL Is for Women, But It's Not About Them
Why Aren't Women Allowed to Look at Naked Men?
Tips on How to Plan a Bachelorette Party Like Anne Curtis
Coleen Garcia's Chihuahua Makes a Cameo in Her Bachelorette Giveaways
Zendaya's Versace Dress Literally Dropped to the Floor and People Are Freaking Out