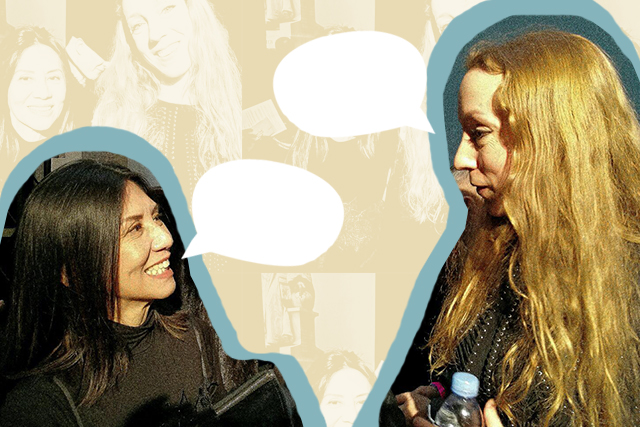 Have you ever wondered what fashion designers talk about when they meet? Well, we got a chance to ask Lulu Tan Gan what went down when she met Dutch designer Iris Van Herpen at Paris Fashion Week. Find out what they talked about, how Iris found out about Lulu's work, and the art of fabric manipulation in the interview below.
What is textile-based design?
Most brands/designers start designing with commercially made fabrics. Bigger brands that can afford the volume can have their exclusive fabrics produced. Textile based fashion usually are handmade, hand loomed, or artisanally made. Fashion designers of this category designs require a unique treatment of material or you artistically fabricate your own materials or create from completely new materials.
Rei Kawakubo started in 1969. In 1970s, Comme des Garçons adamantly values the quality of handmade garments, reflecting in the more expensive price and longevity of their products. Several of the CDG fashion lines still utilize many handmade procedures as opposed to line production.
In the early '70s, Yohji Yamamoto was known to be a master tailor. His aesthetic is translated usually through highly skilled fabric manipulations, avant-garde in oversized silhouettes.
In the late '70s, Issey Miyake, used imaginative development of new technologies, paired with historic and traditional techniques. He placed focus on fabric design like origami and pleats, that has become his signature, and not just on fashion silhouette.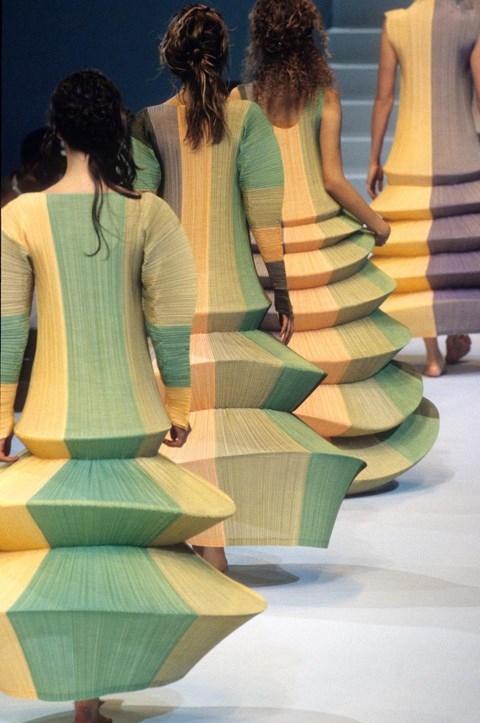 In the '80s, Watanabe used synthetic and technologically advanced textiles and fabrics, always translated through futuristic designs that usually pay close attention to fabric manipulation too.
In the late '90s, Alexander McQueen often used fabrics and embellished fabric detailing that looked otherworldly. Oftentimes, he mixed textures like fur, feathers, and fabrics.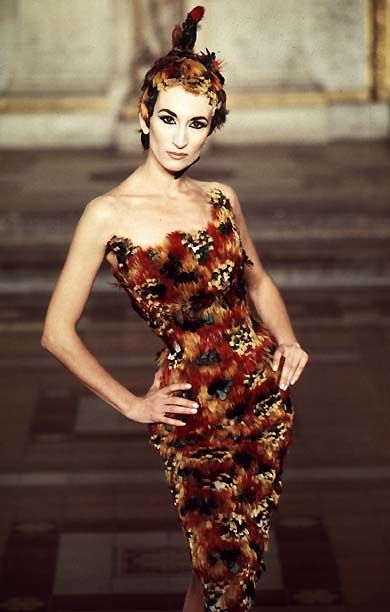 In 2004, Sandra Backlund, a Swedish fashion designer winning at the Heyres Competition in France won an LVHM award, and specialised in sculptural or three-dimensional knitwear.
In 2007, Iris Van Herpen, a Dutch designer also started fabric manipulation. Her designs require a unique treatment of material or the creation of completely new materials. For this reason, she prefers interdisciplinary research and collaborations with other artists. In 2010, she revolutionized fashion collaborating with an architect, by presenting a collection in 3D printing.
Our very own Filipino designer, Cary Santiago utilizes fabric manipulation. It is his very signature. Shunning from bead work, Cary's signature is his masterful laser cutting techniques, rococo wrought-iron-like metalwork, and also origami folding and draping.
How do you use that process in your pieces?
Knitting is a method by which yarn is manipulated to create a textile or fabric for use in many types of garments. In my kind of knitting, I use the handloom (no electricity required). We do not cut and sew the fabric, connecting them into a garment. Starting with yarn, we make and shape it into the different parts of a garment and then we seam them together by hand. There is very little yarn waste. Knitting your own garment components allow you to design your own fabrics, creating prints (stripes, circles, squares), texture (bumpy, holey, lacy or flat, shirred or pleated), or three-dimensional sculpting (five-way pullover).
In the last 10 years, when we incorporated the use of piña fabric into our knitwear line, we used a lot of fabric manipulation. Since piña is so fine and featherweight, we fabric manipulate to create textures like, pleating, folding, and overlapping to make sculpted shapes. Fabric manipulation is any technique that reshapes the surface of the material. You can pleat, embroider, bead, fold, wrinkle, crush, and distress to recreate a new surface and to control a material.
How has Iris incorporated it in her latest collection?
I thought it is worthwhile to know where she started and how her collections evolved. Iris Van Herpen started in 2007, after her internship with Alexander McQueen. She comes from a generation of high technology and is also in search of anti-industrial innovations (the normal way of fast fashion and sewing). Therefore, one tends to material manipulate (which is now a prerequisite subject in Benilde fashion program) and thus, an outcome of three-dimensional design on fabric.
In 2010, Iris' forward-looking designs were slits, like louvers and twisting of materials into space-invading wing like appendages and slinky constructions. Her idea was to draw attention to the workmanship of the garments through exaggeration and repetition. The designer also took her first steps into collaboration with other designers in the field of fashion, industrial design, or architects. Elevating her forward-looking designs were handmade kid leather platform ankle boots by United Nude by Rem Koolhaas.
In 2011, Iris was the first designer to send 3D-printed couture down the runway. She collaborated with architects and industrial designers who are already into the use of digital design and 3D printing. Since then, 3D printing has become a hot new tool in the fashion industry. Designers create geometric cut-out gowns, stiff and shiny trims and garments that resemble skeletons or Medieval armour. These innovations are mostly for runways, though a few have filtered into ready-to-wear, woven 3D-printed elements into the patterns and in different parts of the garment.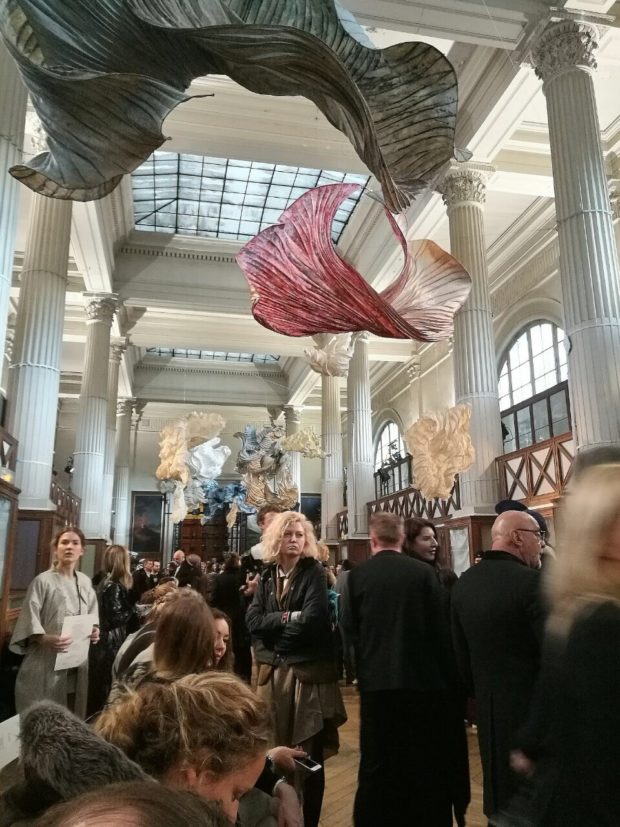 In this 2018 collection, "Ludi Nature," she replicates nature, using processes that defy fashion. Her collection is still a put-together of traditional skills and digital technology. Its technical specs outlined foam-lifting and laser-cutting of a parametric pattern heat-bonded onto invisible tulle. The dresses with perforated patterning consisting of nude leather and liquid fabric bonded to Mylar (polyester resin). Her 3D-printed illusion fabric innovations are so precise, almost like tattoo dressing.
What sparked Iris' interest in your design?
She called my knitwear "exceptional" and loves the "Yarn Bomb Knit Bomb," the yarn art installation at the Ayala Museum. Since she is into fabric manipulation, she is very interested in what I have done to innovative knitwear. She herself is into knitwear; artisanal, handmade, and mixed texture and manipulation of materials. She has seen my works from their own research.
Did she share any sketches or upcoming projects with you?
No, in fashion, one does not reveal the next collection. We also hardly had time as they all headed back into their atelier for the production. I can imagine how busy they can be especially since July 2011; she is a guest member of the Parisian Chambre Syndicale de la Haute Couture, part of the Fédération Française de la Couture. At her age, 33, she has leaped way ahead of other designers in her generation. Why her? Iris Van Herpen's collections come with a very cerebral concept. Her ability to blend traditional hand skills and technology together makes her the designer of "today."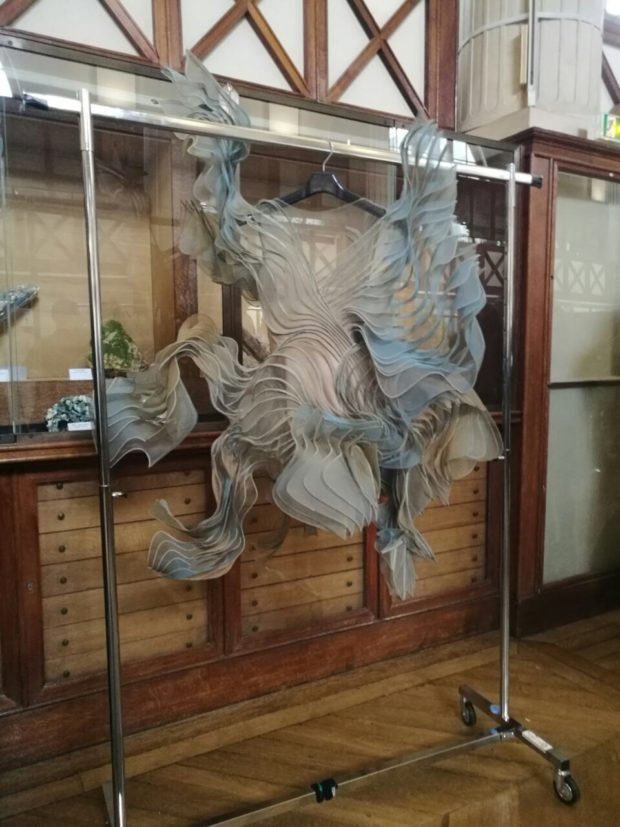 Do you think you two will be working together in the future?
If traditional skills are required, I foresee future. Technology is not our strength.
What are other memorable moments during your meeting?
The shared feeling of calmness and coolness, after the storm (the show and the preparation). It is the same everywhere. Literally, there was a storm, a flood in Amsterdam. The trains were canceled days before the show. They were in a panic as they needed to rebook transport tickets. The crew and show clothes came in partial. Their shoe supplier from South America also couldn't make it on time. So one week before the show, they were working on their own footwear.
One key takeaway from your meeting with Iris
Today's fashion, like the design, is interdisciplinary.
Art by Lara Intong
Photos and video by Lulu Tan Gan
Follow Preen on Facebook, Instagram, Twitter, and Viber
Related stories:
Design Duo Ha.Mu's RTW Collection Will Make You 'Ooh' and 'Aah'
Why Kate Middleton Was Called Out For This Gown
The Dora Milaje Costumes In 'Black Panther' Have Filipino Elements
Dear Designers and Influencers, Nobody Has Time For Discrimination in 2018