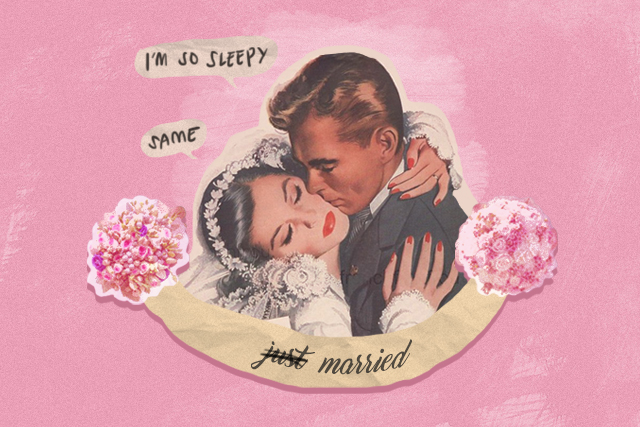 This column may contain strong language, sexual content, adult humor, and other themes that may not be suitable for minors. Parental guidance is strongly advised.
Recently, as a cousin was preparing to celebrate 25 years of marriage with the customary big bash, I ribbed her about having sex with the same man for at least the same amount of time. She immediately went on the defensive, lecturing me for putting so much importance on sex, and not the other more important aspects of a marriage that make it, in her opinion at least, successful and worthy of celebration. She mentioned how she and her husband worked hard to raise their family, send their children to the best schools, enjoy luxurious holidays and basically live the life they want to live.  
Which could mean that their sex life on a scale of one to never, their attitude towards sex was probably, "Ain't nobody got time for that."
But hey, whatever works.
I have friends, on the other hand, in marriages of commendable longevity who say that their husbands would divorce them if they didn't perform certain services at least once a week, including blow-jobs. And of course it can get repetitive. Everyday life intrudes, kids take priority, and the pressures of work can dampen anyone's libido, making sex sometimes seem like nothing more than a form of stress release with very little variation in technique. In fact, one friend confessed that when her husband takes too long to come and she really wants to go to sleep, all she does is stimulate his prostate and the session is over in seconds, and both parties achieve a certain measure of satisfaction one way or another.  
Of course there are married couples who still enjoy a satisfying, rather than perfunctory, sex life, decades into their marriage, as well as couples who have next to no sex at all and are perfectly happy with that state of affairs.
Sexless marriages or sexless relationships are fairly common, it would appear. Gynecologist Jen Gunter, writing in The New York Times, says that the definition of "sexless" varies from "no sex in the past year, no sex in the past six months or sex 10 or fewer times a year. According to one study, approximately 15 percent of married couples are sexless: Spouses haven't had sex with each other in the past six months to one year."
(It's entirely possible, of course, that the spouses are having sex with other people, just not each other. But that's another column for another time.)
The problems arise when one partner wants sex and the other doesn't. It could be that their desires and appetites have never quite matched, or that one partner no longer desires the other. There could also be psychological and physiological factors at play, such as erectile dysfunction or marital unhappiness. Or it could be that one partner is simply just not interested in sex.  
"If a couple doesn't have sex but they both feel satisfied, then there is no problem. The issue is when there's a mismatch in desire," says Dr. Gunter.
Granted, there is more to a marriage than sex. But it can't be denied that sex has its own special qualities: as a salve when things aren't going so well between spouses; a tension reliever after a long day at work; a natural antidepressant when one is feeling down; a conciliatory gesture after a fight. And, above all, it can be an expression of the deep love and affection between partners, not to mention a manifestation that they still have the hots for each other.
Desire is not always constant, however. The libido is affected by so many factors, that it can dip from time to time for both men and women. And while there seems to be so much focus on how frequently a couple has sex, a complete shutdown, especially when one partner wants sex and the other doesn't, can lead to dissatisfaction. Yes, there are moments of aridness in the desert—that's completely normal. But a prolonged dry spell spanning months, even years?
So what do you do when your marriage is sexless, and not by your choice?
Some people just shrug their shoulders and try to minimize the importance of sex in their lives, justifying the lack of it with a plethora of reasons. They tell themselves, it's okay, sex is overrated anyway. It's okay, I have a great family. Or, it's okay, we don't really fight anyway. It's okay, we're too old anyway. It's okay, I've learned to live without it.  
But learning to live without it isn't necessarily healthy if your own marriage isn't healthy. Being unable to communicate with your partner so that he or she might understand your frustrations in the hope that you can address them together can erode any feelings you may have for him or her and gnaw away at the ties that bind you. It creates resentment, too. Dr. Gunter says, "Waiting until months or even years have passed can weaponize the bedroom. It will add so much more complexity because resentment compounds like a high-interest credit card."
Then there is the danger that sexlessness could lead to extramarital liaisons. One partner increasingly feels that his or her needs are being neglected and undervalued by the other and looks for validation elsewhere. This sense of validation can go beyond mere sexual release; it can mean feeling alive and vital again because he or she is desired, that he or she matters to someone.
At the end of the day, that's really why we have sex—it makes us feel alive and vital and connected to the other person. When that connection has been ruptured, it's very difficult to get a marriage back on track and affect an intimacy that doesn't exist. There are those who pretend it is, for appearances' sake. The only ones they're really fooling, unfortunately, are themselves.
B. Wiser is the author of Making Love in Spanish, a novel published by Anvil Publishing and available in National Book Store and Powerbooks, as well as online. When not assuming her Sasha Fierce alter-ego, she takes on the role of serious journalist and media consultant. 
For comments and questions, e-mail [email protected].
Disclaimer: The views expressed here are solely those of the author in her private capacity and do not in any way represent the views of Preen.ph, or any other entity of the Inquirer Group of Companies.
Art by Marian Hukom
Follow Preen on Facebook, Instagram, Twitter, YouTube, and Viber
Related stories:
Is sex still the same after having a baby?
The beginner's guide to women's sex toys
Bad sex is not just fictional, it's also a real-life problem
Breastfeeding and sex: How one mom put out an unusual argument