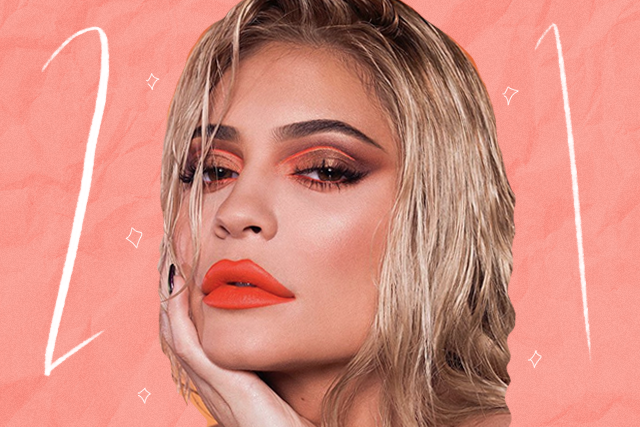 Love her or hate her, there's no denying Kylie Jenner has done impressive feats considering her age. In her (almost) 21 years of existence, the youngest of the Kardashian-Jenner clan has already crossed off most of the things on our to-accomplish-when-I-grow-up list. Thanks to the reality show, we were able to document her journey and see how far she's come. From a cute kid, Kylie has grown into her own brand of woman.
In light of her 21st birthday tomorrow, we tried to keep up with her most notable achievements so far.
Home-owner
While most of us are still living with our parents, Kylie already has four homes to call her own. Yup, that's right—four. And they're not some dingy townhouse or apartment, either. All four are million-dollar mansions. The first one, she purchased before turning 18. Her latest addition is a 13,000-square-feet property with eight bedrooms, 11 bathrooms, and it only cost her 12-million-dollars.
Has a car collection
Kylie isn't shy when it comes to showing off her sweet rides. Her current collection includes a Range Rover Autobiography, a Ferrari 458 Italia Spider, a Ferrari 488 Spider, His and Hers Ferrari, Mercedes Maybach, a Rolls Royce Ghost, and a Mercedes G Wagon.
Became most influential teen
In 2014, Time included Kylie in their most influential teens list, along with Malala Yousafzai and the Obama sisters. She was 17 then. Even though she's not a teen anymore, her influence has only grown through the years. She has one of the largest followers on social media, and she's been known to start multiple trends—some more absurd than others.
Wrote a book
Yes, it's true. Not many are aware of this, but together with sister Kendall and editor Maya Sloan, she wrote Rebels: City of Indra, a young adult, dystopian novel serieschronicling the adventures of two girls with superpowers. The first book was published in 2014, while the second came out in 2016.
Built a business empire
Just last month, Forbes declared her as the youngest almost-billionaire. Regardless of the "self-made" debacle, Kylie has proven herself as business savvy. She was only 17 when she launched the Kylie Hair Kouture, her first venture into the beauty industry. But what rocketed her into billionaire status was her lip kits and Kylie Cosmetics, whose unorthodox marketing strategies revolutionized the industry. Aside from that, she has several other business endeavors, including a fashion line with her sister Kendall.
Had a Baby
Of course, none of those compares to this achievement. 2018 marks the year she officially became a mom. Her pregnancy was racked with controversy, but in February, she finally introduced Stormi Webster, her child with boyfriend Travis Scott, to the world. Judging from her Forbes cover, being a mom hasn't slowed her down one bit.
Happy birthday, Kylie! We're sure there's more in store for you.
Art by Marian Hukom
For the latest in culture, fashion, beauty, and celebrities, subscribe to our weekly newsletter here
For the latest in culture, fashion, beauty, and celebrities, subscribe to our weekly newsletter here
Follow Preen on Facebook, Instagram, Twitter, YouTube, and Viber
Related stories:
You can now look like Kylie Jenner in a jiffy
Meet Instagram's highest paid celebs: Kylie Jenner and Selena Gomez
How Kylie Jenner built her $900 M empire
Kylie Jenner Carries Stormi Like a Pro