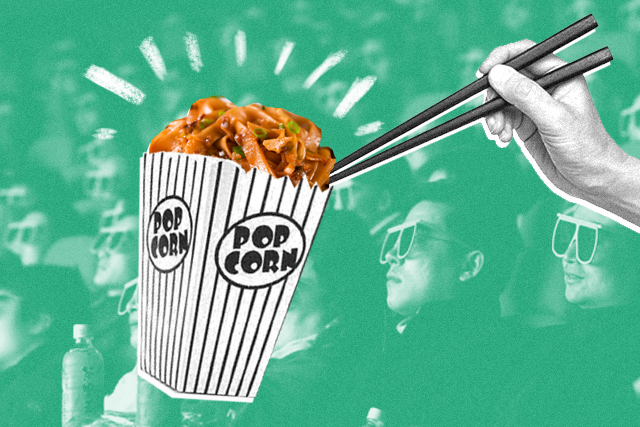 The Crazy Rich Asians hype is real and we're feeling it more as the movie will officially premiere in the Philippines tomorrow. Have you gotten tickets in advance or planned a movie date with loved ones already? If not, then you should because the cinemas might get packed.
Over in the US, Asians of various ethnicity  (mostly East Asians) have flocked to their nearest theaters to watch the film. Some were even treated to surprise visits by cast members. (Check the film's Instagram page to see.) But what entertained and warmed our hearts was seeing these Asian viewers bringing their family to the watch and having mini-celebrations in the cinema—you'll find yourself saying, "That's Asian AF."
If you're planning to do the same, we have a few suggestions so you can prepare beforehand. Feel free to add more!
Watch with the whole fam
havent went to watch a movie with my parents since I was nine years old… so glad I bought tickets for all of my family members to watch crazy rich asians with me. THEY LOVED IT TOO UGH MY HEART <3

— ig @kathy_vu (@kvthyvu) August 19, 2018
From the moment the trailer came out, many wanted to catch Crazy Rich Asians with their family because this is the first all-Asian movie in 25 years. Plus, it doesn't involve martial arts. So whether you're Filipino, part-Chinese, or what have you, go plan that family day.
Expect some comments from the elders
My favorite part of talking with my mom about @CrazyRichMovie is her telling me the dumpling criticizing is such a mother in law thing. And then me reminding her about how she's told me the lumpia I rolled were bad lol.

— hannah (@palindrome713) August 19, 2018
One netizen told a funny story about her mom relating to Eleanor Young's (played by Michelle Yeoh) comment on the dumplings. We're sure that's not the only scene that's reminiscent of our moms, grandmas, etc., so expect that your elders will point out some similarities.
Bring food to share
When this Chinapina throws a @crazyrichasians watch party she brings the lumpia! RT if this makes you wanna step up your theater-sneak-in-food game 🤣 #CrazyRichAsians pic.twitter.com/PHUu1ZMaVq

— Jackie Fernandez (@JackieFernTV) August 18, 2018
Spotted: A Filipina bringing a Tupperware filled with lumpiang shanghai during a screening and sharing it with everybody like it's one big fiesta. You can also do the same with other dishes. However, there are some places that don't allow full meals or food with strong aroma inside the cinema. Your best bet is to share it with the people who are lined up.
Bond and make your movie snacks
https://twitter.com/justjenn/status/1031016850262376449
Before watching the movie, take the time to bond with your friends and/or family by making your movie munchies. It can be as simple as buttered popcorn, or go really Asian with homemade dumplings. If you want motivation, Henry Golding (who plays Nick Young) can actually make xiao long bao.
Take lots of photos
I don't know what it is about Asian families, especially our parents and older relatives, who like taking lots of photos during occasions. Admit it, no gathering is complete without the mandatory "Everyone! Picture!" This is also proven by this slideshow posted by director Jon M. Chu which shows Asians (and non-Asians) happily posing outside the Crazy Rich Asians cinema. Some were also holding up banners and merch. What better way to show that you had a blast while watching, right?
Art by Marian Hukom
For the latest in culture, fashion, beauty, and celebrities, subscribe to our weekly newsletter here
Follow Preen on Facebook, Instagram, Twitter, YouTube, and Viber
Related stories:
Crazy Rich Asians weekend debut only proves what Hollywood was missing
Kris Aquino's Crazy Rich Asians cast photo is a meme
Constance Wu, Kris Aquino, and more: The fanciest Crazy Rich Asians premiere looks
Crazy Rich Asians dodged whitewashing offer, but here are other films that didn't