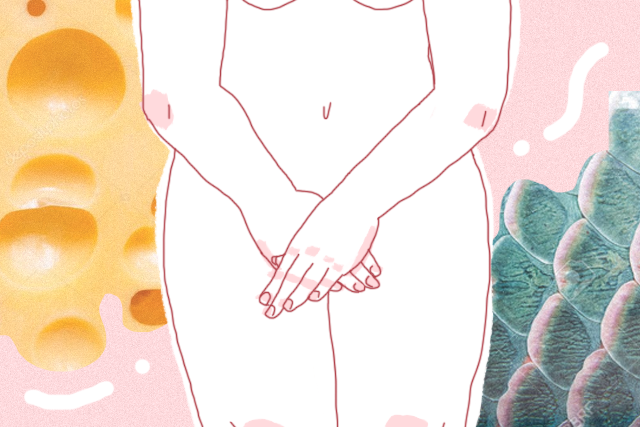 This column may contain strong language, sexual content, adult humor, and other themes that may not be suitable for minors. Parental guidance is strongly advised.
There's an episode of Sex and the City in which Samantha tells the man she's currently sleeping with that his spunk tastes funky. "It's very sour like asparagus gone bad or something," she remarks, before recommending that he drink wheatgrass juice to improve the taste of his semen.
While Samantha was just being true to character, her boldness in criticizing the taste of a man's ejaculate was considered unusual in a woman, at least 20 years ago when SATC was required watching for women everywhere. And men, then and now, were unlikely to take such criticism, well, lying down. Or standing up, as the case may be, considering it a personal affront against their hygiene or diet or lifestyle, or even their sexual desirability.  
They have no qualms, on the other hand, putting a woman down, and attacking her on a personal level—i.e., how she smells "down there" or how tight or loose they judge her vagina to be, for instance. In the novel Prep by Curtis Sittenfeld, girls in an elite East Coast boarding school were categorized by the boys according to the smell or taste of their vaginas as experienced through oral sex: they were either "fish" or "cheese."  
Yes, it's demeaning, it's dehumanizing, and it's absolutely deplorable but not altogether surprising that boys as young as 14, 15, or 16 feel that they have every right to assess the value of a girl of the same age based on her smell or taste.
In fact, men have not only been passing judgment on what they consider to be a woman's physiological and sexual shortcomings since forever, but they also happily share this judgment of what is deeply private and intimate for a woman with other men.  
Lee Fiora, the novel's protagonist, a girl on scholarship from the Midwest, doesn't quite fit in with Ault's wealthy, entitled kids. But the school jock, Cross Sugarman, mysteriously begins to come into her room at night to have sex with her, but they have no real relation beyond that. Much later Lee finds out what he really thinks of her.
"You want to know?" he shouted. "You really want to know? Fish! That's what you taste like!"
It never occurs to Lee to judge Cross according to similar criteria. When he finally tells her what he thinks of her, she is hurt, naturally, and shocked. She tells him, her eyes teary, "When I was in junior high, I used to think that I would turn out to be one of the guys, and boys would say, 'Oh, you're so great,' but they wouldn't date me. I thought I wasn't pretty enough. But then I got to Ault and first of all, I'm not really friends with any guys.  And then, with you this year, I thought, if Cross will keep hooking up with me, maybe I'm okay after all. But time passed and I never became your girlfriend. And then so I thought, not only was I wrong, but my life turned out the opposite of how I expected. Meaning, it wasn't my appearance—that's not the bad thing about me. It's my personality. But how do I know which part? I have no idea. I've tried to think if it's one thing in isolation or everything together or what can I do to fix it, or how can I convince you. And then I thought, maybe it is my looks, maybe I was right before. And I never figured it out. Obviously I didn't. But I've spent a lot of this year trying. And the reason I am telling you all this is that I want you to know no one in my life has ever made me feel worse about myself than you."
Yet despite Lee's uncharacteristic candor, a part of her clearly hopes that Cross would tell her she's wrong, that he loves her, that she's the one. But he doesn't, and she is crushed once more.
It's heartbreaking to realize that many teenage girls like Lee become women still desperate for male validation, that no matter how much they achieve in life, no matter what they accomplish, there will always be a part of them that measures their self-worth against what a man might think of them. And not just what he might think of her looks or her personality, but what she tastes like.
Which makes them easy targets for such practices as "yoni steaming," or steaming the vagina with a herbal mix, as the BBC recently reported.  
We need to stop making women feel there is something wrong with their vaginas. Notwithstanding the fact that the vagina is a self-cleaning organ, there are women who have bought into the supposed benefits of yoni steaming. 
An alternative therapist in England offers this "therapy" to address a variety of clients' needs. She calls it a "womb sauna" in which women "sit on the herbs." Chrissy Teigen and Gwyneth Paltrow are said to be devotees of this practice—no surprises there—yet medical practitioners say there is simply no evidence that steaming your vagina has benefits, whether for the vagina or for the whole body.
But Claire Stone, the alternative therapist, says that her clients, such as those who suffer from heavy periods, feel relief after just one steaming session. Even women having difficulty getting pregnant come to see her because the steaming "helps to tone the vagina, the walls."
I thought Kegel exercises did that, not steam.  
In the end, Stone says that perhaps all that yoni steaming does is deliver a placebo effect, but if it makes women feel good, then it's all good.
I thought an orgasm did that, not steam.
B. Wiser is the author of Making Love in Spanish, a novel published by Anvil Publishing and available in National Book Store and Powerbooks, as well as online. When not assuming her Sasha Fierce alter-ego, she takes on the role of serious journalist and media consultant. 
For comments and questions, e-mail [email protected].
Disclaimer: The views expressed here are solely those of the author in her private capacity and do not in any way represent the views of Preen.ph, or any other entity of the Inquirer Group of Companies.
Art by Marian Hukom
For the latest in culture, fashion, beauty, and celebrities, subscribe to our weekly newsletter here
Follow Preen on Facebook, Instagram, Twitter, YouTube, and Viber
Related stories:
Chrissy Teigen adds another step to her self-care routine: Vagina steaming
The vagina, reinterpreted by different Instagram artists
Why are we calling it vagina and not vulva?
What's so offensive about the word "vagina?"