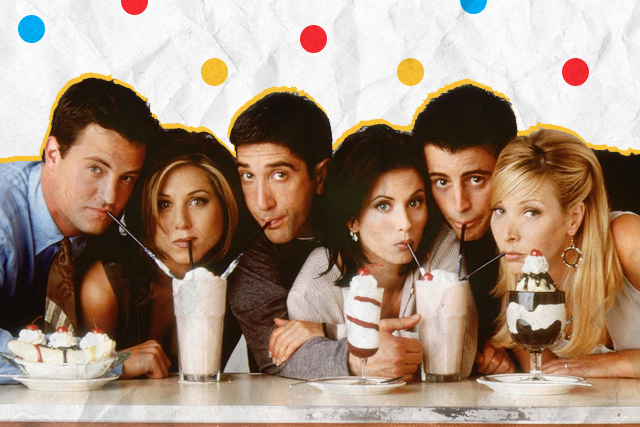 Here at Preen, we're fully aware that adult life doesn't always go as smoothly (and look as beautiful) as curated Instagram feeds. We all face challenges amidst all the good things. Meet Mikka Wee, a former food editor-turned-working gal in Singapore, who's about to share all the ups and downs that come with adulting and living. Welcome to Bless This Mess! 
The second I came home from a quick getaway to Hanoi, I dropped my bags, headed to the couch, and watched the last episode of Friends. Yes, I'm talking about the television show that debuted in the '90s and had a wonderful 10-year course. As the scene cut to Monica's (Courtney Cox) empty apartment, and you could see Rachel (Jennifer Aniston) losing it, I couldn't help but feel my eyes welling up, too. It was difficult to act tough, especially when you've sat through 10 seasons of Friends without missing a beat.
I am one of the late Friends bloomers, who only decided to watch it when it became available on Netflix. I remember when I was 22, an ex-boyfriend of mine being totally in love with the show; however, I struggled to get through the first episode, and I just shut off the idea of ever giving Friends a chance. Maybe I just wasn't ready for it yet.
Fast forward six years later, as Chandler, Ross, Joey, Monica, Phoebe, and Rachel left their keys inside the purple apartment, the first thought that came to my mind was "what would I watch now?!"—second thought was "I'm so sad. This is it." I started watching Friends just May of this year, and to get through ten seasons in four months was quite an amazing accomplishment, especially for someone who doesn't have the patience to finish shows.
I filled in the blank spaces of my day with Friends—it was my little escape after stressful days at work, a happy pick-me-up when I was having a bad day, and my way of getting through long-haul flights. My fascination with the show carried through, and I would sneak in a few episodes even while on a traveling holiday. I remember that particular day when I found out Anthony Bourdain had passed. It was a surreal feeling that words couldn't encapsulate, and I found myself putting on my headphones and tuning in to an episode of Friends. I laughed and giggled, and somehow, I felt lighter.
It may seem as if Friends was my getaway drug for those past few months, and perhaps, it was. If anything, the show made me feel looser and happier after each episode. I've never felt that way about a show before. Apart from the fact that it made me miss my own friends back in Manila so much more, being an avid watcher of the series made me feel as if I was part of their friendship circle, too. Sometimes, especially when you live in a country away from your friends, there are some emotions that you wish you could share with them as a group; things you wish you could tell them right there and then. And while I am extremely grateful for the technology we have, Friends made me appreciate the company of friends I have even more. The lengths the characters in the show would go to show their love and loyalty for each other was quite outstanding. Television makes things look easy, but if you unearth some of the narratives, you'll find that their love for each other goes beyond family. 
I mean, there were also a lot of things I didn't agree with, and of course, a show is a show so the reality is questionable. But the sincerity, vulnerability, and love for each other was felt so much that it was quite moving as a show. It's hard not to get attached to it because you feel like you've become a huge part of their lives as well.
My favorite out of all the friends is Chandler because apart from his smart-alecky humor, he is such a good friend especially to Joey, and an amazing husband to Monica. I felt like out of all the characters, the development can be seen through his the most. But of course, each and every one of them has their own quirks and charms—Joey is such a sweetheart, Ross is hilarious, Monica is motherly with an iron fist, Phoebe can get real despite her odd moments, and Rachel can be a great friend despite the tinge of whininess. But their struggles are really real. 
When the end credits of the final episode rolled, I couldn't get enough that I had to do a search on YouTube of the events that transpired after that show. I could see clips of the cast hugging, crying, and the crew tearing down the set. I also watched a few interviews wherein the cast was telling Oprah about how the producers ended that particular episode with "…and that's our show," instead of the typical "…and that's our episode." It was truly bittersweet. And writing this, I realize that I am still not over it—I miss having a show to look forward to when I feel the need to unwind, de-stress, or simply have a good time. I didn't understand why Friends made such a huge impact in television history, but now, I do. I really, really do.  
Disclaimer: The views expressed here are solely those of the author in her private capacity and do not in any way represent the views of Preen.ph, or any other entity of the Inquirer Group of Companies.
Art by Marian Hukom
For the latest in culture, fashion, beauty, and celebrities, subscribe to our weekly newsletter here
Follow Preen on Facebook, Instagram, Twitter, YouTube, and Viber
Related stories:
6 group costume ideas from music videos and TV shows
TV shows that got a second chance with reboots
Former Glee stars congratulate Darren Criss on Emmy win
5 shows you should  binge-watch on Netflix first before you chill