Once again, Dolce & Gabbana is in the middle of a controversy. Their next runway show, which was scheduled later tonight, was supposed to be a tribute to China and will be held in Shanghai. On Instagram, Stefano Gabbana has been posting sneak peek videos of the final touches for the show. You will see graphic prints, lace, and an obscene amount of accessories.
https://www.instagram.com/p/BqW4R8anibh/
However, this is not where the problem lies—yet, at least. To get the word out about this collection and show, the brand released a series called "Eating with Chopsticks," wherein a Chinese woman is tasked to eat traditional Italian food with chopsticks. These included pizza, spaghetti, and a Sicilian cannoli. Yes, it is as bad as it sounds.
https://www.instagram.com/p/BqR4-DVi4wQ/
And, as expected, the Internet was enraged. Many called them out for being racist and Stefano Gabbana wasn't having it. In true Stefano fashion, he spoke up in the worst way and tried to defend himself and the brand. Specifically, he responded to London-based netizen Michaela Phuong Thanh Tranova. She posted the DM exchange on IG Stories and his replies were shocking.
Diet Prada picked this up as well and said, "Curious what the Chinese government will think of their country being called sh*t basically… especially considering how strict they are on who to allow to enter the country on work visas based on a thorough social media background checks."
After news broke, Stefano and the brand both revealed their account were actually "hacked." But could they just be trying to save face before the show? Perhaps.
Let's not forget that Stefano has been very controversial in the past, commenting on a photo of Selena Gomez calling her "ugly." And, he left a comment on IG as well calling Chiara Ferragni's Dior gown "cheap." Artist Raury even boycotted one of their fashion shows last year after D&G still supported Melania Trump. Sure, being hacked is totally possible but I honestly find it highly unlikely but we'll have to see if it really is true. 
However, hacked or not, Diet Prada also reported that modeling agencies are pulling their models from the show.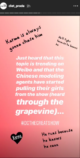 Chinese actors have also said that they will no longer be attending the event.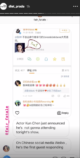 Vogue China editor-in-chief also reportedly flew back to Beijing.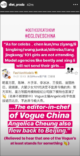 As of writing, it was also announced the show was actually cancelled. Yes, as I am writing this, the Cultural Affairs Bureau of Shanghai cancelled Dolce & Gabbana's #DGTheGreatShow. Stefani and D&G haven't made a formal statement yet but we'll be waiting to see what they say.
We're glad that people are finally taking a stand against a brand that doesn't have the best morals. I mean, it's 2018 (almost 2019!) and we shouldn't be supporting people and brands who are racist, sexist, and just plain mean. After everything they've done, Dolce & Gabbana should be cancelled for good in my opinion.
Art by Marian Hukom
For the latest in culture, fashion, beauty, and celebrities, subscribe to our weekly newsletter here
Follow Preen on Facebook, Instagram, Twitter, YouTube, and Viber
Related stories:
Thom Browne portrayed women as silenced objects on the runway
Stefano Gabbana called Chiara Ferragni's Dior couture wedding dress 'cheap'
Stefano Gabbana insulted Selena Gomez and he's receiving the backlash he deserves
Artist Raury on the importance of boycott and why he protested on Dolce & Gabbana's runway