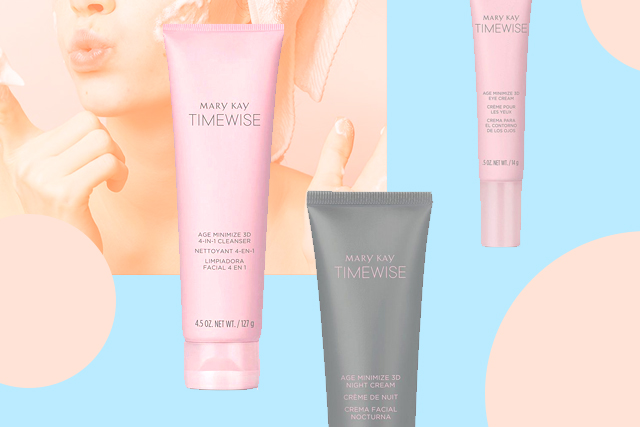 I'm sort of a stickler when it comes to my skincare routine. The moment I figured out what works best for my oily-dry combination skin, I stick to it. If there's anything that I try to get rid of, it's the scars on my face that I've had since high school. I never really considered lessening the tiny fine lines that have appeared under my eyes as early as now.
That said, I'm here to talk about Mary Kay's Timewise Miracle Set 3D. It comes with four products: a 4-in-1 cleanser, a day cream-slash-sunscreen with SPF 30, night cream, and eye cream. According to their site, this has a "three-dimensional approach to minimize the appearance of skin aging." They're also formulated with encapsulated resveratrol, vitamin B3, and "an age-defying peptide" to help with the process.
Before jumping into this, I was told that effects will show in three to four weeks. Full disclosure that I only did the former for reasons I'll get into later. If you're interested, I'm giving you my two cents on the products. (Note: My skin and its reaction to the products may be different from yours.)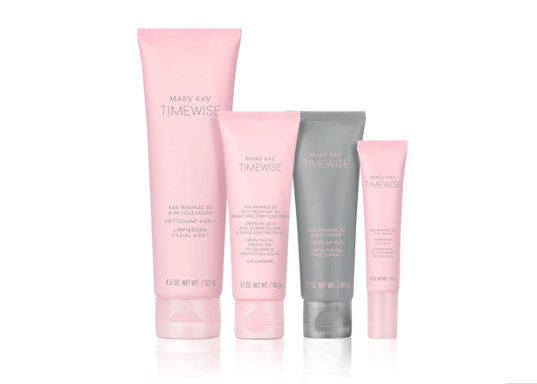 Which were okay?
The Timewise Age Minimize 3D 4-in-1 Cleanser is pretty standard. It has a gel consistency and has exfoliating beads to remove impurities and prep your skin for the other products in the set. I didn't see any problems in the three-week scope—in fact, I'm still using it now as part of my current routine. The beads aren't too abrasive and won't leave the skin feeling raw. Also, another plus is that my skin, which is mostly oily, would feel matte right after.
Another product that worked for me is the Timewise Age Minimize 3D Eye Cream. I don't use eye cream—I really should—and I found that my under eyes looked less puffy and my lids, which tend to get flaky, look hydrated. But did it remove the fine lines and ultimately reduce my bags? Not exactly. Either I needed more time using the eye cream, or the product just isn't going to get rid of years of sleeping late. Still, I appreciate the pros I mentioned.
Which were not okay?
I'm not into face creams that feel heavy on the skin and have strong scents. The Timewise Age Minimize 3D Day Cream SPF 30 Broad Spectrum Sunscreen and Timewise Age Minimize 3D Night Cream have both of those qualities.
The day cream is said to "neutralize free radicals on the skin and moisturizes [it] for 12 hours while providing broad spectrum UVA/UVB protection." True enough, it smells like the sunscreen you use on your body while on the beach, and it sticks to your nose for hours. Did it moisturize my skin, though? Yeah, sure. At the same time, because of its thick consistency, it feels like my pores got clogged and I ended up with a few breakouts.
Meanwhile, the night cream has the same thickness. It differs in formulization, though, as it has "bedtime antioxidants" which "replenishes moisture for 12 hours." TBH, it just felt like I was using the day cream at night because it has the same sunscreen-y scent. And, again, it hurt my nose to smell it, especially when I'm about to sleep. The night cream might've contributed to my breakouts as well.
So, did it work?
In terms of their anti-aging claim, I didn't see any differences in my skin aside from my eye area looking less puffy and dry. The creams didn't work on my skin and just added more problems for me—ones that I have to resolve with my personal skincare routine.
But, again, this might just be my skin reacting badly to the Timewise Age Minimize 3D products. If this will work for you, then good for you. But just keep these points in mind before you spend P4,000 to P5,000 on the whole set.
Mary Kay Timewise Miracle 3D Set. Visit Mary Kay Philippines' website for more details.
Art by Marian Hukom
For the latest in culture, fashion, beauty, and celebrities, subscribe to our weekly newsletter here
Follow Preen on Facebook, Instagram, Twitter, YouTube, and Viber
Related Stories:
Four skincare lessons I learned in my 20s
Preen Tries: A Korean skincare routine cut down to three steps
Preen Picks: Our top three favorite skincare items
WARNING: This beauty cream might burn and ruin your skin