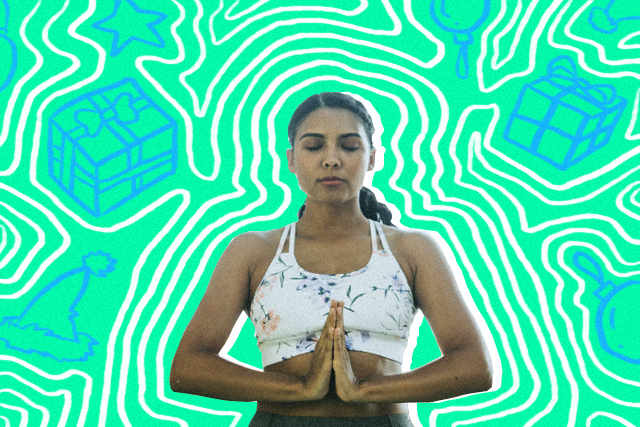 Having trouble with your gift list for the holidays? Our weekly gift guide series will help you figure out what you can get your loved ones this coming season. From food to fashion and beauty, we'll be covering all possible areas to make sure you have the best options to choose from. We will be posting gift guides every week till Christmas comes around so keep checking back for more!
There's always that one person whose wish list includes vague statements like "world peace" or "peace of mind." For the former, let me know if you figure that out. For the latter, that's pretty hard to give too. But you can offer them something close. I'm talking about activities or practices that promote wellness, like yoga. We all have that one buddy who's into fitness and well-being, and this edition of our gift guide series is dedicated to them. Check out our pick of unique items every yogi will surely appreciate.
eQua eKO lite yoga mat
This soft, absorbent and highly durable mat is made to endure intense and sweaty yoga sessions. Its beautiful, limited-edition Ashley Mary artist design inspires a calm mind, too. Available at Certified Calm, Power Plant Mall.
The Yoga Kitchen cookbook
The Yoga Kitchen by qualified Naturopath and chef Kimberly Parsons brings her yogi principles and expertise on food together. It features vegetarian and gluten-free recipes that she claims will nourish both the mind and the body. Available online.
Rag & Bone statement shirt
This white cotton vintage tee from Rag & Bone with the word "Namaste" will allow every yogi to wear their obsession on their sleeves everywhere they go. Available on Farfetch.
Sephora bath salt set
Help your friend achieve a relaxed state with a set of limited edition bath crystals from Sephora. It includes four tubes of pink and gold bath salts, with a delicate scent that's refreshing and comforting. Available on Sephora PH.
ToeSox grip socks
This half toe Elle grip socks will change the way your friend does yoga. Aside from ToeSox' patented non-slip sole for secure footing on any surface, its elastic criss cross design will also keep it snug on her feet through every pose. Available at Certified Calm, Power Plant Mall.
Wanya ceramic jewelry decor organizer
For your yogi buddy who's also a cat-person, this glazed white ceramic and gold electroplated jewelry holder with a cute cat design in a Sukhasana pose also doubles as a decor piece for her vanity table. Available online.
Eyeko waterproof mascara
Eyeko's waterproof 'Yoga' mascara is enriched with matcha green tea and botanical fruit extracts. The award-winning and long-lasting Korean formula comes with a brush designed in the shape of a lotus flower with dense bristles. Don't worry, it's vegan-friendly and cruelty-free. Available on Net-a-Porter.
Sora towels
Sora's high-absorbent and fast-drying towels aren't just for yoga. They're good for a trip to the beach, your city needs, and everything in between. Also, aside from being visually pleasing, they're ethically made too, as everything is a byproduct of recycled materials—even their packaging. Available online.