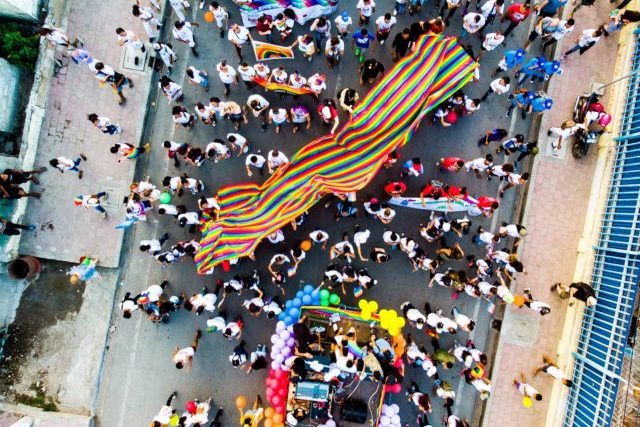 Following the success of their #DontTellMeHowToDress campaign, SPARK! Philippines launched another exhibit to shed light to sexual misconduct and violence experienced by the LGBTQ+ community.
This latest exhibit of #RespetoNaman, an advocacy raising awareness to gender-based violence in the country, called "#EndRainbowViolence" was unveiled at The Ruins, Poblacion last Friday, May 17. The date is also significant because it was the International Day Against Homophobia, Biphobia, and Transphobia (IDAHOBIT). The concept of the holiday began in 2004 as a response to the various forms of LGBTQ+ discrimination worldwide.
In the past, this movement has pushed for the decriminalization of homosexuality and transgenderism in some countries. This year, the Taiwanese government announced on IDAHOBIT that it's legalizing same-sex marriage, becoming the first Asian country to do so.
#EndRainbowViolence is another facet of the conversation. SPARK gathered stories from various members of the LGBTQ+ community on social media to be included in the gallery. These ranged from lesbians being told their preferences can be changed; the assumption that gay men will give anyone oral; and transgender people being misgendered by their peers.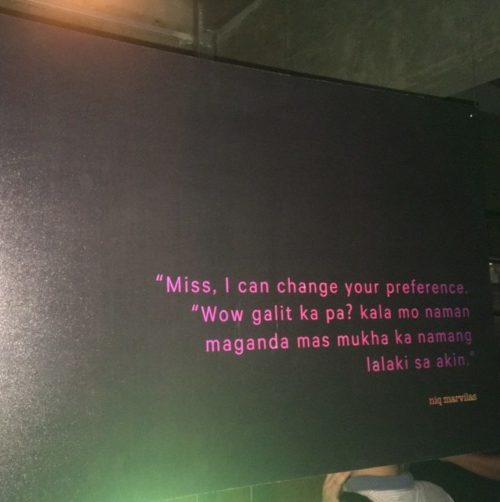 Aside from these transgressions, the Philippines still needs work in eliminating abuse of the LGBTQ+ community. A 2017 Human Rights Watch report found that only 15 percent of Filipinos live in areas protected by ordinances against discrimination on the basis of sexual orientation and gender identity. It also emphasized how LGBTQ+ students are still being bullied in schools despite amendments to the Anti-Bullying Law of 2013.
Likewise, the Philippine LGBT Chamber of Commerce revealed in 2018 that only 17 percent of companies in the country have SOGIE-related policies protecting employees from discrimination. However, no Philippines-based or owned company have implemented this. Advocacy groups felt that these policies aren't prioritized because the needs of LGBTQ+ employees aren't urgent. It's also possible that companies don't want to lose market shares because of the Philippines' conservatism.
Our country is considered one of the most "gay-friendly" in the world, and yet we have incidents like this. Worse, people being killed because they were gay, lesbian, or transgender. (Read: Jennifer Laude's murder) Inquirer.net also reported that 61 percent of Filipinos are against same-sex marriage.
Implementing the SOGIE Equality Bill
Also known as the Anti-Discrimination Bill, it was first filed in 2000 by then-senator Miriam Defensor-Santiago. The bill is still in limbo 19 years later, and principal sponsor in the Senate, Sen. Risa Hontiveros has already urged her colleagues to end the interpellation period so they can apply certain amendments.
READ MORE: Debunking some misconceptions about the SOGIE Equality Bill
It's also known that the SOGIE Equality Bill is being delayed because of critiques by the Catholic Church. Many detractors, some of them are in the government, of the bill are saying it is "sinful" and has no place in our conservative country.
SPARK trustee Boots Garcia tells us that the #EndRainbowViolence exhibit should be the wake-up call that everyone needs to implement national policies to protect the LGBTQ+ community. "They have different experiences than straight men and women. If you look at the stories here, it shows we really need a law to address these and educate people on this matter," she said.
https://www.instagram.com/p/BxcYSjLn5k-/
Career Trend noted that discrimination in the workplace can be ended through education—we believe this can be applied in our society as a whole. In an ideal world, we wouldn't need the SOGIE Equality Bill if people just respected one another. But no, the actions against the LGBTQ+ community is proof we need to do better. It's not enough that the Philippines is dubbed as "gay-friendly"—the reality is several people simply tolerate the LGBTQ+ community, not accept them. So much that they don't see what rights are being taken away from them and the casual transgressions and hate speech they have to endure on a regular basis.
If you want to see the different stories or you want to share your own to stand in solidarity with the LGBTQ+ community, you can do a quick search of #RespetoNaman and #EndRainbowViolence on Twitter.
Photo courtesy of Unsplash
For the latest in culture, fashion, beauty, and celebrities, subscribe to our weekly newsletter here  
Follow Preen on Facebook, Instagram, Twitter, YouTube, and Viber
Related stories:
#DontTellMeHowToDress opens our eyes to victim-blaming
Debunking some misconceptions about the SOGIE Equality Bill
"Gender appropriation" is the new way to shame the LGBT community
LGBTQ film Billie and Emma was born from an anti-SOGIE Bill tweet