https://www.instagram.com/p/BxDluyZHbHo/
The second season of "Pose" has been out for a while now but it was just recently added to Netflix. So the people (like us) who don't have FX on their televisions were finally able to catch up.
As usual, "Pose" didn't veer away from tackling real-world issues that happened in the '80s until the early '90s. One of the new plot lines in season two revolves around Angel Evangelista's (Indya Moore) modeling career.
The fashion industry was obviously different and more prejudiced in the '90s compared to now. Just like how "Pose" shed light on the issue of HIV and AIDS in the '80s, it also zeroes in on the real-life issues that models experienced at the time—some of which are still relevant today.
If you haven't seen season two, we suggest you click away first because you will see heavy spoilers. Go binge-watch it first and come back once you finish.
White is the norm
Naomi Campbell wasn't wrong when she said Black models have been around for a long time. While there were iconic models like her, Tyra Banks, and Iman during the '80s and '90s, the fashion industry still favored White models.
Before Angel tries out for the Ford Models Fresh Face of 1990 competition, she tells her house mother Blanca Evangelista (MJ Rodriguez) that she doesn't look like all the other girls in the magazines. Most of the covers and ads she points at feature White women. When she arrives to the audition venue, she almost backs out after seeing mostly light-skinned models.
Ultimately, Angel becomes a standout—not just because she looks different, but because of her personality and voguing—and Ms. Ford tells her she's moving on to the semi-finals.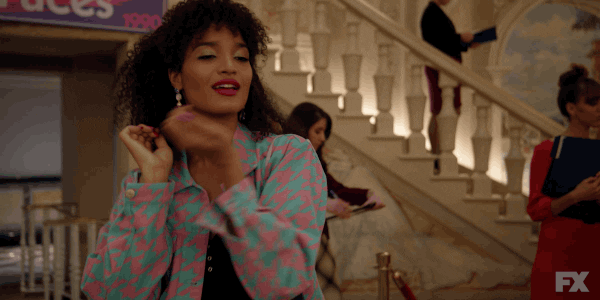 In the real world, some models don't get booked because of their skin color. For example, Naomi Campbell told The Guardian in 2016 that she wouldn't book shows during the early days of her career. While there's more diversity in fashion today, it was only during fall 2018 when a record-high of 32.5 percent of castings went to models of color, according to The Fashion Spot's analysis of 242 shows and 7,068 model appearances in New York, Milan, and Paris. This was a jump compared to fall 2017's 27.9 percent.
When The Fashion Spot started keeping track of runway diversity in 2015, the percentage of models of color was only 17 percent.
Sexual harassment
When Angel gets the callback for the semi-finals, Ms. Ford gives her one condition: Meet with the photographer she knows so she can get professionally shot photos for her finals portfolio. Angel agrees and pays the photographer to do one layout. However, he offers to do a whole-day shoot for the price of one layout if she agrees to do a "private session," which Angel reluctantly accepts because he's a known photographer.
In the #MeToo era, several models have come forward with stories of harassment and abuse at the hands of photographers. Last year, Mario Testino, Patrick Demarchelier, and other big fashion names were accused of forcibly touching and groping models, making sexually aggressive comments, and rape. Just last June, Timur Emek and Marcus Hyde were exposed by Diet Prada after several models shared stories of inappropriate touching and one of the photographers asking for nudes before a shoot.
In "Pose," Angel says she agreed to the inappropriate shoot, even compromising her safety, because she was scared she wouldn't get a chance to model again. This is an all too familiar narrative we hear from women who have been manipulated by powerful men who think they can get away with doing so.
Which is also why I felt no remorse when the photographer got beaten up later in the show. He deserved it.
Getting high on cocaine
Midway through "Pose" season two, Angel gets addicted to cocaine after a fashion executive pressures her into snorting a line at an exclusive club. Again, she does it because she's afraid she might not get ahead if she doesn't do it.
This is a callback to a time when models in the '80s and '90s were doing drugs. An industry insider told Independent in 2005 that models use cocaine "to stay awake and keep working." Model Sophie Anderton also said that drugs were so accessible to them and they couldn't steer clear of them.
On the other hand, model Carré Otis was introduced to cocaine "as a means to control her weight." This is a reflection of the popular "heroin chic" look in the mid-'90s which was characterized by pale skin, dark under eyes, and skinny bodies caused by drug addiction.
Today, models' health are now given more importance. In 2016, Califonia adopted a law which requires modeling agencies to obtain a license from the California Labor Commission proving they hire models deemed fit to work by a medical professional. This is meant to reduce cases of anorexia and drug abuse among models who want to meet employers' impossible beauty standards.
Trans discrimination
After a great run as the face of Wet n Wild and Bebe, Angel receives bad news that someone exposed her secret that she's transgender. Ms. Ford tells her all the brands have pulled out because they're "looking for a woman, not a man."
Transgender models have been around for more than 50 years, the most popular being April Ashley. But models like Caroline Cossey wasn't so lucky after a tabloid outed her as being a transgender woman in the '80s. She told Huffington Post, "Modeling, acting and entertainment are judged on face value or by the performance. There is no guarantee the artist is revealed or represented by the performance or the finished product. Yet, for me, that wasn't possible back then and the tabloids were able to destroy my professional career and even my personal life, fueled by the ignorant thinking about transgender people in mainstream society and the laws of those times."
One current example of transgender discrimination in the fashion world is Victoria's Secret. L Brands ex-chief marketing officer Ed Razek told Vogue that the brand wasn't considering casting plus-size and trans models because they don't belong on the runway. "Well, why not? Because the show is a fantasy. It's a 42-minute entertainment special. That's what it is. It is the only one of its kind in the world, and any other fashion brand in the world would take it in a minute, including the competitors that are carping at us. And they carp at us because we're the leader," he said.
Razek has since apologized for the statement and stepped down from his position. Victoria's Secret is also trying to save its reputation by casting their first trans model Valentina Sampaio and cancelling their 2019 show to work on their branding (aka, getting their shit together).
Photo courtesy of Indya Moore's Instagram account
For the latest in culture, fashion, beauty, and celebrities, subscribe to our weekly newsletter here
Follow Preen on Facebook, Instagram, Twitter, YouTube, and Viber
Related stories:
'Pose' teaches us the importance of the family we choose
Why you should be happy about the new health standards for models
Photographer Mario Testino accused of sexual harassment
Will Victoria's Secret first transgender model save them?