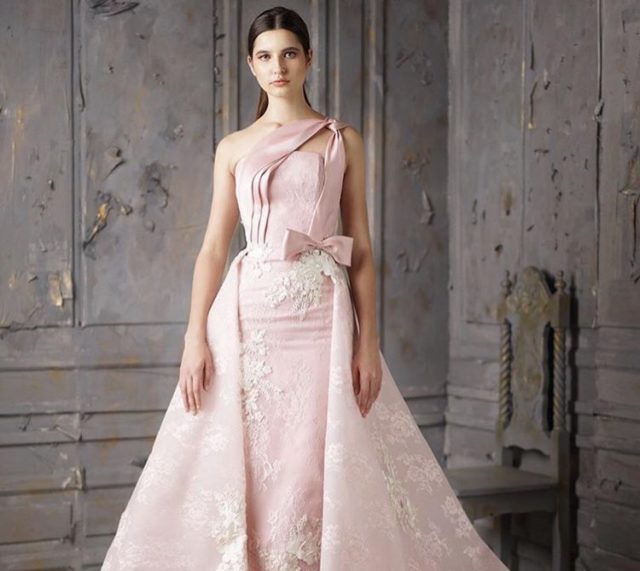 It's not easy to make it in the fashion industry. Karl Lagerfelds, Donatella Versaces, and Rei Kawakubos just don't blossom out of nowhere. There's years of work involved, a lot of heartbreak, and lucky breaks. And I think that has doubled these days as social media provides a quick platform for more people to show their pieces, making the competition fiercer.
In the Philippines, our local designers have stepped up to the challenge. Bringing their unique twist to the usual designs or showing off great craftsmanship, Filipino designers make it on the international stage with full aplomb and command. They prove that having great talent is only successful when you couple it with a drive to surpass the standard.
Gabbie Sarenas 
With a baby brand in her hands, Gabbie managed to capture an international audience at Vancouver Fashion Week. I love how she managed to convey the Visayan ceremony and prayers of harvest season to the Canadian crowd. It just shows that paying tribute to tradition can be fresh and cater to the international taste as she got citation even from Vogue China.
Ken Samudio 
Holding a Ken Samudio piece is like holding a piece of art. From his sea creature-like clutches to his floral earrings, you wonder how he pulls it off. You can cop some of his wares off international online fashion spots like thecorner.com and luisaviaroma.com. It's but natural because his designs are the reason why he was chosen by Vogue Italia as one of the Vogue Talents for Accessories in 2014 and  was invited to launch his collection at Vogue Talents Corner in Milan in 2015.
Mark Bumgarner

Mark Bumgarner seems to know no rest from his constant projects. And the world seems to have taken notice as Moda Operandi picked up his fall/winer 2017 collection. Soon after that, his dress was spotted on Aishwarya Rai Bachchan at Cannes International Film Festival. Safe to say, we're excited who will be the next international persona picking up a Bumgarner creation.
Michael Cinco
Being the first Filipino to showcase in Paris Couture Week is just another achievement in Michael's storied portfolio. With clients like Lady Gag, Jennifer Lopez and Nicki Minaj, Michael only knows of dressing the best. Recently, he got Mariah Carey visiting his atelier for a late-night fitting and sent every other major fashion publication dreaming about being a real-life Disney princess because of his dress for Aishwarya also at Cannes.
John Herrera 
In 2015, John Herrera conquered the Mercedes Benz Tokyo Fashion Week with his marine-inspired collection. He tend qucikyl followed it up by winning the London Emerging Designers Award. But he didn't stop there as he went back to London Fashion Week in 2016. He then bagged Britain's Top Designer Award and got a shoutout  from British Vogue for his collection which featured digital prints in collaboration with Epson.
Photo courtesy of Mark Bumgarner's Instagram account
Follow Preen on Facebook, Twitter, Instagram, Snapchat, and Viber
Related Stories: 
This Bollywood Actress Rules at Cannes 2017 in Filipino Couture
What Happens When Your Quirky Accessories Find Paper Realities?
What John Herrera Was Thinking Right Before His London Fashion Week Show
Local Designer Gabbie Sarenas and the Reality of Vancouver Fashion Week