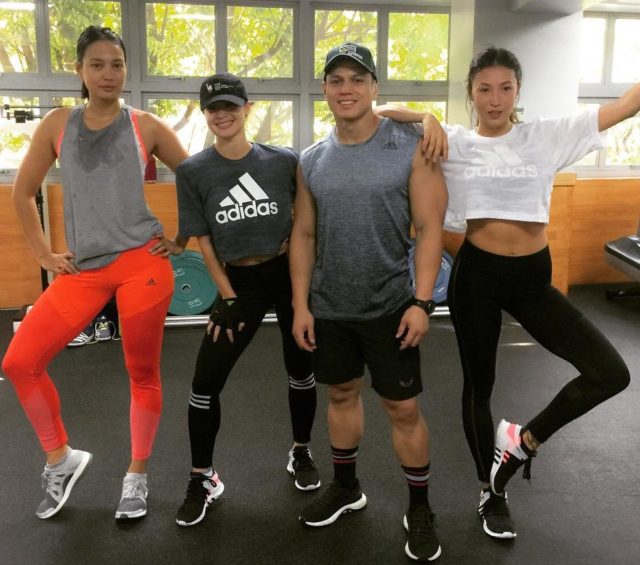 More often than not, our feeds are filled with several celebrity #fitspos who post about their workouts and progress. The usual suspects would be the "It-squad" composed of Solenn Heussaff, Isabelle Daza, Anne Curtis, Raymond Gutierrez, and Georgina Wilson. We somehow find ourselves glued to their fitness routines and wondering how they keep up with their trainer Arnold Aninion.
On that note, you may have seen the hashtag #ArnoldsArmy too many times. If you're wondering what it takes to be part of this group, it's not as exclusive as you might think. We visited Arnold at his gym where he trains his celebrity clients to talk about his methods and how he keeps them interesting. You'll find that you only need to prepare yourself for a couple of things before you start working out like your favorite It girl.
#1 What the Arnold's Army workouts are like
Arnold told us that he believes in the results of high-intensity interval training or HIIT. "I make my clients do a lot of compound movements and I try to make them do some very challenging cardio—sprints on the treadmill, inclined sprinting, even sprint uphill outside the gym," he said.  However, don't get intimidated as he assured that beginners and people who haven't done HIIT can also do it. "Everyone has to start somewhere. I always say progression is more important than perfection. It's gonna look ugly, no question about it, but it's all about the progression. If you keep practicing, you'll get better at it."
#2 Pre-workout prep
"Prior to the routine, I try to get them into the habit of doing a strong pre-workout ritual. Part of that is making sure you eat not more than two hours before training. You wanna be done digesting your food," Arnold said. He also advised to bring all your workout necessities and proper gear, as well as a good attitude. "I believe that bringing a good attitude and coming prepared isn't something that you should be congratulated for. That's the basics. I always remind them that I don't need to clap for them when they do that. I try to teach good discipline."
Other times, Arnold tries to get to know his clients first to know their needs so he knows what routine he can do for them. "Typically we have these long discussions. We determine if they have previous injuries so we know what movements that they can't do. Then I try to build a program around their previous injury and their diet."
#3 Every day is different
One of Arnold's philosophies is to change up his routines every time. This is so his clients would be challenged daily or weekly. He noted that equipment and change in environment play a huge role in keeping them entertained while working out. "The key is motivation—you have to give them different motivations every workout. You have to introduce something new each time. You can also create a fun workout around their goal like achieving a pull-up."
#4 Know your end goal
Just like you, celebrities like Raymond and Georgina work for a certain fitness goal. It's just a matter of knowing what you want to work on and enhance with your body. "What we try to do is to try and [make them] stronger. Before an individual can burn fat, they have to figure out how much muscle they can build," Arnold said. "You really have to build a routine based on what they want to achieve. Some of them just want to get stronger, some wanna look good."
If you're curious about what workout they do, Arnold shared that Raymond's program mostly consist of heavy lifting and cardio. "Mond is trying to get a new body now, so our goal is to help him put on more muscle." As for Georgina, she's trying to get her post-pregnancy bod back by doing "cardio, lots of functional movement, and a couple of times per week, sneak in some HIIT."
#5 Don't be conscious around other people
If you follow any of It girls, you'll know that most of the time they work out in groups. Arnold encourages those kinds of activities to promote a fitness community consisting of people with one goal. For those who are feeling conscious about working out with others, he has one advice: "When you work out with someone, I think it's a great opportunity to be aware of what's around you. Just remember that no man is an island, you need to be connected. Working out doesn't mean you have to put a pair of headphones on and just be alone. You have to acknowledge that there are people around you and that there are bigger communities around us. You learn more about yourself and it puts things into perspective." But if it's really not for you, online fitness communities also exist.
#6 Don't let your #fitspos make you hesitant
Do you have those moments wherein you want to work out like your #fitspo but you're too scared to try? Or that you might not get the same result? Don't be. Arnold advised to see them as inspiration rather than an intimidation. "These girls had to start somewhere. For those who don't do any sports or work out, the best thing you can do is to start and just watch, follow, and grow," he said. "Just have the willingness to learn. I don't say, 'If you can't do this, don't do it.' I tell them to do an honest attempt and see what works." He added that the number one thing to remember is to not settle for mediocrity and aim for number one.
Follow Preen on Facebook, Instagram, Twitter, Snapchat, and Viber
Related stories:
What Did Raymond Gutierrez Give Up to Get His Toned Body?
Georgina Wilson's Ideal Girl's Night Out Involves Going to the Gym
When It Comes to Fitness, It Takes an Online Village to Stay Motivated
9 Personalities to Follow for Daily #Fitspo Motivation
Watch: Isabelle Daza's Five Stages of Working Out