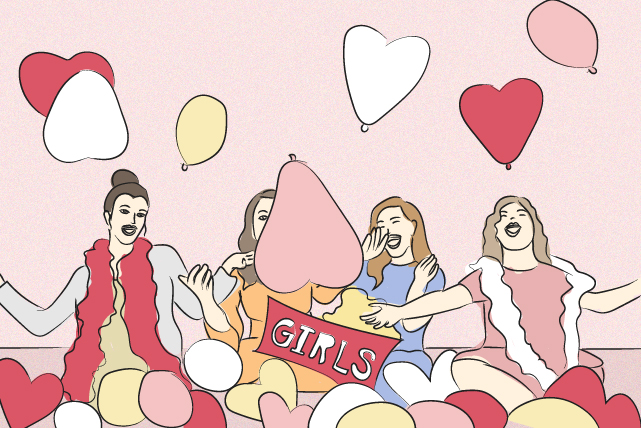 For the ladies who aren't fond of Valentine's Day, for whatever reason, Galentine's Day might be up to your speed. Instead of boycotting the faux holiday, make a party out of it with your best friends. Use this time to catch up with one another and just let loose. While other people may be out on dates, you'll have your ladies with you to eat, drink, and sing with. If this sounds like how you want to be spending your Wednesday (or weekend) night, here are a few things you can do to prepare for a last-minute Galentine's Day get-together. We're definitely planning one for this long weekend.
Fill up a piñata
Inspired by Valentine's Day, break open a heart-shaped piñata with your favorite gal pals. You can use this to take out any stress you might have or just have fun smashing something for a change. To make it even more exciting, fill it up candy and other treats. Add in some mini vibrators too because why not?
Get the snacks ready
Treat yourself and your friends to your favorite snacks. Take this time to indulge because you deserve it. If you're not quite sure what to prepare, check out our quick mug cake recipe and a guide to creating the perfect charcuterie platter.
Prepare a playlist of movies and music
Have a playlist of your favorite songs ready so you can all sing and dance along, just like the sleepover scene from 13 Going on 30. It's also good to have a list of movies on hand that everyone will enjoy. It can include animated movies that remind you of your childhood or critically acclaimed films like Her.
Stock up on alcohol
Keep the party going with some booze. Stock up on the usual spirits or make some fun cocktails. Get everyone to join in and make some fruit cocktails or this easy drink that has moscato and pink lemonade. Don't forget to stay hydrated, ladies!
Set up a comfy area
Whether you're catching up or watching a movie with friends, make sure the gathering spot is comfy for everyone. Set up the couch and lay blankets and pillows on the floor too for extra room. Light some candles if you want the room to feel even more cozy.
Art by Lara Intong
Follow Preen on Facebook, Instagram, Twitter, and Viber
Related stories:
Why Having a Friendship Breakup Can Be Liberating
Did I Really Just Fall In Love With My Girl Best Friend?
It Might Be Time For Some Social Media Spring Cleaning
8 Things For a Pool Party Your Friends Won't Forget