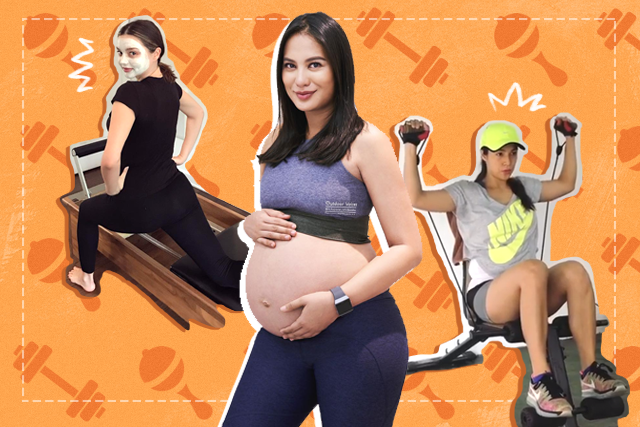 Contrary to what many people think, it's actually okay for pregnant women to workout. In fact, some doctors even recommend it because it helps the women stay strong and healthy. If you're not a believer, we found some celebrity moms who have decided to continue exercising during their pregnancy. These range from low-impact yoga to more intense CrossFit. Of course, the exercises you do should depend on your body. It is best to consult your doctor before starting any kind of workout regimen. Usually, if your body is used to physical activity, you shouldn't have a problem. So if any of you mothers-to-be want to start being active, check out the list below for some ideas and then ask your doctor for the go signal.
Iya Villania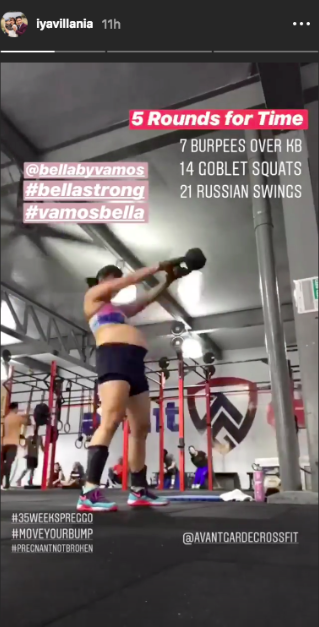 Because Iya Villania's body is used to high-impact exercises like CrossFit, this is her workout of choice. She posts her routines on Instagram and her most recent one showed a time lapse video. At 35 weeks, her exercise consists of five rounds of seven burpees, 14 goblet squats, and 21 Russian swings. Yeah, sounds pretty intense. Aside from staying strong, Iya also wants to be able to carry and play with baby Primo while she's pregnant. Oh, and she can still do handstands too.  
Eva Longoria
Before giving birth to baby Bastón last month, Eva Longoria was also working out. Her activity of choice was hiking. In January she posted a photo where she was all smiles and pointing at the Hollywood sign. In the caption she wrote, "Monday Morning hike! Gettin' it in!"
Aubrey Miles
Another active momma-to-be is Aubrey Miles. After announcing her pregnancy two weeks ago, she has been updating her Instagram feed with modified exercises for her pregnancy. She is in her second trimester and has shared her prenatal leg, arm, and full body exercises. In one of her videos she said, "I'm still having morning sickness but not as much as the first trimester. I appreciate the energy I'm having now. Not 100 percent but thankful my 2nd trimester is way better."
Miranda Kerr
Miranda Kerr gave birth to baby boy Hart last May. But when she wasn't busy with photoshoots, she had some time to exercise. On Instagram she posted a photo with a pilates machine. She also had a face mask on. In the caption she wrote, "Multitasking mumma." Yup, self-care at its finest.
Isabelle Daza
Before giving birth, Isabelle Daza opened up about baby weight gain. She posted a video at the gym with captions that read, "Trying to stay positive but sometimes it's just hard," and "I've been gaining so much weight, and I've been really sad about it but I know I have to just focus on staying active." Aside from hitting the gym, Isabelle also did prenatal yoga. According to her post this, "improves sleep, increases flexibility and muscle endurance needed for childbirth."
Jessica Alba
While pregnant with baby Hayes, Jessica Alba would share her workout routine on Instagram Stories. These exercises included push-ups, resistance bands, and kettlebell lifts. She most likely had a trainer for this so best to check with yours as well.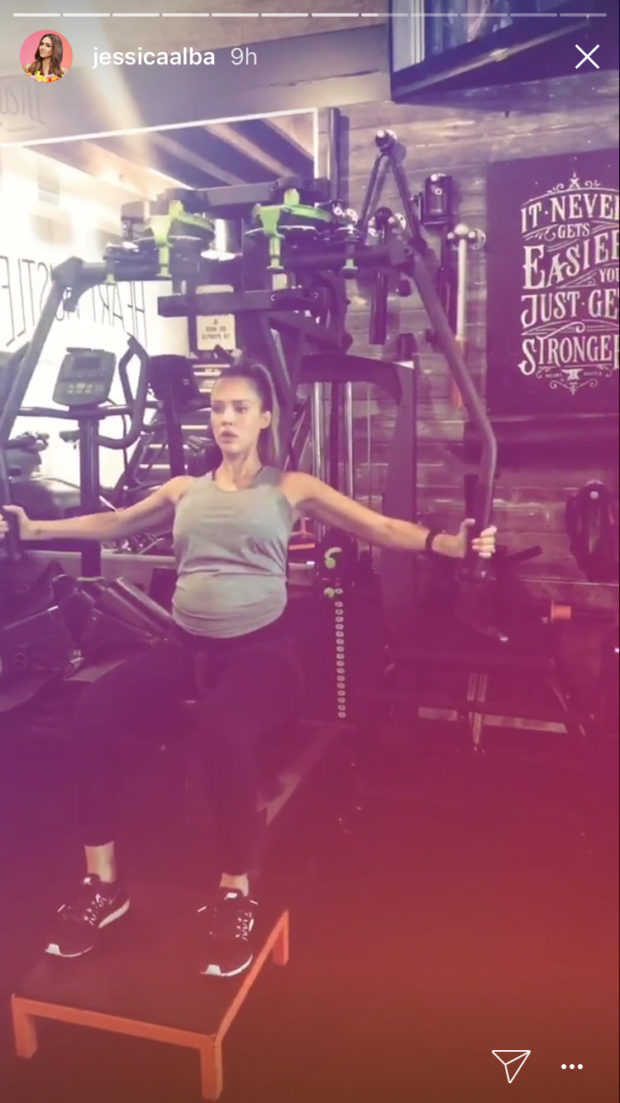 Bianca Gonzalez-Intal
Bianca Gonzalez-Intal's pregnancy hasn't been easy but she's trying to stay strong. Despite her morning sickness, she's been doing prenatal pilates regularly. When she hit the 23rd week, she posted a video with the caption, "The struggle to keep fit during pregnancy is real!! But I've learned working out makes a big difference, to stay strong until delivery and recover faster after giving birth." She also had some piece advice for other mothers, "Every pregnancy is different, ask your doctor before starting and exercise."
Art by Marian Hukom
Follow Preen on Facebook, Instagram, Twitter, YouTube, and Viber
Related stories:
How did Andi Manzano, Kim Kardashian, and Iya Villania drop the baby weight?
I tried a workout that made me do 500 squats in an hour
Take your gym look from workout to night out
Watch: Isabelle Daza takes us through her home exercise routine