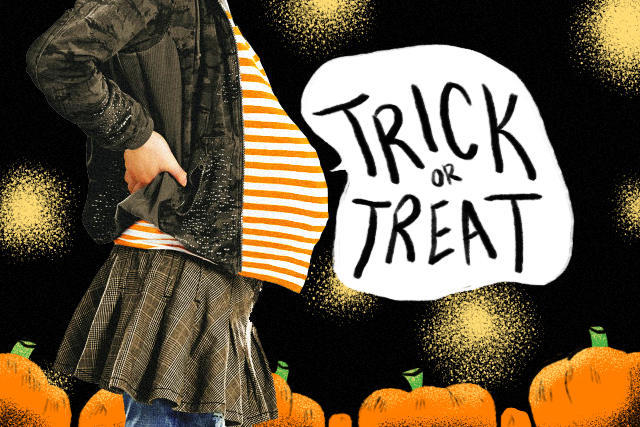 Halloween isn't just for the kids. It's a holiday for all ages—and even mommas should have their fill of trick and treatin'. If you're a mom-to-be and this is your fave holiday, no worries, you can still own Halloween! Picking a costume might be tougher, sure, but instead of treating your baby bump as a challenge, why not make it into an asset? Make your Halloween celebration extra special this year, 'cause technically, it will be your first Halloween with the child you're carrying. Go ahead and enjoy it with these fool-proof pregnant Halloween costumes you can choose from.
Juno
I've been in love with this unconventional coming-of-age story since forever. When I'm pregnant, I'm totally dressing up as her. To be the weird yet lovable character, all you need is a striped orange shirt, a black hoodie, straight-cut jeans, and a short plaid skirt to go over it. Don't forget to wear your hair in a ponytail. Also: Make your man wear Paulie Bleeker's track outfit, you learn some Juno MacGuff slang, and you guys are good to go.
View this post on Instagram
Slick Woods
Slay the Halloween party while channeling our maternity fashion icon, Slick Woods. If her runway look (which led straight to the delivery of her child) is too much for you, we've listed down our favorite pregnancy looks, which are totally achievable—like the catsuit and her baby bump-baring outfits. If you love wearing crop tops and showing off your torso pre-pregnancy, your baby bump shouldn't stop you from staying true to your style.
View this post on Instagram
Beyoncé
You could either go with the sparkly pink blazer she wore when she first revealed her baby bump at the 2011 MTV VMAs. Or! If you could pull off that floral goddess maternity shoot, why not? All you need is a lacy fuschia bra, satin blue panties and a veil. If you want extra but not that extra, go for the golden headpiece and the sheer, beaded dress she wore at the performance at the 2017 Grammys while pregnant with her twins.
View this post on Instagram
When Beyoncé stepped on stage, The Grammys gained an extra 12 million viewers pic.twitter.com/82cFu1BUlN

— EVERYTHING IS LOVE OUT NOW (@beyceipts) February 13, 2017
Queen Amidala
Star Wars characters are popular choices at Halloween. If you're a fan of the franchise, why not go as Padme? Curl your hair and go for her iconic dreamy blue dress so you can feel all regal and pretty, while your beau can dress as Jedi prodigy, Anakin Skywalker. It's a win-win! (Just don't let him near someone dressed as Emperor Palpatine, if you know what I mean.)
View this post on Instagram
Kylie Jenner and Khloé Kardashian
Are you and your bestie both pregnant at the same time? Here's an idea: Why not dress as pregnant Kylie and Khloé? Plus: Make it a girls' night out and your other girlfriends can each be one of the Kardashian/Jenner girls. Funnn! For Khloé, wear a body-hugging dress, and don't forget to copy her blonde hair and sleek makeup. For Kylie, she was in hiding throughout her pregnancy, so whenever she went out, she was pretty much covered up in baggy sweatsuits, or a loose shirt and cargo pants. Don't forget to dodge the paparazzi!
View this post on Instagram
View this post on Instagram
Art by Marian Hukom
For the latest in culture, fashion, beauty, and celebrities, subscribe to our weekly newsletter here  
Follow Preen on Facebook, Instagram, Twitter, YouTube, and Viber
Related stories:
Don't be that person wearing an offensive Halloween costume
Horror scenes and pop culture: The celebrity couple costumes we loved for Halloween
Makeup products to complete your Halloween look
How Kylie Jenner and Martha Stewart won Halloween