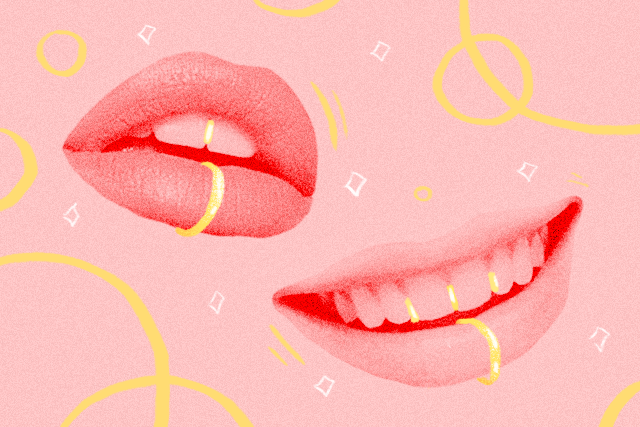 They say that a person's best asset is their smile—or whatever the cheesy saying reads. We see people grabbing products that'll remove stains and make their teeth whiter, as well as non-fluoride ones to save the environment.
So what's the next step to making our teeth stand out even more? Accessorizing them, of course.
Adding jewelry to teeth isn't anything new. Hip-hop culture made grills, which is a type of gold or metal fronts worn over teeth, popular in the early '80s. When the '00s rolled in, it became more mainstream. Several rappers and celebrities also make their grills even more extra by making them diamond-encrusted.
One example is Kylie Jenner sporting rose gold ones when she was still dating Tyga in 2016, who is also known to wear them. Just imagine the flashback when these two were photographed together.
View this post on Instagram
But teeth accessories don't necessarily look like oversized mouthpieces, they can be subtle too. In 2013, Beyoncé was seen flashing lower teeth diamond grills with fangs. That's a bougie vampire.
Recently, grills are making a comeback in a huge way. Guinness World Records declared in February that Katy Perry's million-dollar grills that she wore in the "Dark Horse" music video is the "Most valuable grill (jewellery)," which costs $1 million.
But it seems like more people are into more minimalist teeth accessories, perhaps because they're more wearable and less obnoxious. KKW Beauty featured thin rose gold-plated diamond grills for the Classic Blossom Collections campaign. One even spelled out "KIM" because, of course, the Kardashians like putting their name on everything.
View this post on Instagram
View this post on Instagram
Tooth gems are making it big as well. Crystal Caviar is one artist who's been doing this for a while and their customers are all sporting one or more small gems on their chompers. Think of them as like braces but minus the elastic.
View this post on Instagram
This post from art account Cigaret Love once made it into the Discover page. It shows someone's two front teeth with the logos of Louis Vuitton and Dior stamped on them. Who knows? Maybe someone would make the crazy idea to advertise their brands on teeth. I mean, Japan's already doing it on armpits so teeth are less weird. (Right?)
View this post on Instagram
Would you try it or do you want to leave this trend behind? Let us know your thoughts in the comments section or on social media.
Art by Marian Hukom
For the latest in culture, fashion, beauty, and celebrities, subscribe to our weekly newsletter here  
Follow Preen on Facebook, Instagram, Twitter, YouTube, and Viber
Related stories:
Brushing your teeth shouldn't harm the environment
Here's a weekend project: Organic toothpaste
Kyline Alcantara likes wearing rings and charms on her braids
Are body modifications the new fashion accessory?