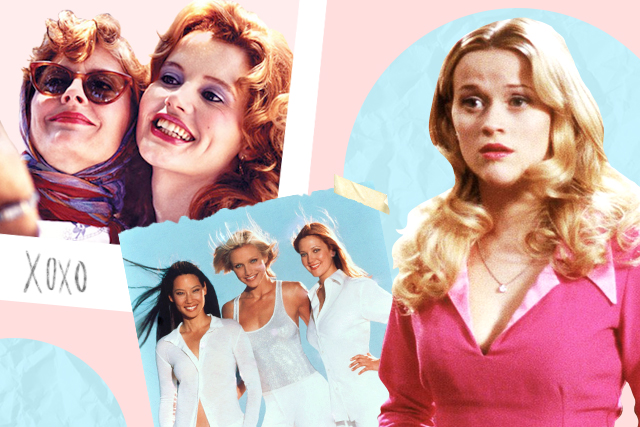 To officially welcome the celebration of this year's International Women's Month, we give you a list of movies that highlight female friendships. Because we all need a bestie or two to keep us sane, push us when we're so close to giving up, or simply tolerate our corny jokes. And because they become ubiquitous and deeply ingrained in our lives, we sometimes forget to appreciate them, or there are times we take them for granted. But this month is the perfect time to celebrate your female friends. So gather your girl friends and get some much-needed bonding time by bingeing on these movies that may or may not reflect your brand of friendship.
Frances Ha
One of my all-time fave movies ever, it features Greta Gerwig who co-wrote the film as well as played the lead role, France Halladay. She tries to deal with life's frustrations as a young New Yorker trying to chase her dreams. But at the core of the movie is her relationship with Sophie, her bestie who, in contrast, seems to be getting along with the adult life just fine. I especially found the scene near the ending where Frances looks at Sophie, and you feel this unspoken connection between the two, so powerful.
Bridesmaids
If you want a super chill bonding sesh, watch this with your bestie/s. It's full of LOL moments, that it's hard to choose a favorite. It tells the story of best friends Annie and Lillian. Preparations for Annie's marriage and the arrival of a "new best friend" took some toll in their relationship, but the ending shows that good and authentic female friendships endure. No female rivalry here, thank you very much.
Legally Blonde
Elle Woods is a girlboss icon who succeeded because of her own wit and grit. But she couldn't have done it all by herself. Behind her is not a man (okay, Emmett helped too), but her friends who supported her all the way. I mean, a sorority where everyone pushes each other to be better, actually roots for each other's happiness, and supports each other dreams instead of toxic sisterhood drama? Um, can I join?
Clueless
Another chick flick featuring a popular, spoiled girl, Cher, but is far from snobby (except to men who deserve it, because, as if!), and certainly loyal to her girls Dionne and Tai, is a great one in our eyes. Sure, Cher and Tai had to resolve some brief tension between them, but once that was settled, the girls were back to being nothing but supportive of each other.
The Sisterhood of the Traveling Pants
This tale held together by a one-size-fits-all pair of pants is much more introspective than it sounds. The movie franchise about four very different women, who shares the ~magical~ pants, tackled different issues women face as they come of age, but with the foursome's relationship in the center of it all.
Thelma and Louise
This may be the most literal interpretation of the phrase "ride or die." It's a classic movie which discussed some serious themes like rape, and revenge. It remains to be a cult favorite and a clear classic. When you talk about female friendships in the big screen, you just can't not talk about these two.
Romy and Michele's High School Reunion
Some say high school is the best part of people's lives. But to others, it's hell. This is true to Romy and Michele, whose friendship was forged and tested by that four year of trying to survive that sh*ttines. Years later, their dreaded high school reunion forces them to reevaluate the importance of their friendship. Oh, and the Cyndi Lauper soundtrack in this movie is a major plus.
Charlie's Angels
At some point in our lives, I'm pretty sure we all aspired to be as badass as the Charlie's Angels. Admit it, you and your friends debated about who among you is Natalie Cook, Dylan Sanders, and Alex Munday. Through thick and thin, the ladies' strong bond helped them survive action-packed, life and death situations, without losing their wit and sense of humor. Test of friendship, right there.
Beaches
If you're in the mood for some sob-fest with your bestie, this drama flick is for you. It features the  lifelong friendship between CC and Hillary who met as a child and grew up together. Like any relationship, they have their ups and downs (including a love triangle), but in the end, they prove that the kind of friendship they have can overcome it all.
Divine Secrets of the Ya-Ya Sisterhood
More than just about the power of enduring female friendships, one that survived decades, this movie with a stellar female cast also talked about the complexities of a mother-daughter relationship. It's both funny and moving, and the way it tackled female relationships makes it a must-watch on our list.
Bride Wars
Can you imagine if you and your BFF decide to wed at around the same time? As fun as it sounds, this movie shows it could be disastrous. Childhood friends Liv and Emma have been planning their own weddings since they were little girls. Wanting it to be perfect, they end up competing with each other and their friendship is put to the test.
Art by Marian Hukom
For the latest in culture, fashion, beauty, and celebrities, subscribe to our weekly newsletter here  
Follow Preen on Facebook, Instagram, Twitter, YouTube, and Viber
Related stories:
Best of: TV shows and movies we obsessed over in January
These scenes in rom-com movies make me cry
Preen Picks: Movies to watch on Valentine's Day based on your relationship status
Strong female leads in movies inspire us to break gender stereotypes