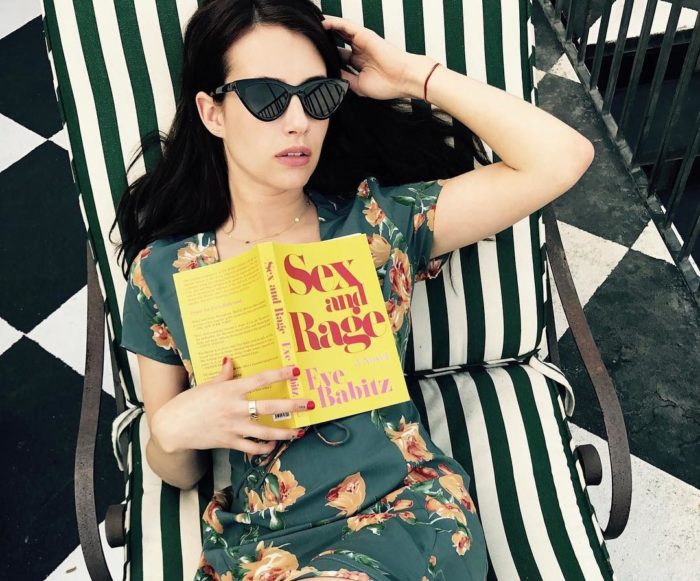 Books serve as perfect companions especially when you're waiting for your next flight or spending downtime at home. They manage to create an elaborate world within a certain number of pages and convey messages that speak to you.
Being a bibliophile myself, I can attest to how difficult it is to choose what my next read will be from thousands of book choices. When in doubt, I take recommendations from other bookworms. If you're in need of some additions to your must-read list, check out what these celebrities are reading during their days off. You might just find your next favorite.
Kris Aquino and Rich People Problems
Kris Aquino used to walk the halls of Ateneo de Manila University as a literature major and even after her success as a businesswoman and media personality, her love for reading has not waned. Just check out her Instagram feed to see some good selections from various authors. One of them is Rich People Problems (we all know why!), the final installment of Kevin Kwan's Crazy Rich Asians trilogy and the wrap up to the story of an extravagant and outlandish but hilarious family. Get into the series now before the film opens in theaters!
Reese Witherspoon and The Alice Network
Although Reese Witherspoon is prominently known as an actress, she has worked behind the scenes of some critically acclaimed-movies and shows. Some of them include Gone Girl, Wild, and Big Little Lies. The common denominator among them? They're all adaptations of novels. The Oscar-winning actress is a proud bibliophile, promoting new reads for the #RWBookClub every month. Her recent selection is The Alice Network, a suspense, period, and thriller story all wrapped up in a book from Kate Quinn. As you can see from the caption, the actress only has praises for the book. Could we possibly see her spearhead the novel's big screen adaptation soon?
Mindy Kaling and Monty Python Speaks
Comedians recognizing other comedians! Mindy seems to be a fan of the legendary comedy group, Monty Python. The British comedy troupe revolutionized sketch comedy, a style still adapted by shows like Saturday Night Live and The Office, which Mindy starred in. Celebrity autobiographies are always fun to read because they give you a glimpse of their stardom from their perspective. As the post-it read, Monty Python Speaks by David Morgan is described as "gossipy"—Mindy is intrigued and so am I.
Emma Roberts and Sex and Rage
It looks like Emma Roberts is more Nancy Drew than Chanel Oberlin. There is never a shortage of reading-related posts on Emma's Instagram feed so it's no surprise that she decided to collate it all by starting Belletrist, a book club with friend Karah Preiss. Their book of the month is Sex and Rage by Eve Babitz. Subtitled "Advice to Young Ladies Looking for a Good Time," the novel is a story of a young woman torn between basking in the bliss of Los Angeles and finding a purpose in life in New York. I'm sure the premise speaks to anyone who remembers the struggle of finding yourself in the hustle and bustle of the city.
Oprah Winfrey and Behold the Dreamers
Who can forget how Oprah Winfrey started Oprah's Book Club in 1996 as a segment of The Oprah Winfrey Show. When the show ended, she created Oprah's Book Club 2.0 that instead uses social media as a platform for their discussions and recommendations. This month's choice is titled Behold the Dreamers by Imbolo Mbue. Described by Oprah herself as "thought-provoking" and "heartwarming," the characters' struggle with immigrant life and economic downfall in 2007 New York speaks volumes even when read today.
Sarah Jessica Parker and No One Is Coming to Save Us
It turns out the Sex and the City star loves books just as much as she loves fashion. Despite her busy schedule, SJP's dedication to reading didn't go unnoticed by the American Library Association. Her fondness for books made her the perfect inaugural chairman of the ALA's Book Club Central. Her first pick for the organization is No One Is Coming to Save Us by Stephanie Powell Watts. The novel is about one family's struggle with dreams, prosperity, and the what-if's of life. SJP says it's a great summer read; it's also a good read for the rainy days we've been experiencing lately.
Follow Preen on Facebook, Instagram, Twitter, Snapchat, and Viber
Related stories: 
JK Rowling Wasn't Allowed to Use a Female Name for Her Books
5 Writers for Your Regular Dose of Feminism
Why It's Important to Teach Your Kids to Travel Without Moving
Gabs Gibbs and Laureen Uy's Reading Nooks Are What Every Bookworm Needs
Get to Know the Actors Who'll Play Crazy Rich Asians