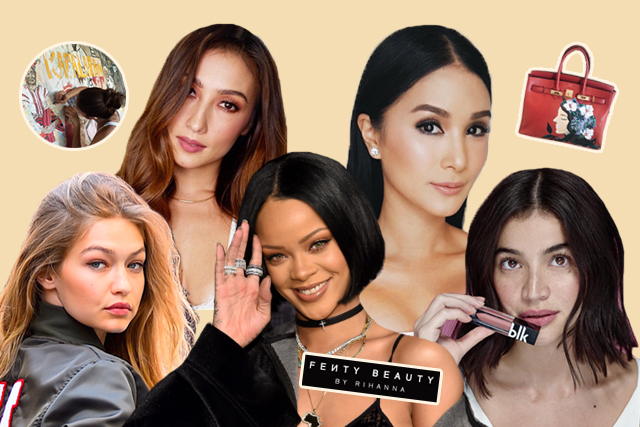 If there is one thing this era has taught us, it's all about building your brand. For you to stay relevant, it's not enough to rest on your usual entertainment laurels. If they say you have no talent, you just show them the checks you make from your business. If they're sick of the usual song and dance number, give them a beauty brand they wanted and needed. If the movies don't rake in the big bucks, go personal and star in a vlog channel. What's important is that you keep moving and showcasing that you can do more.
This all makes for a great landscape from fashion, beauty, to celebrity culture. It's not anymore just about being a multi-hyphenate, it's about being a personality that's bigger than your self. Branding is about marketing yourself and your lifestyle.
#1 Show off your different talents 
I don't remember a time there wasn't a show or a movie starring Heart Evangelista growing up. Now that younger stars are coming in, Heart chose not to compete but to evolve. With different paintings appearing on Hermès bags and even on Mark Bumgarner dresses. It was also featured on her collaboration with Happy Skin. It worked because it was like looking at Heart in a fresh light. And look who is taking notes: John Lloyd Cruz just introduced his photographer alter-ego Idan Cruz.
#2 Claim your name 
Kim Kardashian, the woman whose name has a Midas touch effect, did it best. Her talent was turning her name into a business venture, from an app to a beauty line.
On the other hand, the name Rihanna is the woman you turn to for a chart topper. The name Fenty is the one you turn to for the next in beauty and fashion. People are still freaking out over Fenty Beauty with its 40 shade foundation range and innovative approach to concealer, highlighter, and contour given her Match Stix. Those Fenty x Puma collections? You bet we love it.
#3 Show off your business side 
But even the traditional celebrities know the formula: Madonna just brought her MDNA luxury skincare line to the United States while Gwyneth Paltrow made Goop into a formidable (but still expensive) lifestyle authority. Recently, sisters Toni Gonzaga and Alex Gonzaga became milk tea shop owners via Happy Cup as new kid on the block Anne Curtis launched BLK Cosmetics.
#4 Keep expanding 
Solenn Heussaff is set to formally launch her jacket and scarves collection. Not satisfied with #SolennArt, she's going back to her fashion designer roots with Lahi. But that's not before she launched a book with bestie Georgina Wilson, created her own perfume, while making her own wine collection. She's also into vlogging and working with ventures like Hope In a Bottle to show off she's got a lot of tricks.
#5 Don't hesitate to vlog 
Ashley Tisdale got into the vlogging business, Solenn helped us further understand how funny she and Nico can be through her video posts. Guess who else vlogs? Kris Aquino. If you can't beat the people who became You Tube stars from a borrowed camera and a "Hi, guys" introduction, join them. The personal and intimate appeal of a vlog is shows that you're not just what they see on endorsement campaigns. LA Aguinaldo's vlog on his trip to Iceland? You can say we we've watched that. We do it right after we laugh to Alex Gonzaga's five-minute makeup tutorial.
#6 Collaborate endlessly
You can do it the Kylie Jenner and Khloe Kardashian way and collab within the family or you can go farther. Spot Gigi Hadid showing off how she's not just a model with her work with Tommy Hilfiger. Same goes for Zayn Malik who took up the reigns at Versus Versace. A$AP Rocky injected a cool vibe with Guess. You get the picture: You have to make sure that your brand is strong enough to be aligned with another famous brand to establish your authority.
Art by Lara Intong
Follow Preen on Facebook, Instagram, Twitter, Snapchat, and Viber
Related stories:
What Happens When a Celebrity Wants to Be a YouTube Star?
Heart Evangelista Isn't Done Showing Off Her Artistry Just Yet
Hit Subscribe: Anna Wintour and Gwyneth Paltrow Will Create a New Magazine
How Madonna, Rihanna, and Drew Barrymore Are Killing It in the Beauty Industry