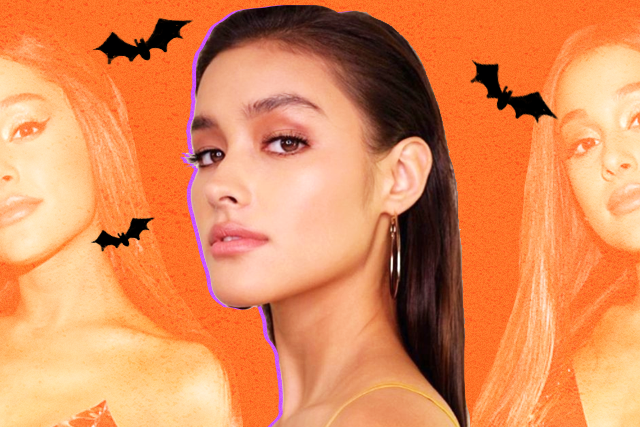 Halloween is that magical time when we'll see people transform into characters that either suit or are totally different from who they are. We're also stoked to see how celebrities would pull off their costumes this year. (Here's our 2017 roundup if you haven't seen it.) But in case they're still thinking about what to wear, we have some suggestions.
You see, there are times when we see a photo and think this celebrity is giving off a diva vibe, or that they could pull off another celebrity's look. And we think the best time to do that is on Halloween, don't you agree? Scroll down now to see which celebrity costume would suit our local celebrities. Feel free to share your own ideas!
Liza Soberano as Ariana Grande
View this post on Instagram
When Liza Soberano posted a photo where she's sporting a high ponytail and wearing a highlighter green Rob Ortega dress, people instantly likened her to Ariana Grande. But you see, this isn't the first time we saw the resemblance between the two ladies. In 2015, Liza also posted a selfie which reminded us of Ariana from the get-go because of the winged liner, ponytail, and bright outfit.
Costume idea: There are so many Ariana Grande eras to choose from and come on, it's not like she ever changed her hairstyle in all of them. But since Sweetener just came out, Liza should do a look from "God Is a Woman."
Sue Ramirez as Winona Ryder
View this post on Instagram
Gay Times called Winona Ryder the "unspoken queen of Halloween," and they're not wrong. Her ode-eyed look, pale skin, and dark hair made her look iconic across all the Tim Burton films she was in, as well as the drama Girl, Interrupted. That said, we think Sue Ramirez fits the bill and she can pull off any facet of Winona for Halloween.
Costume idea: Since Sue has a pixie cut right now, she can go simple and dress up as Susanna from Girl, Interrupted. She can also put on a wig and do Lydia Deetz from Beetlejuice for something more over-the-top.
Kyline Alcantara as Beyoncé
View this post on Instagram
It's no secret that singer-actress Kyline Alcantara looks up to Beyoncé when it comes to her music and fashion choices. She dressed up like the diva before while wearing a curly wig tied up in a ponytail, so it's no problem if she does it again.
Costume idea: Queen B has been posting several OOTDs from their On the Run II tour. This leopard-print one is, for us, the most note-worthy and we'd like to see Kyline pull off something similar.
View this post on Instagram
Megan Young as Angelina Jolie
View this post on Instagram
Outside of doing pageantry, Megan Young has proved time and again that she can be a badass with her looks. Just look at this campaign she shot for Bench and try to convince us otherwise. So we think she can be Angelina Jolie for Halloween, complete with her luscious lips, of course.
Costume idea: Megan can go the red carpet route and recreate Angelina's expose-the-leg pose. She can also dress up as Lara Croft or CIA agent Evelyn Salt.
Maine Mendoza as Audrey Hepburn
View this post on Instagram
Maine Mendoza recently launched a peach-nude lipstick under MAC Cosmetics, so it's only fitting that she dress up as Audrey Hepburn. Both of them have black hair, big eyes, and have been photographed looking regal in several occasions. More importantly, Audrey is known for wearing a peach-hued lipstick.
Costume idea: Picture Maine as Holly Golightly of Breakfast at Tiffany's. Her MAC lipstick will suit that all-black look nicely.
Sarah Lahbati as Kim Kardashian
View this post on Instagram
Sarah Lahbati isn't shy to show off her natural curves when needed, and so is Kim Kardashian. Plus, they're both dedicated mommas. Being Kim K should definitely be on top of her costume list.
Costume idea: We think it's time Sarah try out the cycling shorts trend to match Kim's Yeezy get-up. She can choose to pair them with a sports bra or a sweater, plus sneakers or low-heel sandals. The sharp contour is a must.
View this post on Instagram
Anne Curtis as Dua Lipa
View this post on Instagram
Anne Curtis was fangirling during Dua Lipa's show in Manila last month. Which got us thinking: Anne can pull off the singer's look, especially with her short hair and toned abs. Knowing Anne, she wouldn't mind singing a few lines of "IDGAF" and "New Rules," too.
Costume idea: The suits in "IDGAF" are a tempting choice, but Anne could go out of here comfort zone and cop Dua's look in "Electricity"—white crop top, red panty, and blonde wig.
Art by Marian Hukom
Photo courtesy of Inquirer.net
For the latest in culture, fashion, beauty, and celebrities, subscribe to our weekly newsletter here  
Follow Preen on Facebook, Instagram, Twitter, YouTube, and Viber
Related stories:
We're using Halloween icons as our styling pegs this season
This Halloween season, wear lipstick that's as dark as your soul
These pregnant Halloween costumes will have you flaunting that baby bump
Don't be that person wearing an offensive Halloween costume