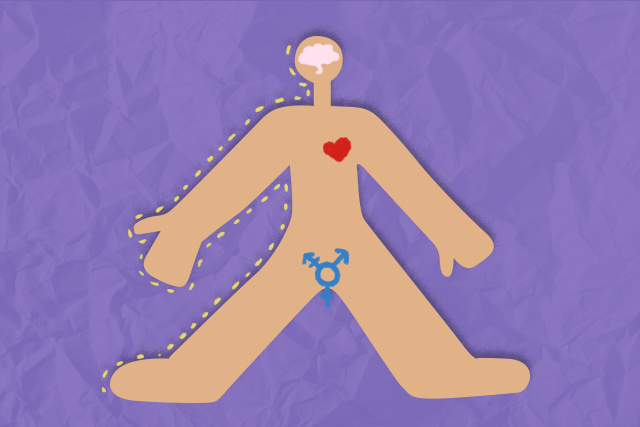 The conversation on the SOGIE Equality Bill is taking over the news and social media after the whole debacle with transgender people using restrooms. Sadly, not all of them support the bill.
The most controversial response came from Senate President Tito Sotto, who categorically declared the SOGIE Bill has "no chance" of passing. He said the bill should be "anti-discrimination on [all] persons" and claimed it would impede religious and academic freedom, as well as open doors for same-sex marriage.
CIBAC Rep. Eddie Villanueva, who is also the leader of the Jesus Is Lord Movement, echoed the same concerns. He said the SOGIE Bill "imperils freedoms of speech and religion" of Christians like him because it allegedly forces people to conform to the lifestyles of the LGBTQ+ community.
READ MORE: Protecting trans rights isn't just about restrooms
As we mentioned before, the SOGIE Equality Bill is meant to protect the LGBTQ+ community from gender-based violence and discrimination, especially when gays and trans women are being barred from entering public spaces, among other acts. It wasn't created to step on other people's freedom of expression or religion.
Sen. Risa Hontiveros has also posted some myth-busting facts on her Twitter to clear up the politicians' claims.
Every time equal rights is championed, be it for IPs, women or PWDs, oppositors are quick to take out the "special rights" card. This is dangerous.

Hindi magkakalaban ang mga karapatan ng mga marhinalisadong sektor. The advancement of one is the advancement of all. pic.twitter.com/BJlzzRtsMt

— risa hontiveros (@risahontiveros) August 28, 2019
Misunderstanding what "SOGIE" is
Aside from these concerns, there are also people who still insist that LGBTQ+ people should be identified based on their biological gender. When trans woman Gretchen Diez was harassed for entering the women's restroom, Sotto said those who weren't born female should use the male restroom, claiming it's "biology-based." We've also seen several hateful Facebook comments about how trans women aren't real women.
READ MORE: Is creating a third restroom for the LGBTQ+ the solution? The President thinks so.
This is obviously a misinformed and close-minded point of view because it insists that the gender binary is the default. (See: heteronormativity) Some also don't seem to understand what SOGIE means and how it differs among people. Instead of calling people "stupid," we should be educating them on what it is.
SOGIE is the abbreviation for sexual orientation, gender identity, and (gender) expression. It's usually associated with "LGBT" because, as Be Inclusive explained, "SOGIE refers to characteristics common to all human beings because everyone has a sexual orientation and a gender identity. Everyone also expresses their gender, not just lesbian, gay, bisexual and transgender people."
Sexual orientation refers to whom a person is sexually attracted to. If a man is attracted to another man, he is gay; a woman attracted to a woman is a lesbian; if a person is attracted to both genders, they are bisexual; and those who like people regardless of gender are pansexual. Being heterosexual or straight is also classified here.
Gender identity refers to how a person identifies themselves. This is different from the sex we were assigned to at birth because it mostly just refers to our anatomical and hormonal distinctions. For example: If you are born female and identify as a female, you are considered cisgender. But if you were born male but identify as a female, you are transgender.
READ MORE: Transgender people #WontBeErased and they've changed the world
Lastly, gender expression is how a person embodies their gender attributes and roles. One can be straight or LGBT and be into androgynous looks, or the mixing of feminine and masculine elements. Crossdressers, aka people wearing the clothing of the opposite gender, is also considered a gender expression.
Buzzfeed puts it simply: "[Crossdressers] are satisfied with themselves biologically, and are usually cool with their gender too." So they are merely comfortable with wearing clothing that don't conform to their biological sex. (Also see: genderfluidity)
Now that we've got the basics out of the way, we should also talk about people exhibiting some form of LGBT-phobia, which includes "fear, hatred, disbelief, or mistrust" of people of a certain SOGIE.
The hot topic recently was the insistence that trans people aren't real men and women. Misinformed netizens mostly call trans people "crossdressers" because they are male/female at birth. This disbelief also brought arguments that trans women are perverse men who want to sneak into female restrooms.
There's also the issue of "bi erasure," which discredits bisexuals as just being straight, gay or lesbian. This is mostly seen when people don't believe someone's bisexuality because they haven't dated a certain gender. It's a misconception to think bisexuals' preferences are 50-50. In reality, some would prefer one gender over the other, but that doesn't mean they aren't bi.
Of course, we can't ignore the ongoing homophobia toward gays and lesbians. We've seen stories involving conversion therapy, and corrective rape wherein gays and lesbians are forced to have sex with the opposite gender to "make them straight."
One of the best ways is to first educate people on SOGIE—it can be through social media, in person, or, for employees of a company, sensitivity training. This may not be an easy process and change won't come in an instant, but it's still an important step.
And while you're at it, make sure you continue fighting for the rights of the LGBTQ+ community. Right now, spreading awareness on the SOGIE Equality Bill and pushing for its passage is what we really need to create a safe space for our brothers and sisters.
Art by Tricia Guevara
For the latest in culture, fashion, beauty, and celebrities, subscribe to our weekly newsletter here  
Follow Preen on Facebook, Instagram, Twitter, YouTube, and Viber
Related stories:
The SOGIE bill is in danger as Tito Sotto declares "no chance" of passing
A BPO company that gives a damn about SOGIE rights
Breaking bisexual stereotypes and the danger of "bi erasure"
Is creating a third restroom for the LGBTQ+ the solution? The President thinks so.