This story is part of "Serving You Style and Substance," a video series where we get to know bold Filipino creatives with idiosyncratic styles through their influences and the narratives that they choose to explore.
BL (Boy's Love) anime terno designs and virtual fashion aren't just futuristic fantasies anymore. In fact, they already exist in New York-based artist and designer Keith Lafuente's reality.
In our second episode of "Serving You Style and Substance," we had a chat with Lafuente who, apart from creating exciting nostalgia-heavy looks, does drag performances as Mahal Kita at Brooklyn's queer Asian dance party Bubble_T. We got to talk about BL tropes, the Sabokahan Unity of Lumad Women, and so much more.
Watch the full episode below.
View this post on Instagram
Hungry for more? Here are snippets from our conversation that didn't make it in the show.
Let's talk about your outfit. What are you wearing right now?
I'm wearing this swirl top with these detachable anime-inspired sleeves and a Pokemon head scarf.
How would you describe your style?
My style is very personal. I tend to go back to childhood nostalgia a lot. I really love unique things that may not be precious to other people but hold meaning to me. I also love to wear things that my friends have made—to support the people around me in that way.
View this post on Instagram
Which anime character's wardrobe would you want to raid?
I would have to say Ragyo Kiryuin from "Kill La Kill." She is just, hands down, beautiful.
What's your favorite BL trope?
The fall and catch, where one character will be [falling backwards] and the other character will catch him. It's so ridiculous and I love it. 
We also saw your virtual collection with Joanna Lin. How was creating those garments different from designing IRL clothing?
The thing with IRL garments is that there are so many practical considerations. Money is a big one. Skill, access to resources, and physics [are also factors]. In virtual reality, there are so many things that you can do that are totally impossible and inaccessible in real life. I definitely do think that virtual fashion is the new frontier.
View this post on Instagram
I was referencing Japanese archery clothing as well as Beijing opera designs, but also mixing it with the transparency and openness of Filipino clothing. The collection was done during the pandemic when everything was feeling very closed in. The show itself was based on the limitless feeling of nature. In that fantasy world, I could feel more free. 
What's your favorite Philippine myth?
It's definitely the love story between Bulan and Sidapa even though its authenticity has been debated. I love that it's queer. I connected to it on that level but it was so romantic. Sidapa was courting Bulan by sending flowers into the heavens and using [fireflies] to light Bulan's way.
Which artist's work excites you?
Filipino-Australian artist Justin Shoulder, who is also known as Phasmahammer. His work deals with the body and performance. I also work with similar themes but in a different way.
Which visual art piece do you wish you made yourself?
"Arenas" by Mike Kelley. Something about the work is so simple but it's also very effective and emotional. Something about it just sits right with me. And I think that's what the best art [does]. You can't always put it into words but it makes you feel a certain way.
Produced by Amrie Cruz
Creative direction and video by Neal Alday
Art by Pammy Orlina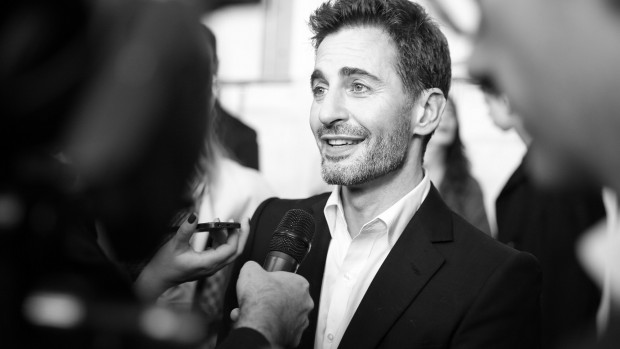 A little less than a day after Marc Jacobs accidentally posted a nude photo of himself on Instagram, the designer comes clean about the whole incident.
Dazed reports on his honest response : "Yeah. I accidentally posted a pic of my bare ass and took it down, I was flirting with someone I met on Instagram. Meant to send it by DM. Oops, my mistake. I apologise to anyone it offended. I'm a gay man. I flirt and chat with guys online sometimes. BIG DEAL!"
Marc, who has been causing quite a stir with his chosen models like Willow Smith, Winona Ryder, Cher, and Sofia Coppola for his latest campaign, is unfazed that his mistake reveals a little bit more about himself than we need to know (literally and figuratively).
Aside from casually dropping his campaign stars on Instagram, Marc has been killing it  on social media with antics like spoofing the "basic bitches" meme with model Kate Moss.
Photo courtesy of Chaos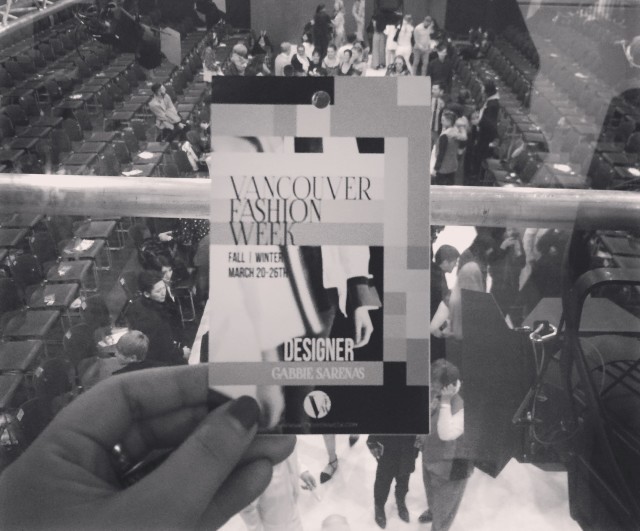 Last November 2016, I got an email invite to join Vancouver Fashion Week. It stated how they saw my previous collections and how they felt my aesthetic was very Filipino. I was excited but I also felt the pressure. I knew I had to make something better than my last creations.
I had to do a lot of soul searching. When looking for a concept for my next creation, I usually relax my mind. I believe that when you do that, something good will come out.
My last collection was about planting season. But since I was presenting for fall/winter, I decided to make the collection about harvest season. By December, I was thinking about silhouettes. We went to the beach so I could quiet my mind and focus on what I needed to do. By January, I found the traditional Filipino harvesting prayer I could use as the core of the collection and did the drafts. I was sourcing also for fabrics: mostly piña and other local materials. I also kept in mind my aesthetic: volume. This is why I also played up with the sleeves, a bit of experimentation if you will.
A month before the actual show, I shot the lookbook. Some pieces weren't ready yet. It's part of the process anyway. You have to observe how the clothes fall on an actual person. I worked with stylist Melvin Mojica for the looks. We already talked about it around the same time we went to the Preen.ph anniversary party last year. Through Melvin, I got to book my dream model: Jo-Ann Bitagcol. (Note to self: Attend more parties.)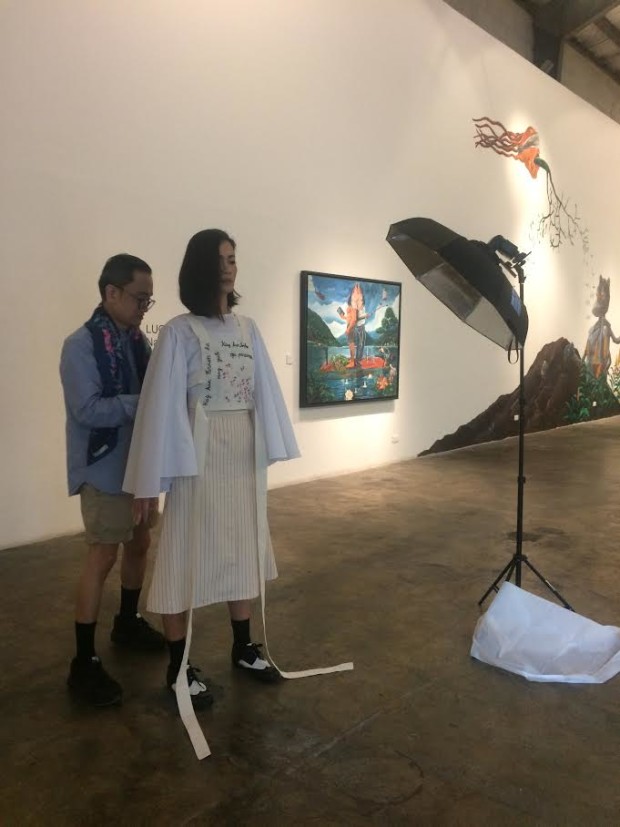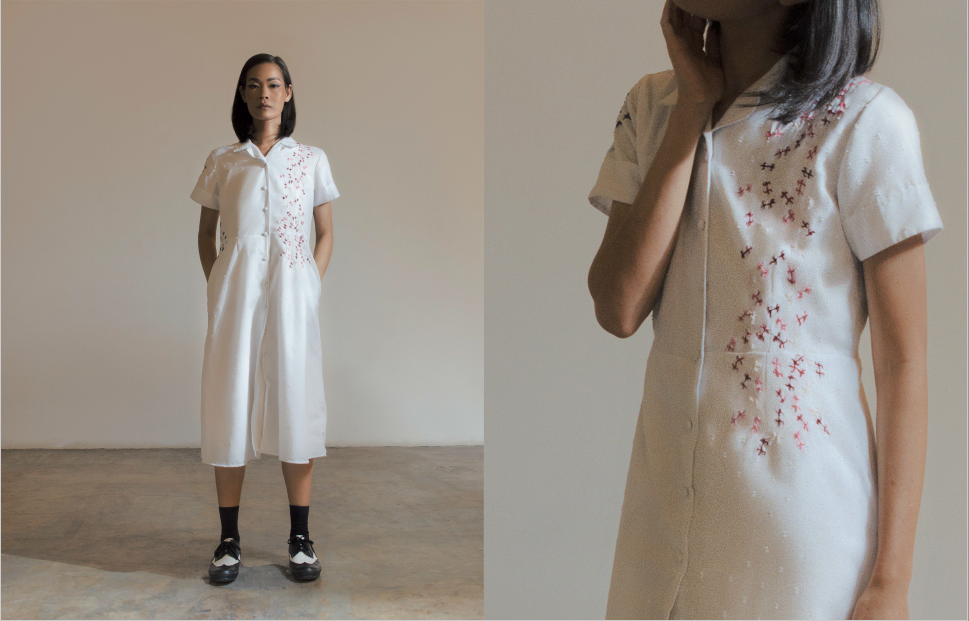 Despite all of this, it still didn't sink in that I was about to have my first international show. Mid-March, I was still accepting client work and doing deliveries. I had to make one last delivery even on the day of my flight to Canada, March 15. By this time, I had lived on the cycle of waking up at 7 a.m. and going home at 12 midnight.
Before I left for Canada, I posted the invite and the details of the show on social media. A lot of well-wishes flooded in. That added to the pressure even more.
I flew to Vancouver carrying around six luggage bags. I kind of felt like a Miss Universe contestant. There were three skirts that I didn't want to get squished so I put them in their own luggage carriers. Don't ask me how much I had to pay for add-on luggage allowance. For myself, I brought a few essentials: my huge makeup and skincare kit, some Maco Custodio Furnelas, my grandmother's heirloom earrings, and Natalya Lagdameo bangles.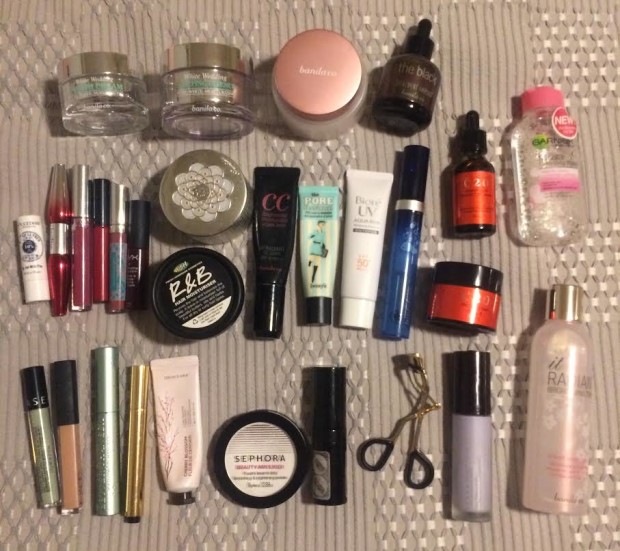 On show day itself, March 23, I woke up and got my breakfast in first. Soft-boiled eggs and coffee with milk and a tablespoon of sugar. By 11:30, we boarded the cab to the show venue: Chinese Cultural Center.
In the backstage area, I was greeted by a lot of volunteers, aged 18 to 50 years old. They helped me get the racks, put together the looks, and have the models line up. On the very same day, I had to choose 12 models out of the 15 I was given. It was hard because I didn't get to see how they walk beforehand. I wanted them to get the walk right, especially, to fit the feel of the collection. I wanted to them walk leisurely, like hacienderas overlooking the land. But you go with what you've got.
https://www.instagram.com/p/BSC1UWiFGbq/?taken-by=gabbiesarenasph
The showtime was at 7 p.m. By 6:30 p.m., I was looking over each model and their look. I was putting on lipstick on some of them, my personal Happy Skin lipstick in Morning After. My hands were shaking, partly because of the cold weather and partly because of my nerves.
The show soon started. I was lucky that model Shermaine De Ramos was in town. She's the one who opens all my shows and with this, that streak of ours continues. I watched all the models walk via a TV screen set up backstage. The show was nine minutes long. I soon found myself going out and bowing to the audience. I heard the clapping.
Backstage, the volunteers were efficient in packing up. They didn't stop looking for the two bags which were misplaced. I then attended to some interviews. I approached one fashion blogger, Marilyn Wilson, and thanked her for cheering and clapping for me. What she would write later on about it was so personal, it meant so much to me.
Days later, I would see the features on different publications. There's one by MNE and another one by Vogue China. I also just saw the small piece the Department of Foreign Affairs published about my show. Until now though, I couldn't believe that it happened. It felt so surreal from the day I got the invite, to the backstage, and as I write this.
I learned so much. I learned what the Western audience wanted from the brand. I learned how they are still so amazed by piña and hemp.
On a practical note, I computed how much I spent from start to finish of this project. This is because my aunt emphasizes how I should know my budget for the next endeavor.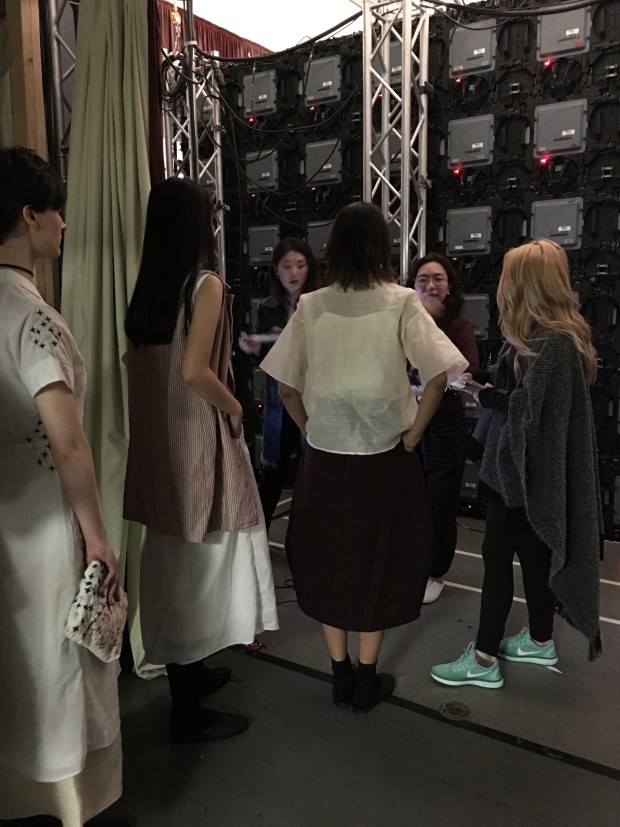 My aunt reminds me about honing my creativity and at the same time knowing my numbers so in the future, I would know how much I would spend for an international show. She would always tell me that I should do my best no matter how small it is. She would always remind me that I'm an artist. That's a compliment coming from a gallerist. At this moment, I am investing in my brand, which is a joy and at the same time a sacrifice. I continue to sharpen my knowledge and observe the world around me. This is just the start of something promising and I am beyond thankful for the support especially morally, emotionally, and psychologically.
Above all, I learned how the whole experience is such a validation for me as a designer.
And with that validation, I have my work cut out for me. It doesn't stop. I've got to work on the upcoming Maarte Fair and a few other projects I'll be revealing soon.
As told to Olivia Estrada
Photos by Gabbie Sarenas 
Follow Preen on Facebook, Instagram, Twitter, Snapchat, and Viber
Do you remember when the strawberry dress became the internet's favorite item of clothing last year? I do, and I also remember the collective hit most of us took when we saw the price tag on Lirika Matoshi's oh-so-cute frilly dress. Like many, I resigned myself to making Picrews of myself with the strawberry dress on, living vicariously through my pixelated self.
What if I told you it was possible to live vicariously through your pets instead? 
If you don't believe me, check out Pawtelier de Melon on Instagram. The shop makes handmade clothing tailored to your pets, from stylish barongs, cute pastel puff dresses, and, you guessed it, to strawberry dresses. If you don't have the means to dress yourself, you can dress your pet in your dream aesthetic. And if you're fortunate enough to already have the human version of these pieces (hi good for you but I lowkey hate you), you can be matchy-matchy with your pet.
I talked to the shop's owner, Nika Enriquez, about the shop and designing for animals.
I actually found out about your shop because of the Selkie Obsessed FB group, which is made up of fans of the clothing brand Selkie and frilly fashion in general. I saw rave reviews of your pieces, especially the ones that look like Selkie's signature puff dress. Did you know that you have an international following?
I'm really happy that people are enjoying the pieces I'm making! I have a few clients from abroad, but I didn't know that I had an international following.
The person who first commissioned the pet puff dresses told me she posted photos in the Selkie Obsessed group. I got messages for more orders from people saying they saw her post, but this is the first time I heard that more of my stuff is on there. I'm very thankful that my creations have crossed borders and people beyond the Philippines are appreciating them as well.
What led you to start the shop?
I started making pet clothes as a way to unwind from university work during Christmas break back in 2018. I actually wanted to make outfits for myself but there were too many ideas and not enough time, so I thought of making them for my dog, Melon, instead. I started dressing her up for family gatherings and my family encouraged me to share the outfits online, which led me to open the Instagram account. Pawtelier de Melon was originally a place where I just shared photos of my dog in random outfits (and it still is!), but a few months in and some people inquired about getting customs for their pets. I then decided to accept commissions and the rest is history.
I mostly see dogs wearing your clothes, though I have seen a few cats on your TL. As a cat parent myself, I'm curious: What's the dog-cat ratio of your clients?
I've actually only done around 5 cats! I love cats and I wish I could work with more but maybe since my dog is my only model, it's not really known that I can make clothes for cats too. So if anyone reading this has a cat and wants a cute outfit for them, hit me up!
View this post on Instagram
Do you have any favorite pieces?
Too many! If it's the people-to-pet outfits, I'd say the Lirika Matoshi-inspired strawberry dress and the Selkie-inspired puff dress. I love the original pieces so it was challenging to figure out how to create those dresses for pets and quite time-consuming to make, but so much fun. From my own designs, my favorite would be the doll dress with floral embroidery since I'm a fan of vintage and classic lolita fashion. I've done a few of them for commissions and I make sure each embroidered center is different. That way, every dress is unique! Special mention to the "Attack on Titan" survey corps costume and the barong Tagalog and baro't saya sets done for Buwan ng Wika 2019.
What's the nicest or funniest feedback/interaction you've had with a client?
I had a client who ordered a Peter Pan collar for a big dog. She told me that her dog kept taking it off, so she's using the collar for herself since it fits her well too! Hahaha. But my favorite interactions are when clients tell me that their parents or grandparents like the outfits. My mom was my first sewing teacher and she's quite hard to please when it comes to both designs and quality, so I always feel extra accomplished when clients' parents or grandparents are happy too.
View this post on Instagram
What do you think is most important when crafting pretty clothes for animals? How do you make sure it's comfortable for them?
I find it important to treat projects as if they were to be made for yourself. Don't skimp on material and method. Go beyond what's in the market. To make the outfits comfortable, I like to add some allowance to the base measurements or the measurements my clients send me for ease of breathing and movement – unless, of course, the client sends measurements with allowance already. Sometimes, animals have allergic reactions to certain fabric so it's important to work with the client to find the right material to use.
Will you ever be branching out into other kinds of animal wear? The idea of a tiny little hamster wearing a strawberry dress or walking a dog with a frilly leash is so much and I would love to see it happen!
I have not yet been able to create outfits for other animals apart from clients' requests and my pets since I only have them to practice on, but I'm definitely open to trying to create clothes for other animals as well. Pawtelier de Melon also has a ready-to-wear shop for accessories like capes and collars which anyone can use for any of their pets as long as it fits.
I recently got into crochet so I can make fun hats for my hedgehog. Once I am able to consistently make more of these with quality, I will also be opening them for commissions. I think the little crochet hats would look super cute on all kinds of animals, especially birds and reptiles. Stay tuned for that!
Art by Pammy Orlina
Follow Preen on Facebook, Instagram, Twitter, YouTube and Viber
The Philippine fashion industry has lost one of its champions with the passing of one of the heirs to the House of Slim, Sandy Higgins. Slim's Fashion & Arts School is considered one of the most established fashion schools in the country, with half a century's worth of design and dressmaking education that shaped notable alumni now considered as icons of contemporary Philippine fashion. Daughter to Salvacion "Slim" Lim Higgins, Sandy continued the family legacy of pushing for the evolution of the Filipiniana that is grounded on a technical foundation⁠—with a meticulousness that merits a likening to architecture and engineering. 

Screengrab of Mark Higgins's announcement as the Slim's director
The Slim's Fashion & Arts School principles hone the skill of refining an idea. The established Slim's method is an in-depth study in garment construction. Its products are daring but not gaudy, experimental not only in terms of its details and palette but silhouettes as well. The House is one of the pioneers of the modern terno and so the garment remains a pre-requisite to and a measure of its students' growth. In the works of graduates such as Albert Andrada, Michael Cinco, Joe Salazar, and Oskar Peralta, the terno is re-imagined and revered.
Slim Higgins dressed Philippine society swans of the '50s and '60s and so she had a hand in nurturing nationalistic sentiment and in showcasing local fashion on foreign stages. In fact, two of her ternos are displayed in the prestigious Victoria and Albert Museum. In the face of recognition, the House persevered in its mentorship of talents.  As a co-director of Slim's, Sandy Higgins was able to share this craftsmanship with even more young designers through an educational fund named after their mother. In taking part in initiatives such as the contest and convention known as "TernoCon," she also made vintage ternos once only seen in photographs available for public viewing. In her mother's stead, she ushered a broader dispense of terno-making knowledge and terno conservation. She was a true and generous industry leader.
The founder of Filip + Inna, fashion designer Len Cabili remembers Sandy as "a daughter who was very passionate about continuing the legacy of her mother, Salvacion Higgins. A sister to Mark, who provided the nurturing and encouragement of his creativity. A mentor to all the students who always put them first as they were her pride and joy. A friend to all of us, her kindness and graciousness always saw the best side of ourselves." Cabili thanks her for teaching others to lead and give with their hearts. She adds that Sandy will always be remembered and honored.
A student of Slim's and winner of TernoCon 2020, designer Hannah Adrias shares about her mentor: "Before, when I was just starting in Slim's, I was just looking at her from afar, scared at the mere presence of her. I never thought that I would have an opportunity to talk to her. She always wanted us to always be professional in all the things we do. She was very vocal⁠—she'll say what she likes and what she doesn't. She taught us how to do a time table, how to multitask and all the things needed to be an efficient designer. Whenever we met at the school's hallway, she always asked me how I'm doing, if I learned something new and if I'm having fun. It's important for her that we love what we do." 
Adrias believes that everyone could benefit from reading the last message Higgins sent her back in March. "Yes, the virus is scary, but it should not defeat you. I think we all have to prepare ourselves mentally and emotionally that the bad news will continue for a while. But let's not dwell on it or become frozen into immobility. Life can go on somehow. Just stay home, be smart. Follow all the precautions. Look at this lockdown as a rare opportunity to do things you never had time to do. Practice things you've learned. Learn more things online if you can. Hone your craft. Don't let this stop you from growing and learning. And when this is over you will be well prepared to start your work again," wrote Higgins. 
Notable Slim's alumnus, designer Joey Samson says about the co-director, "She's always very supportive and encouraging. I will miss making something for her. It's every designer's dream to be able to dress up someone like her. She is always very trusting."
Designer CJ Martin shares about Higgins' influence, "Her dedication and passion in preserving our Filipino heritage is very evident as I passed through their exhibition at the TERNOCON2020 in CCP. I may not know her personally but her contribution to the conservation of vintage ternos and creation of contemporary ternos is truly inspiring. Their work influenced me to improve my technical knowledge and skill as a fashion designer and to be more respectful of the craft in creating ternos."
Sandy Higgins is beloved to family, friends and students for her striking wisdom and spirit. Designer Lulu Tan-Gan of TAN-GAN knitwear was able to put into words what she meant to the industry. "Sandy will be missed as being one of the pillars in our fashion sector. A genteel and creative personality, she did stupendous tasks immortalizing Slim's influence on design through a retrospective exhibit and coffee-table book that celebrates Slim's legacy. Together with her sibling Mark, Sandy is the low key personality behind their fashion school, committed to providing in-depth fashion education. Her contribution is invaluable, preserving design influence and trajectory and providing fashion literacy to our Philippine fashion history," she said.
Art by Tricia Guevara
Follow Preen on Facebook, Instagram, Twitter, YouTube, and Viber
Related Stories:
Wear history today with these modern day Filipinianas
Filipino designer and peace advocate Arnold Galang passes away
Feisty in Filipiniana: The Picrew subverting our notion of Maria Clara
Maxine Medina claimed Imelda Marcos invented the 'Terno' and the internet went wild
We can't wait to get our hands on this vulva-inspired Be Bag that is about "trusting in the magic of fleeting encounters and seizing everything that comes with it," according to designer Rita Nazareno. She stated that an encounter with a beautiful soul inspired its completion. In 2016, Nazareno also said that her bags are anatomically designed to be "compatible with the user's body figure." 
The bag embraces authenticity as it encourages everyone to express their true selves. "It is an empowering and sometimes frightening process—to be on a path of self-discovery and feel the urge to express your truth every step of the way," says Nazareno. "I am fortunate to have the opportunity to do this through my work." 
While the path to self-discovery may be scary and confusing for many, it's always nice to have an outlet to accompany us through it all. In Nazareno's case, she uses art as a means to channel and understand her emotions better in the process of learning about herself. Moreover, the Be Bag is the perfect ode to lady parts. It breaks the stigma surrounding women's bodies and sexuality, as the bag reminds us that we are free to become who we want to be without any shame.
Rita Nazareno, the creative director of hand-woven bags and accessories ZACARIAS 1925, launches Be Bag at /The Lab/ by Please Do Not Enter in Los Angeles, California today.
ZACARIAS 1925 is hand-woven at the Nazareno family's S.C. Vizcarra Workshop, a renowned label in the field of crafts in the Philippines. 
The ZACARIAS 1925 Be Bags will be available in Manila in early 2020. 
Photo courtesy of Please Do Not Enter's Instagram Account 
For the latest in culture, fashion, beauty, and celebrities, subscribe to our weekly newsletter here  
Follow Preen on Facebook, Instagram, Twitter, YouTube, and Viber
Related stories:
Local origins: Hand-woven fashion, a true gift to our nation
Sustainable beauty? These local eco-friendly shops make it possible
Preen Picks: Local queer artists you need to know about
Body neutrality is the most important lesson for young girls
ICYMI: Filipino designer John Herrera took over the international runway once more at London Fashion Week. Under Oxford Fashion Studio, John presented his latest collection, Amaya. He tells us, "[It's] inspired by a warrior woman leader in pre-Hispanic Philippines."
Alongside this, he also launched his shoe collection made in Marikina. Featuring gold cowhide, it's for those with an avant-garde taste and goes well with John's creations that present deconstructed silhouettes and unexpected cuts.
Still in London, John told us how the show came about and what's next after this season.
How did the opportunity with Oxford Fashion Studio come about?
I was invited by the creative director Tiffany Saunders after seeing my work at the International Fashion Showcase in 2015 [at] Brewer St. Carpark.
How long did it take you to complete the clothes, from conception to the show itself?
The time frame falls inside a season [of] six months. Everything has to be done before the next season is upon me. That's my deadline!
Tell us what was going through your mind right before the show began.
I'm actually very numb before a show. It helps if I shut down voices and thoughts about the future. [It] helps me focus on the tiny details which are just as important.
What's the best compliment you received after the show?
An intern who's assigned to me by OFS approached me and said: "I'm a fashion student. Your talent in making clothes is what I am aspiring for." She also asked for advice and I told her to keep the faith and continue working on [her] craft.
We saw you got to meet with Michael Cinco before the show. Did he offer any advice about the international fashion scene?
He's a good friend. We basically just talked about the fashion industry and share stories of our adventures.
When did you start conceptualizing the shoe designs?
The shoes actually came after the Tokyo exhibit [last] April. I thought it will help unify the collection. I think I was correct in thinking this.
What's another show you liked this past week?
I don't like watching fashion shows. I watch my own only to see what I could have done better. All the other things I like: meeting interesting people plus having discussions about the indestructible and the future of fashion.
What has London taught you about fashion and design?
It's a very different ballgame. You design for a bigger market. And you learn a lot on the selling floor.
What are you working on next?
I'm actually cooking up my next collection. And showing at a bigger platform. Also I'm collaborating on an exhibition (art+fashion) with Aowen Jin at the Compton Verney Museum in the UK for Oct 2016 and Ann Ong for Dec 2016. I love collaborations as much as solo shows.
Follow Preen on Facebook, Instagram, Twitter, Snapchat, and Viber

The Philippines is mourning the loss of one of the visionaries of its fashion industry. At 12 m.n. today, beloved Filipino fashion designer Arnold Galang passed away. More than just a creative, he was a peace advocate who wanted his collections to reflect our nation's narratives by making the sartorial political. He was known not only for being fierce but also for his big heart. To designers, models and casters, he was Tito Arnold. 
Galang was a storyteller and a Philippine Fashion Week (PhFW) veteran. His works have an understated elegance only made possible by his technical prowess. His Spring/Summer '19 "Coalescent Culture: The Peace Collection Series," was one of his more memorable collections. It featured flowy, oversized pieces in the colors of Mindanao with wave details to signify bringing a wave of help to the victims of the Marawi crisis. Its 2018 precursor was simply named "Marawi." 
Even with a palette of black and white, he remained committed to bringing his perspective on peace to the forefront. He showcased this in the Spring/Summer 2016 "Equilibrium" collection which focused on the marriage of monochrome and deconstruction with peace symbol accents. In a previous article, Galang shared with us his thoughts on unity and the shared responsibility of designers. "I feel fashion has become a platform to showcase our personal views on political matters," he said. "That was my biggest apprehension when I became peace ambassador since I know the industry is not keen on political affiliations more so issues. In fact, it was one of the reasons why we were tapped to promote the advocacy, to make sensitive issues more mainstream and readily accessible and informative."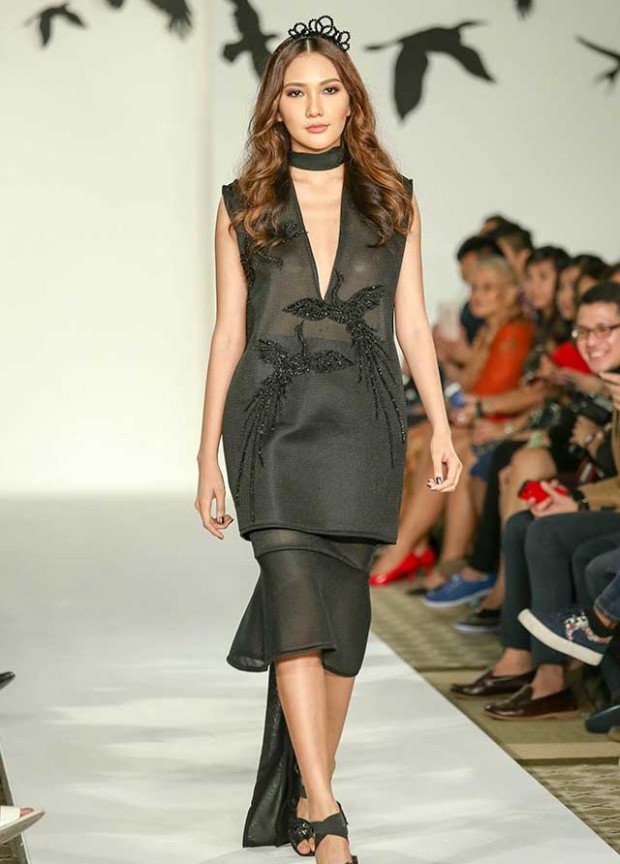 Many have paid tribute to Galang on social media. One of them was posted by creative producer and model Andromeda Reyes. She shared with us that her "Tito Arnold always wore head to toe black. He had the gentlest face and the kindest gestures in a busy and cramped fashion show backstage. He always seemed so quiet and peaceful—much like the message of his every piece in every show. He made a family out of many."  An anecdote that stuck with her happened back when they covered his show for a local cable channel. Her officemate wanted to buy a leather jacket from Galang and a few days later, he was in their office "personally delivering the piece—offering his craft to [the] world."
Front of House Manager for Philippine Fashion Week and Runway Productions Mito Tubilleja says during the 10 years that he had known Galang professionally, "not once did he make a mistake in the names of the 'normal people' he worked with. Lagi niyang sinasabi na 'Sino pa bang magtutulungan kundi tayo?'" He shares that the designer was one of the few who remembered his name when he was just starting out. 
Hair guru Henri Calayag says that his heart is saddened by the loss and that his thoughts and prayers are with the late designer. Fellow Filipino fashion designer Jian Lasala called him "one [of] my few cheerleaders in the fashion industry" in a heartfelt tribute. 
When asked about Galang's contributions to the Philippine creative community and what he meant to its members, Reyes said, "His collection wasn't just a display of artistry but a showcase of what he stood for as a designer and peace champion. And I guess that what a mark of a true artist is—using your work to deliver a message and being remembered for it. I am honored to have worn his work in his fashion week shows from 2011 to 2015."
Arnold Galang left us not only with his fashion legacy but with so many memories that touched our hearts. 
Photos by Acushla Obusan, Paolo Tabuena and RG Medestomas
Follow Preen on Facebook, Instagram, Twitter, YouTube, and Viber
Related Stories:
Arnold Galang Presents His Latest Collection in Black and White
Can politics and fashion find the right fit?
10 Looks We'd Pluck Straight From the #PhFW Runway
Philippine Fashion Week Holiday 2016: Arnold Galang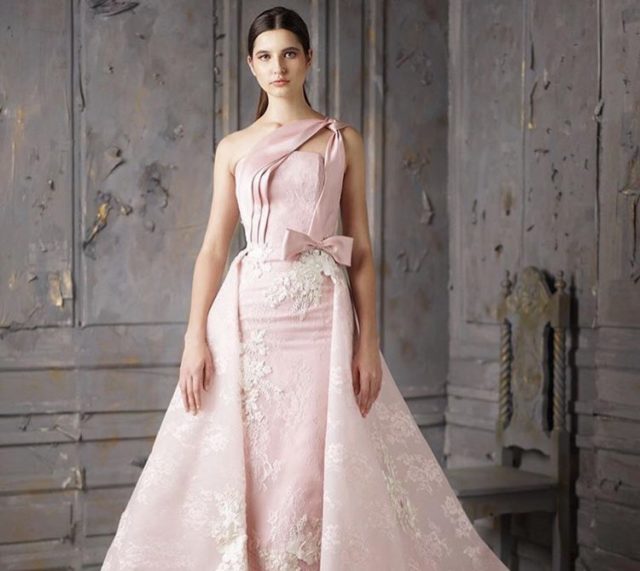 It's not easy to make it in the fashion industry. Karl Lagerfelds, Donatella Versaces, and Rei Kawakubos just don't blossom out of nowhere. There's years of work involved, a lot of heartbreak, and lucky breaks. And I think that has doubled these days as social media provides a quick platform for more people to show their pieces, making the competition fiercer.
In the Philippines, our local designers have stepped up to the challenge. Bringing their unique twist to the usual designs or showing off great craftsmanship, Filipino designers make it on the international stage with full aplomb and command. They prove that having great talent is only successful when you couple it with a drive to surpass the standard.
Gabbie Sarenas 
With a baby brand in her hands, Gabbie managed to capture an international audience at Vancouver Fashion Week. I love how she managed to convey the Visayan ceremony and prayers of harvest season to the Canadian crowd. It just shows that paying tribute to tradition can be fresh and cater to the international taste as she got citation even from Vogue China.
Ken Samudio 
Holding a Ken Samudio piece is like holding a piece of art. From his sea creature-like clutches to his floral earrings, you wonder how he pulls it off. You can cop some of his wares off international online fashion spots like thecorner.com and luisaviaroma.com. It's but natural because his designs are the reason why he was chosen by Vogue Italia as one of the Vogue Talents for Accessories in 2014 and  was invited to launch his collection at Vogue Talents Corner in Milan in 2015.
Mark Bumgarner

Mark Bumgarner seems to know no rest from his constant projects. And the world seems to have taken notice as Moda Operandi picked up his fall/winer 2017 collection. Soon after that, his dress was spotted on Aishwarya Rai Bachchan at Cannes International Film Festival. Safe to say, we're excited who will be the next international persona picking up a Bumgarner creation.
Michael Cinco
Being the first Filipino to showcase in Paris Couture Week is just another achievement in Michael's storied portfolio. With clients like Lady Gag, Jennifer Lopez and Nicki Minaj, Michael only knows of dressing the best. Recently, he got Mariah Carey visiting his atelier for a late-night fitting and sent every other major fashion publication dreaming about being a real-life Disney princess because of his dress for Aishwarya also at Cannes.
John Herrera 
In 2015, John Herrera conquered the Mercedes Benz Tokyo Fashion Week with his marine-inspired collection. He tend qucikyl followed it up by winning the London Emerging Designers Award. But he didn't stop there as he went back to London Fashion Week in 2016. He then bagged Britain's Top Designer Award and got a shoutout  from British Vogue for his collection which featured digital prints in collaboration with Epson.
Photo courtesy of Mark Bumgarner's Instagram account
Follow Preen on Facebook, Twitter, Instagram, Snapchat, and Viber
Related Stories: 
This Bollywood Actress Rules at Cannes 2017 in Filipino Couture
What Happens When Your Quirky Accessories Find Paper Realities?
What John Herrera Was Thinking Right Before His London Fashion Week Show
Local Designer Gabbie Sarenas and the Reality of Vancouver Fashion Week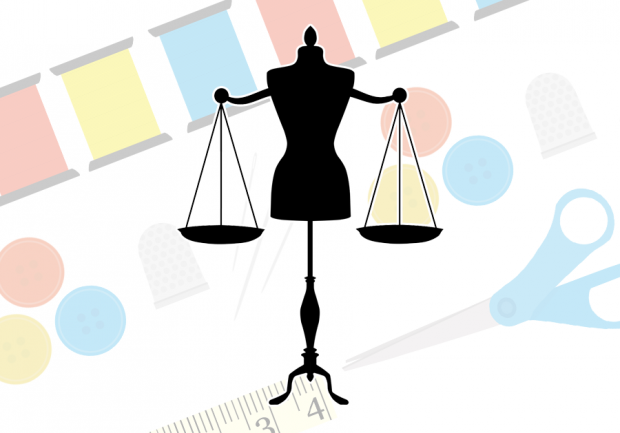 What are the legal problems fashion designers deal with every day?
I thought about this question when I read a report yesterday from Refinery29 about how Fordham University now offers degrees in fashion law. The programs, Master's of Law in Fashion Law and Master's of Studies in Law, are geared toward a further understanding of intellectual property rights, model-designer agreements, and retail law. All of which are still obscure subjects given the broad line that separates law and fashion. "Designers get screwed over," notes Susan Scafidi junior professor at Fordham who has pioneered these courses with the support of Diane Von Furstenberg and the Council of Fashion Designers of America (CFDA).
People outside the fashion industry may be surprised to find that there is still a lack of legal support for fashion designers around the globe. But it's very apparent now as Fordham's courses are the first in the world and will be currently available to residents of the United States. Like in many other things, everyone else needs to catch up on this.
Here in the Philippines, a thriving ground for both established and emerging designers, only a few even know about laws. As fashion designers, who are also businessmen and women, they are forced to find their own balance between their two hats as both artist, expressing creative output, and as entrepreneurs, making a sellable label.
I served as legal counsel for a day when I asked six local designers about the problems they think our current laws are ignoring. Turns out, they had more than enough to say, and our legal system needs an overhaul that would challenge even Atty. Elle Woods.
Rajo Laurel:  On How Fashion Business Needs Its Own Laws
"Generally the problem is how fashion business is lumped into business law. We should be able to go through the processes of designers with a fine-tooth comb to understand how to protect what you own, what you created, and what you can share. There is a lack of discussion among lawyers and designers in terms of how we conduct our business. In terms of creativity, it's intangible, but in terms in business, you can already spot all the gaps where designers are not protected by the law when you let them explain to you their process. There needs to be more awareness among everyone[about] how to protect their works."
Chris Diaz : On Government Fees
"A local dilemma is how a small fashion entrepreneur's tax when putting up a dress shop is almost similar to [the taxes paid by a] bank. It's huge."
Esme Palaganas: On Local and International Stores
"I hope retail laws would be clearer especially when dealing with international stores. I hope someone can educate me whether the policies on [exporting and importing] used now are fair or not."
Rik Rasos: On Copycats
"There should be a clear cut law with intellectual property rights. Our label focuses on a lot of original graphic designs and there have been a few incidents where our clothes are copied here and overseas but we can only go as far as to send a cease and desist order."
Lulu Tan-Gan: On Original Styles
"In clothing, it's very difficult to patent styles. Patent applies only if a product is exactly copied: material, style, finishing. If I am paid to design, I shouldn't claim it as totally mine either. As a designer, you need to be competitive and max out on your concept through branding and sales."
JC Buendia: On Having a Legal Fashion Council
"It's hard to define what's a copy or not. Such laws only exist in France where there's a couture body that imposes strict rules. Couture elements are often taken to make salable ready-to-wear and that isn't counted. Perhaps what is needed in the Philippines at present is a classification board. Much like the MTRCB, it can classify designers into categories most especially pertaining to quality, thus giving premium to those who do their homework."
Art by Dorothy Guya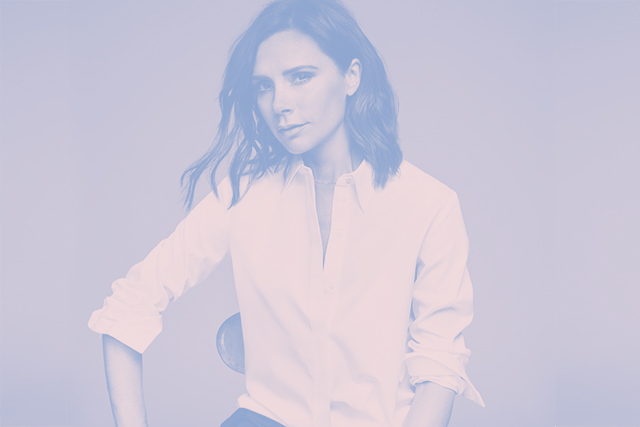 Style icon, fashion designer, and former Spice Girl Victoria Beckham is celebrating her birthday today. Feel honored and grateful that you live in her presence. Feel extra grateful that you've witnessed her evolution from pop star to chic designer while being a mom and wife, which declares to the world "You Can Have It All."
How did Victoria do it all? It's one of those secrets we long to know along with how many hours does Beyoncé really have in a day or how Britney Spears of 2017 changed from Britney of 2007. We may never learn the answer but we can at least live by the wise words Victoria has blessed us with.
On beauty
Victoria's letter to her younger self revealed some secrets we also wish we knew growing up: "Let your skin breathe; wear less makeup. (And don't ever let that make-up artist shave your eyebrows! The effects last forever.)"
On not giving a damn
In her Time feature, Victoria said she doesn't care anymore about what people say or what the paparazzi puts out. "If there's anything negative, I don't want to know about it. I just do my own thing and get on with my life."
On how to succeed
Victoria is admittedly lucky in how her career went and the opportunities she was presented with. She does still tell her daughter that there is stock in putting the hours in and being a nice person. "It's not who's the prettiest, who's the smartest girl in class. If you're not the smartest girl in the class, be the hardest working, nicest girl in class."
On work ethic
Upon the release of her 2010 fall/winter collection, The Scotsman  shared how Victoria always gives it her one hundred percent. "I don't do anything by halves. If you're going to do something, do it properly, I think. Otherwise there is no point in doing it at all."
On fashion and personal style
"Style should be comfortable, timeless, personal. It should look like you haven't tried too hard. And style should make you feel confident."
On her legacy
"I would like people to remember me as someone who celebrated being a woman. Being a woman who made the best of what she has. A woman who wanted to reach women no matter how old or young, no matter what shape or size, or where you're from. I want to make women feel like the best version of themselves," says Victoria to This Morning.
On the hardest question of them all: Louboutin or Manolo?
In an InStyle interview featuring kids, Victoria says she prefers a Manolo!
Art by Yayie Motos
Follow Preen on Facebook, Instagram, Twitter, Snapchat, and Viber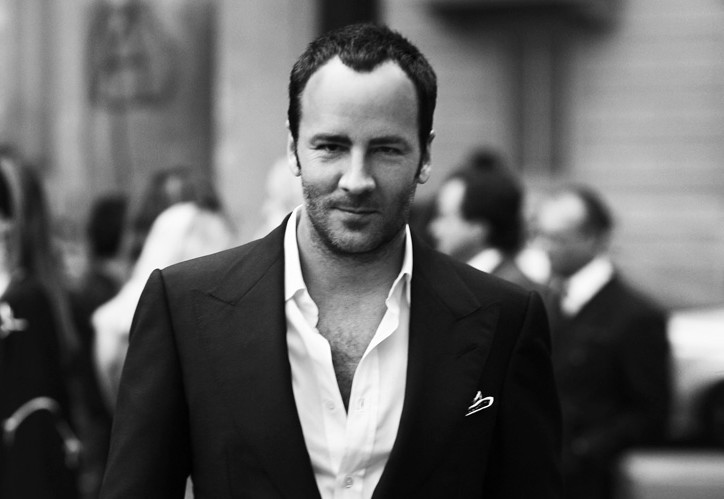 Tom Ford has been busy working on his new film Nocturnal Animals, managing his fashion line, and at the same time raising his four-year-old son with husband Richard Buckley.
Out Magazine recently caught up with Tom for their Artist of the Year interview—the conversation topics varied from politics to the lack of education in their country. It even went down to some grammar lessons about his four-year-old son Jack.
Apparently, there are words banned and never to be used in the Ford-Buckley home and one of them is "awesome." "He hasn't started saying 'awesome' yet, which he absolutely cannot say." Ford shakes his head in dismay and reiterates: "He cannot start saying 'awesome.'" But that's not the worst word you can ever utter, for Tom the one that tops the list of things not to say would have to be "My bad." And I agree with him completely. "The worst for me is 'my bad,'" he said during his interview. "It's like a country of infants! You hear adults saying things like that—I'm shocked."
Eventually, Tom admits to being old-fashion. Hah! "I sound like an old man a lot of times because I am old-fashioned and formal in many ways." And it rubs off on his son, who knows how to introduce himself properly at a young age—complete with handshake and a proper eye-contact.
If this is what it means to be old-fashioned, then by all means we'll take it.
Photo courtesy of Man Repeller
Follow Preen on Facebook, Instagram, Twitter, Snapchat, and Viber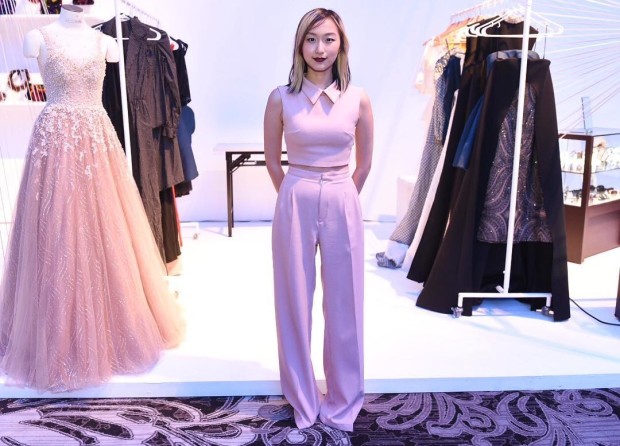 It feels like only yesterday that we got to catch up with Rosenthal Tee after her first show ever at New York Fashion Week. This Sunday, Sept. 11,  the designer will be back at NYFW as she will be presenting her spring/summer '17 collection at Pier 59 Studios.
Rosenthal, as expected, can't help herself and is excited for the show. She posted the schedule on her social media accounts.
"I'm already freaking out with Dion Lee and Delpozo are also showing at Pier 59 IM DYING," (sic) she writes on her Facebook.
We also can't wait and we wish her much luck. The New York crowd better be prepared once more for Rosenthal's romantic creations favored by celebrities like Isabelle Daza, Kim Chiu, Solenn Heussaff, Max Collins, Maine Mendoza, and Pia Wurtzbach.
Photo courtesy of Rosenthal Tee's Instagram
Follow Preen on Facebok, Instagram, Twitter, Snapchat, and Viber