Yesterday, designer CJ Cruz celebrated the launch of his latest additions to his pambahay collection, a series of matcha, tablea, dove and Tonio (green and pale gray stripes) pique pieces for Carljancrewz.com, with a collab with Panaderya Toyo. 
The designer sent out food, wrapped in green fabric, his signature white seams criss-crossing the material, to friends of the brand. Inside the furoshiki wrapped package, Toyo Panederya's egg sandwich was dotted with malunggay, a reference to the grassy hues of the collection. Cloudy green icing topped the panaderya's malunggay bicho bicho, a fried rice flour pastry (otherwise known as the Filipino donut), another ode to the color and the brand's local flavor. 
CJ accompanied the present with a note, inscribed with "Food is the mood."
Pambahay mode 
This is an extension of his "aparador" collection, "created as an expression of what Filipinos commonly refer to as pambahay or house clothes." 

On the site, the brand defines their quarantine-ideal clothing: "CarlJanCrewz (the CJC Team) hopes to innovate and embrace the concept of house clothes that can be celebrated together. Made of specially designed CJC fine jersey pique fabric, this 'aparador' collection of articles is an intimate take on the contemporary Filipino aesthetic."
Friends and fans went on social media to share their food presents.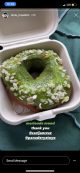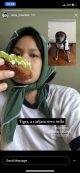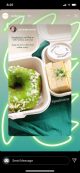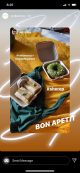 If everyone celebrated milestone moments with food, the world would be a better, more satisfied, slightly sleepier place. We're here for it!
Header photo courtesy of Bea Ledesma
Follow Preen on Facebook, Instagram, Twitter, YouTube, and Viber
Related Stories:
Carl Jan Cruz is having a sale to help out his team
Carl Jan Cruz's Met Gala 2019 debut was totally unplanned
Spotted: Mich Dulce, Carl Jan Cruz, and More on Teen Vogue
If odd is the new black, let 5 Instagram accounts give you pointers

These past few days have been hard on everyone, some more than others. With the announcement of the one month long "enhanced community quarantine" in Metro Manila, people are advised to stay at home. However, not everyone is able to do so. Many need their daily income to be able to feed themselves and their families. Luckily, there are businesses who are trying their best to help their employees.
One example is designer Carl Jan Cruz. On Instagram he announced that he would be having a sale with pieces being 30 to 50 percent off. "This sales effort is channelled towards empowering the members of the CJC team, especially the mananahis, or as we like to call them, the Ladies," shared Cruz.
With new items dropping every other day, this is your chance to help out the women who will be making the clothes. "The Ladies are not our priority, as we would wish to safeguard and direct the profits made from this sample sale towards our atelier who are all veterans at their work, and more importantly mothers who are dependent on the income to sustain their own families throughout these unpredictable, trying times."
If you want to help out these women, you can send a DM to @carljancruz on Instagram or email [email protected]
Photo courtesy of Carl Jan Cruz's Instagram account
Follow Preen on Facebook, Instagram, Twitter, YouTube, and Viber
Related stories:
The good news you need during the COVID-19 pandemic
PSA: Hold the government accountable for COVID-19 response
Today on tone-deaf COVID-19 takes: Vanessa Hudgens
Things pregnant women should know about COVID-19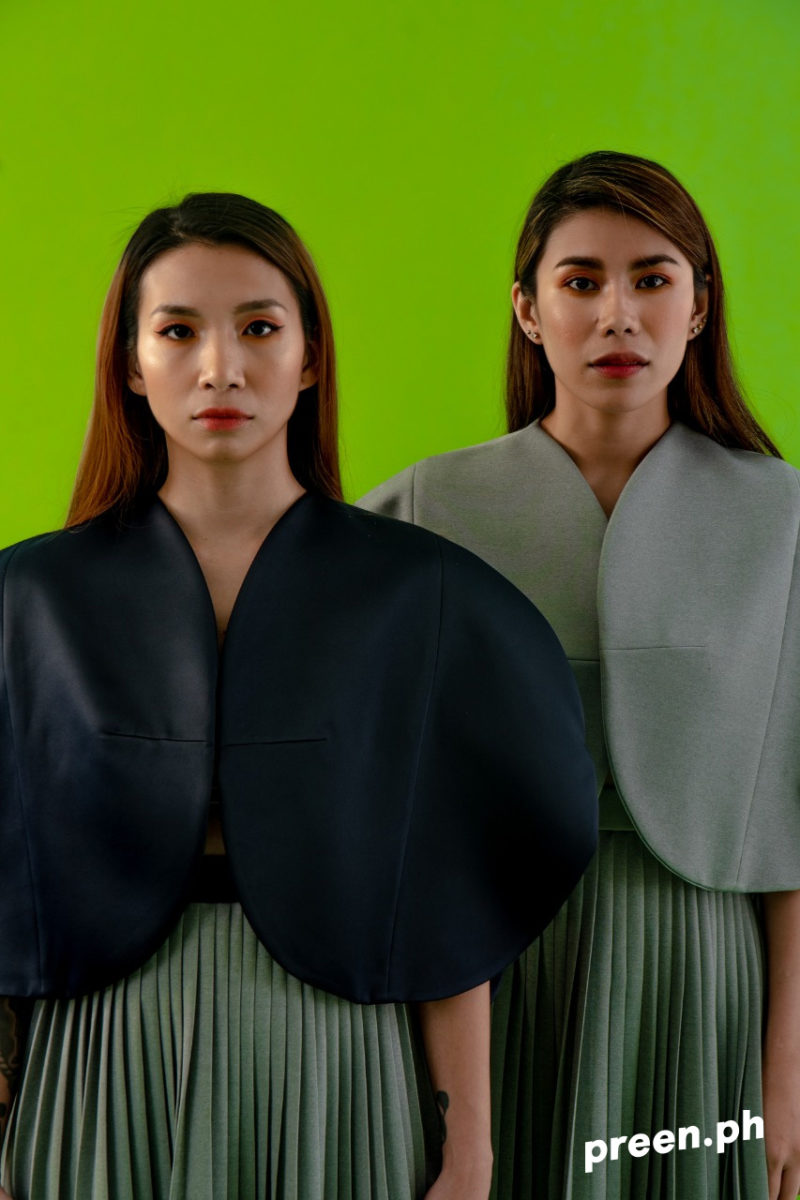 The local fashion scene is teeming with great visionaries. In fact, we can confidently say that this generation is blessed. Looking at the list of remarkable designers we have right now, which only seem to be growing with each fashion season.
Here are just some of the local fashion labels that got us doing a double take.
Hindy Weber
Hindy's timeless designs are effortlessly stylish. What makes them even more special is how they reflect Hindy's firm commitment to promoting sustainability in fashion.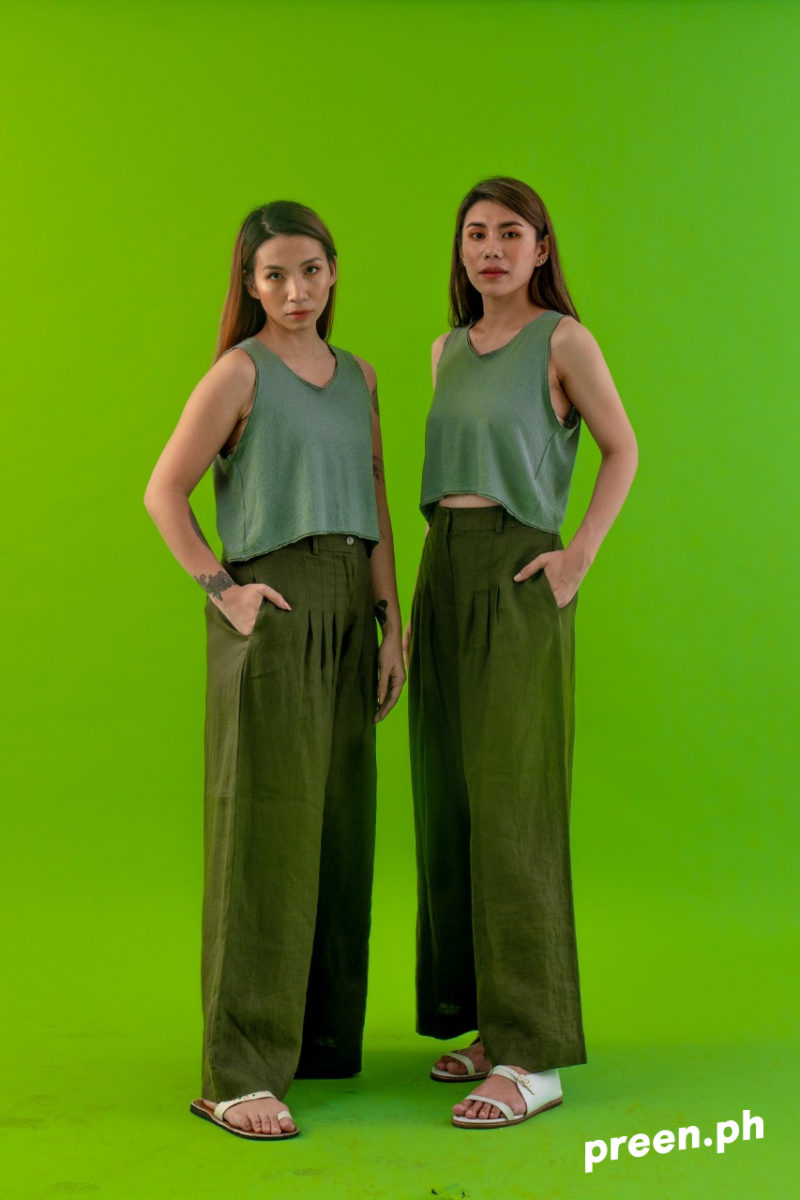 Joey Samson
Joey is already a household name in Philippine fashion. He helped revolutionize the game with his genderless designs, innovative silhouettes, and impeccable tailoring.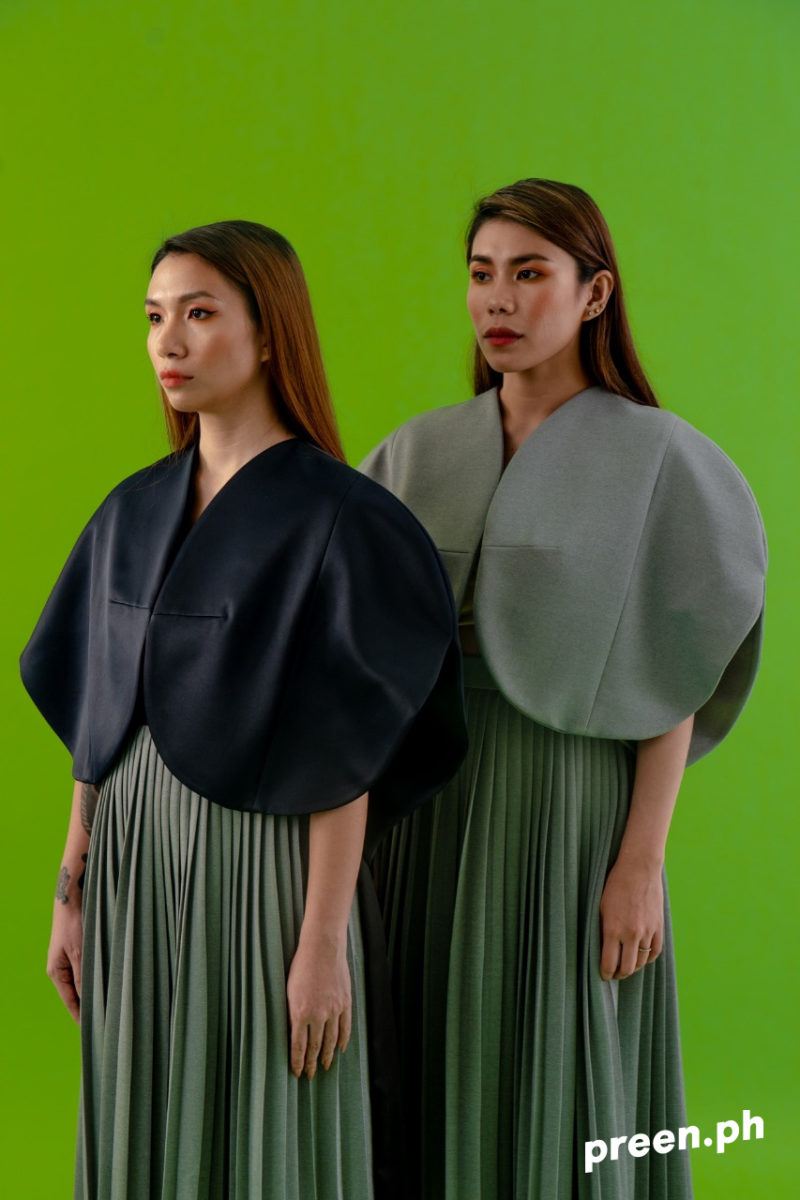 Good Luck, Humans
Apol Massebieau's brainchild label is a treasure trove of quirky items, all handcrafted. Her fashion pieces are just as inspired, fresh, and fun.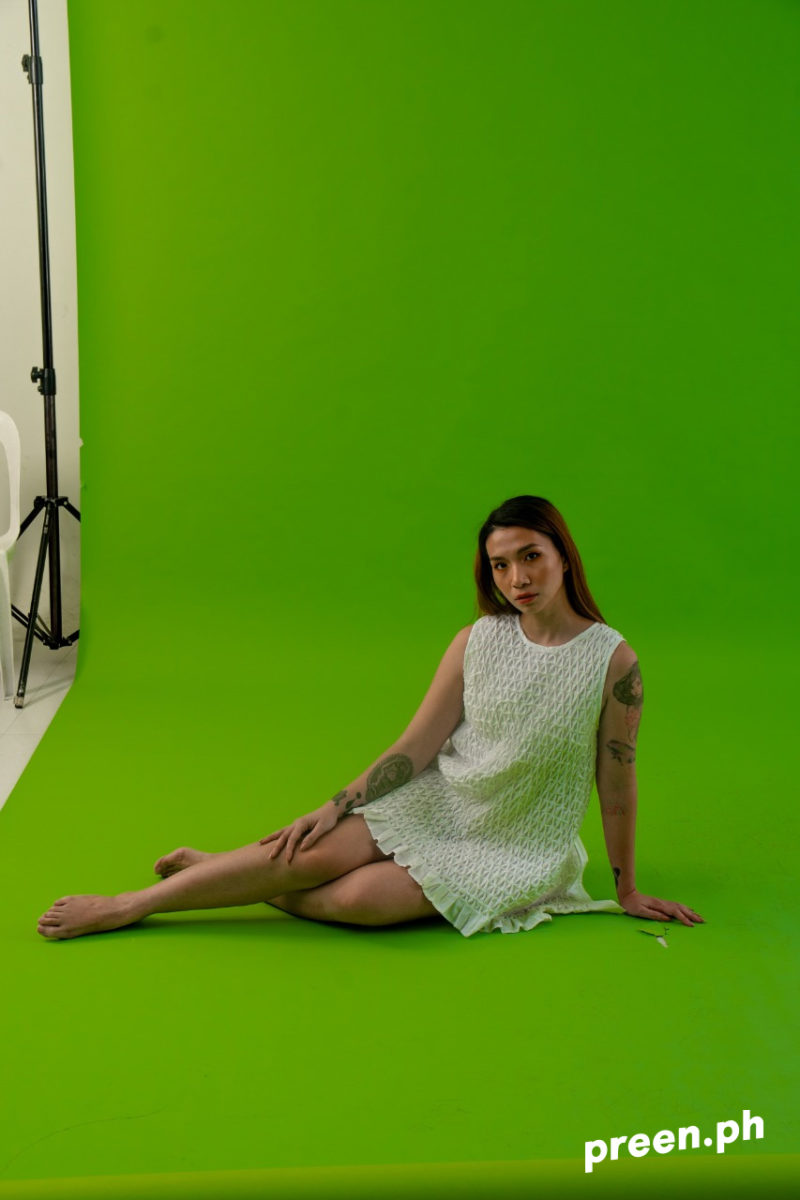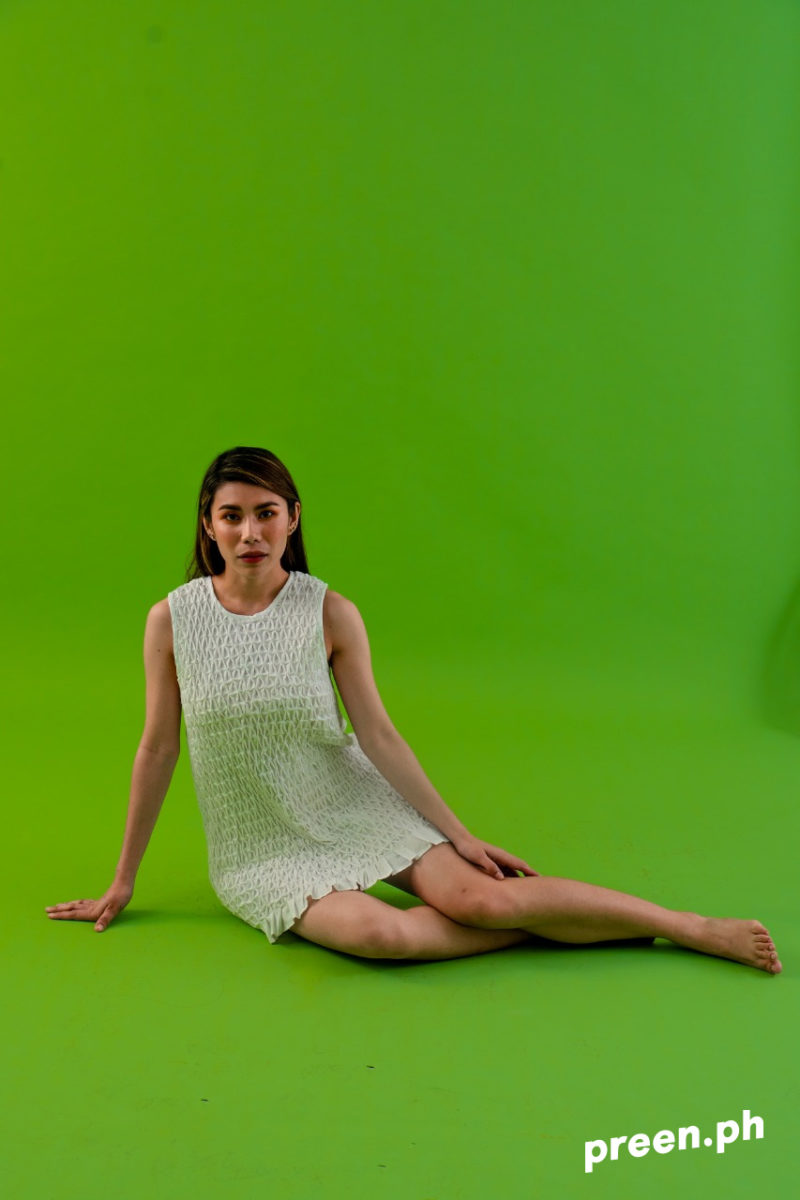 Two Chic Manila
Two Chic's pieces are for the women who aren't afraid to stand out from the crowd. Their textiles with bold patterns bring distinct character to each creation.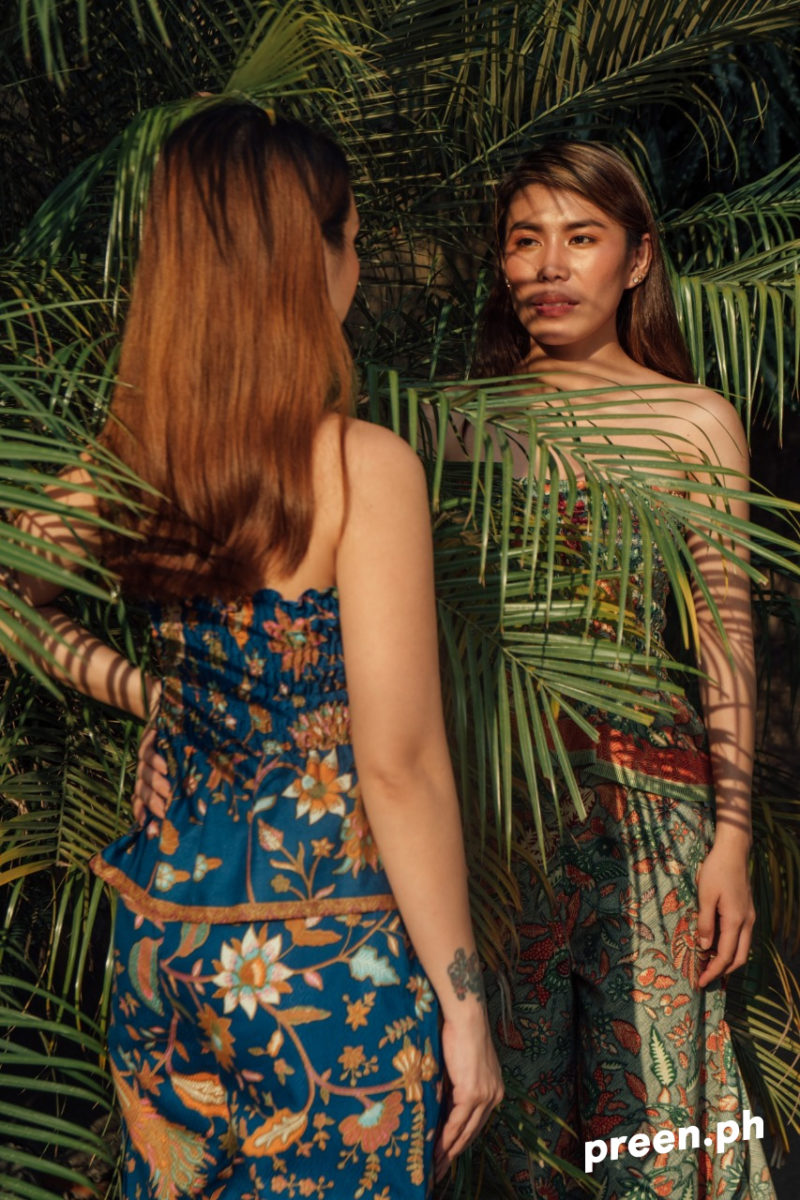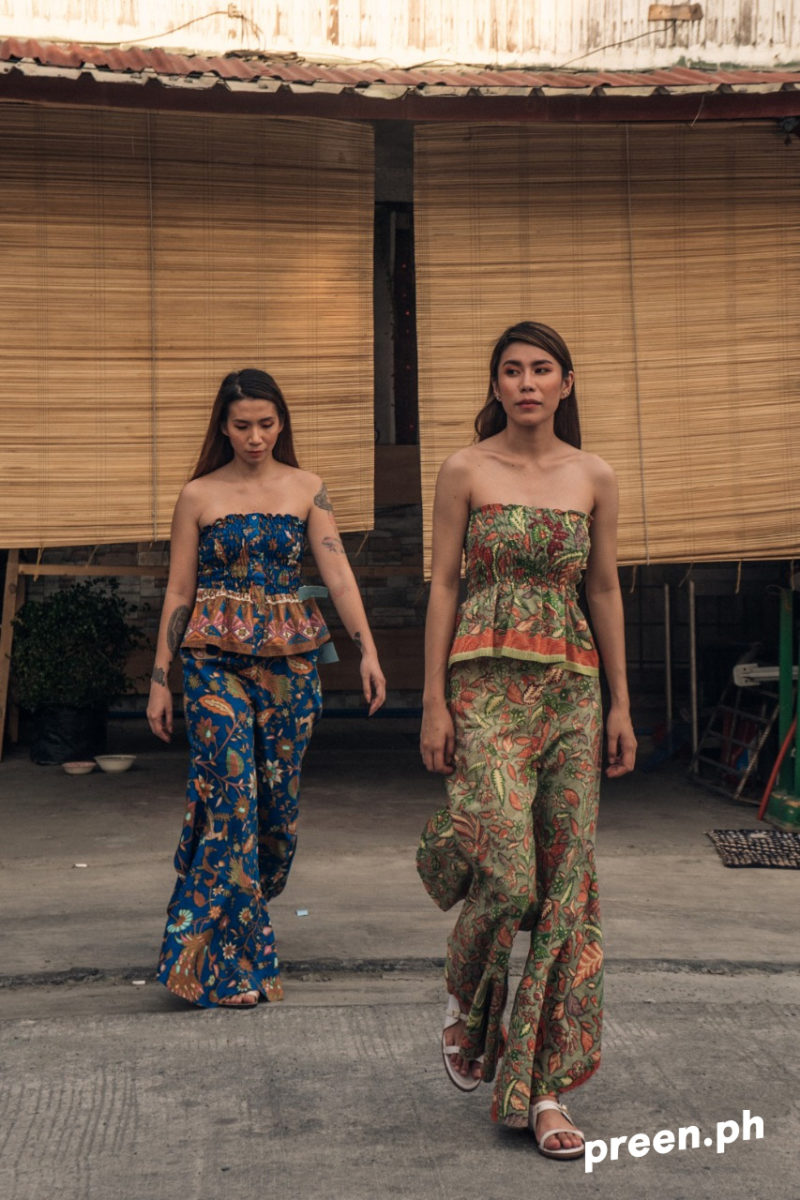 Carl Jan Cruz
Always, Carl Jan Cruz evokes a sense of nostalgia. His clothes' distinct silhouettes, colors, and prints, are almost like visual, wearable poetry.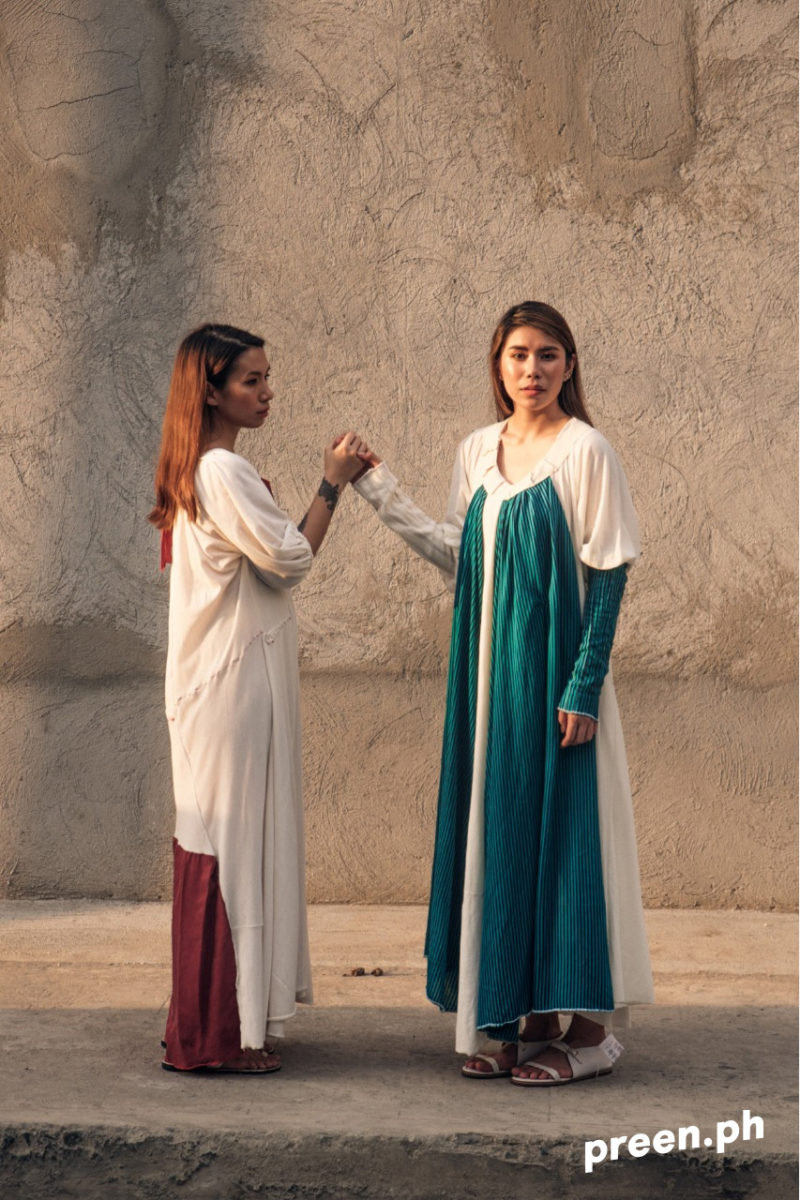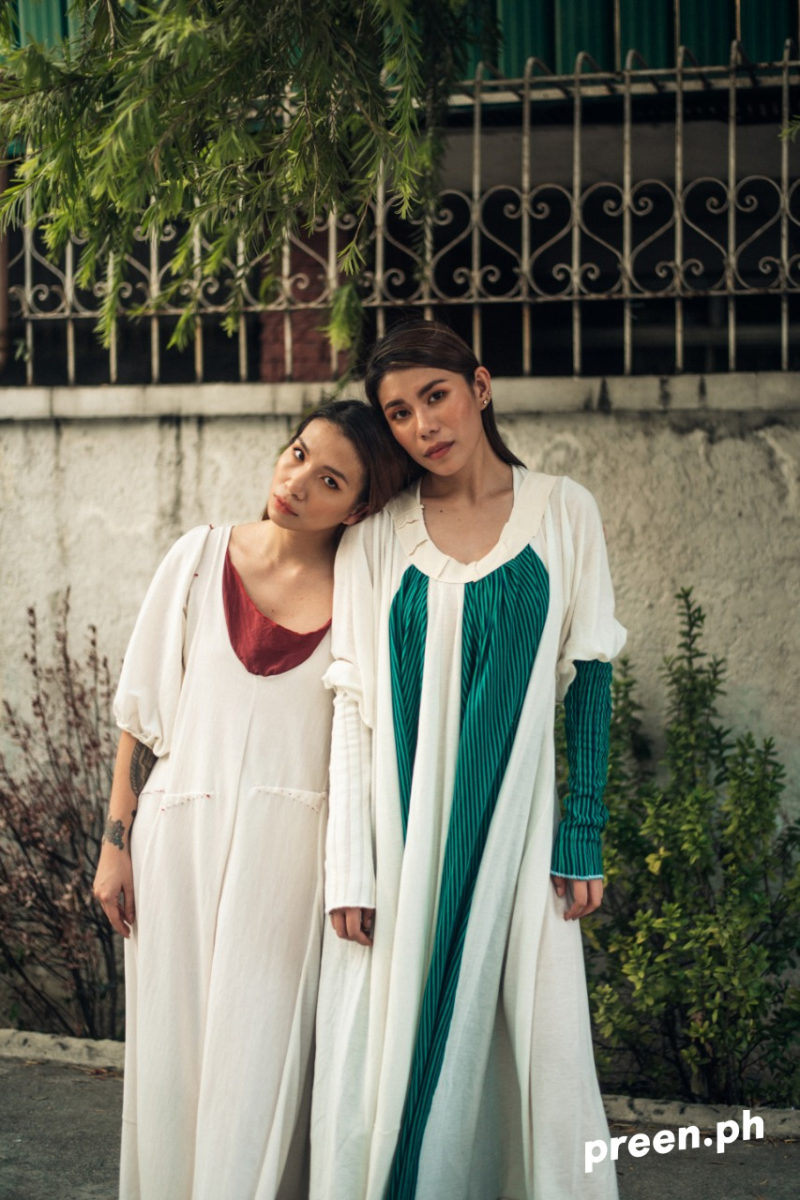 Tan Gan
Beyond knitwear, Lulu Tan Gan is also known for her masterful use of traditional fabrics which she beautifully transforms into contemporary designs.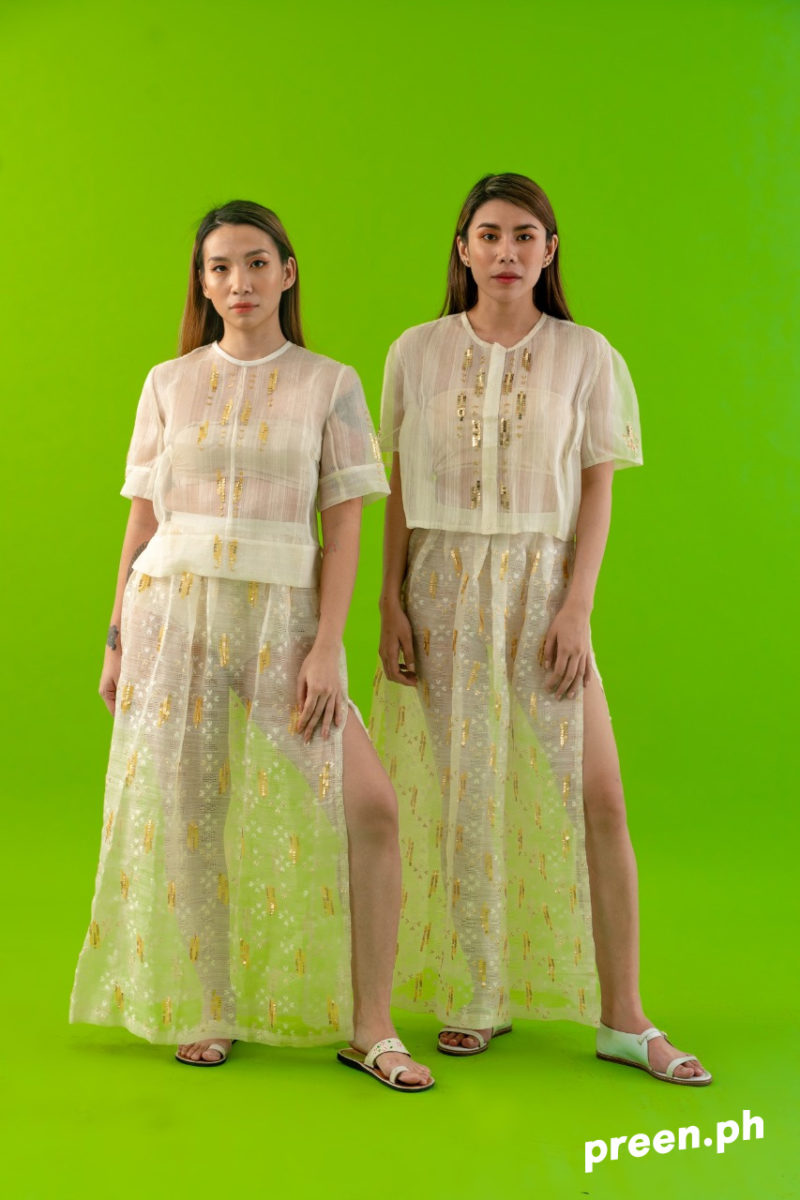 Liwayway
Apart from their handmade luxurious art de la table and designs, Liwayway is also known for their batik pants. The colorful pieces are not only comfortable and stylish, but versatile too.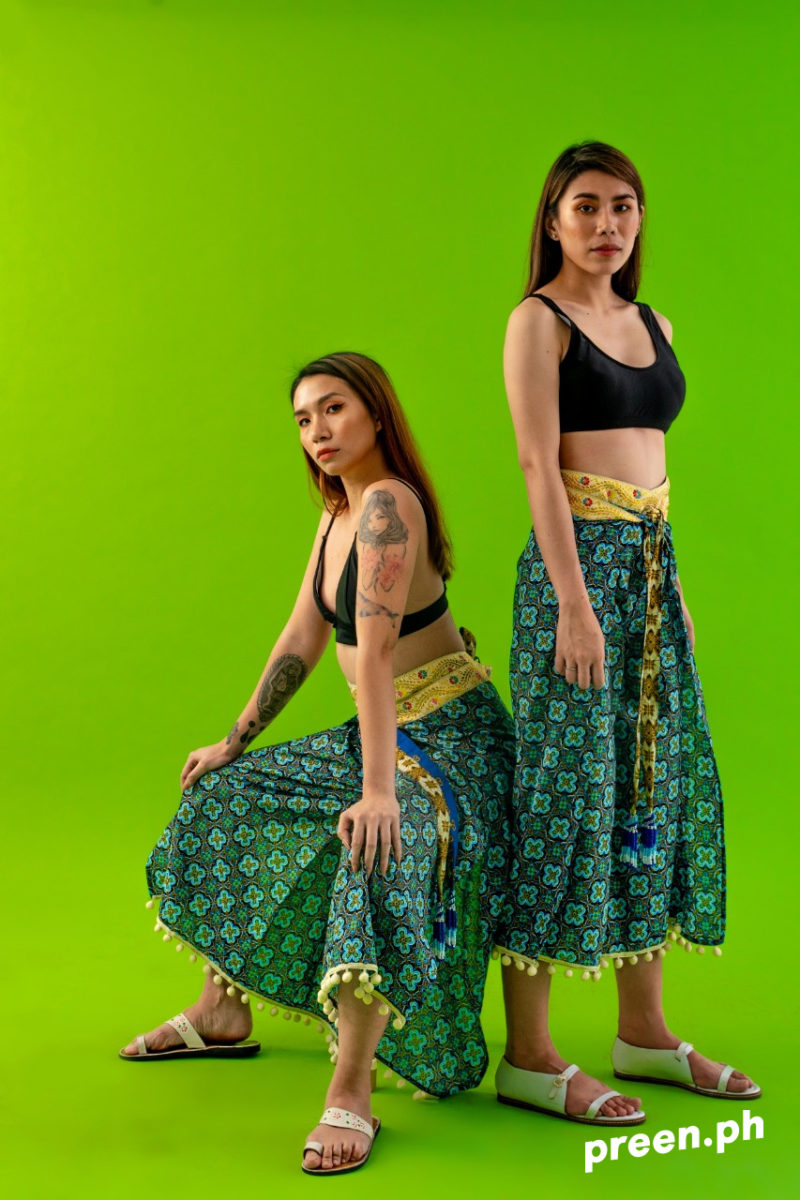 Rhett Eala
Rhett Eala has been a mainstay in the local fashion scene, and for good reason. His ever-evolving designs follow the fluid fashion sensibilities of the modern woman.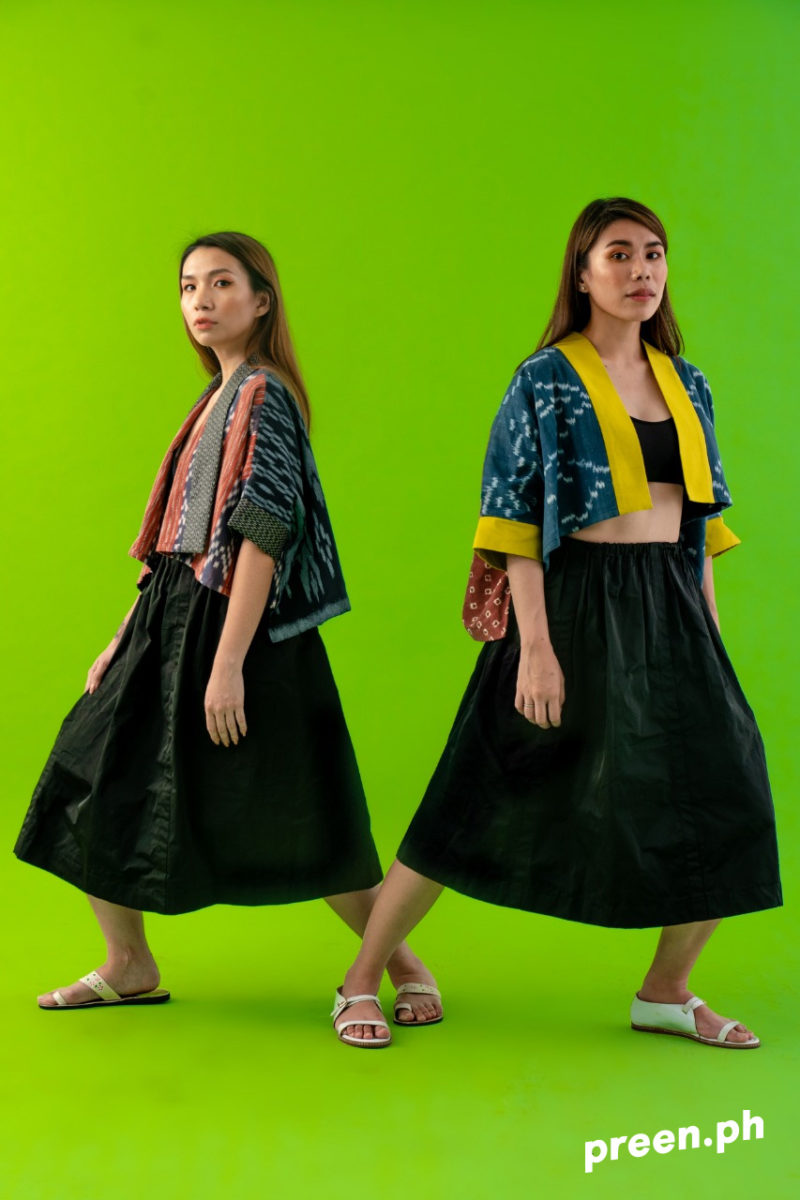 Photos by JP Talapian
Creative direction by Bea Ledesma
Styled by Bea Ledesma
Produced by Bea Ledesma
Hair and makeup by Jill Cruz
For the latest in culture, fashion, beauty, and celebrities, subscribe to our weekly newsletter here  
Follow Preen on Facebook, Instagram, Twitter, YouTube, and Viber
Related stories:
Local, leggings, and experimentation: These are not your "regular" swimwear looks
Hindy Weber isn't afraid to call out "fake" eco-friendly fashion brands
Carl Jan Cruz's Met Gala 2019 debut was totally unplanned
Joey Samson, Rhett Eala, Joanique, and more get together in one trunk show

On the day of the 2019 Met Gala, Carl Jan Cruz and his team were just going about their morning. To their surprise, the Isagani dress from the Pang-Okasyon line would make an appearance on the pink carpet.
"It's like, some of us were just getting our usual taho [when we found out]," CJ tells us in a phone interview. He says it was unexpected because Fashionista associate editor Whitney Bauck had worn the Isagani dress once before. He wasn't aware she would use it again while doing interviews at the Met Gala.
Whitney lived in the Philippines when she was a kid. In an Instagram post, Whitney wrote that she wanted to "both rep the motherland by wearing Filipino designer [Carl Jan Cruz] and [have] an excuse to be an #outfitrepeater ([because] there's nothing more sustainable than wearing what you already have)." The two have been good friends since Whitney featured CJ on Fashionista in 2018.
"The dress is an unconscious take on the Collegio de San Agustin uniform," CJ explains. "Without realizing, it tied back to the Camp theme in a way."
CJ is known for his interpretation of sustainable Filipino fashion by using re-purposed materials. In the five years he's been doing this, he's already showcased his collection at a Milan Fashion Week trade show and Paris Fashion Week. Last October, he had his first-ever fashion show in Manila.
"Maybe for others, [the Isagani dress is] just another dress [at the Met Gala] or another take on the theme. Others, maybe [they thought] it looked like a rag," CJ says. "I think like any other breakthrough in the brand, it's humbling that from our studio in Taguig, we could reach the Met Gala."
READ MORE: Puey Quiñones made his Met Gala debut—next, a Manila comeback
CJ says his brand has been steady since the Met Gala—no big changes for now. But he believes this exposure has helped "[diversify] our market in New York." He's also glad that 50 percent of their customers are from the Philippines. He surmises it's because fashion consumers are more mindful of the craft and quality of pieces. "It's not just about the hype now. Individuality is more valued."
When asked about the struggles of being a Filipino/POC making it internationally, he says he experiences it every day. "Nothing is glamorous. There's a lot of rejection especially if you're introducing something new [and] contemporary [in] Filipino fashion." But he's not one to give up on making clothing that's different and functional.
"What matters is we create something with no malice," he says. "Going into this five years ago, I think my aesthetic has become more refined and inclusive. I'm more driven [to do] a good neckline and armhole, and using the right fabric. It doesn't have to make sense in the mind, it just has to make sense sensibility-wise and how it's worn."
So, what's next for CJ after his Met Gala debut? He's not allowed to say much yet, but he's "working on a couple of things because we're growing the brand and strengthening our distributions." Keep your eyes peeled, he might just drop a new collection that you can shop.
Art by Tricia Guevara
For the latest in culture, fashion, beauty, and celebrities, subscribe to our weekly newsletter here  
Follow Preen on Facebook, Instagram, Twitter, YouTube, and Viber
Related stories:
Puey Quiñones made his Met Gala debut—next, a Manila comeback
Meet the Filipino designers who presented at Milan Fashion Week
Paris is the dream, and these three Pinoy designers are living it
Male fashion icons at the Met Gala: People agree, androgyny is the future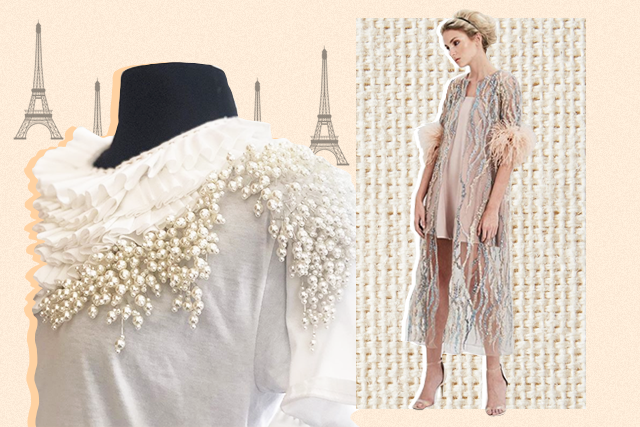 Let's face it: yes, fashion is fun—but the fashion industry can be a scary place. If you work in fashion (or if you've watched The Devil Wears Prada, at least) you'll understand that behind all that glamor is a highly competitive work environment. You'll also know how big of a deal Paris is. It's every designer's dream to have their work featured in one of the fashion capitals of the world. But for all its prestige, Paris is not untouchable. Certainly, not by us Filipinos. Yes, we are a world-class talent worthy of rubbing elbows with the best of the best in the fashion industry. For instance, this year, we have not one, but three fashion designers representing the country in the premiere Paris Fashion Week. Keep reading to find out who they are and what makes them worthy of a spot in the esteemed fashion show.
Ken Samudio
When it comes to fashion, you go all in or you're out. This is exactly what Ken did. Armed only with raw natural talent and determination to succeed, he pursued his passion of designing accessories even without any formal education in fashion. And it paid off. A biologist by profession specializing in marine biodiversity, switching to fashion didn't mean he completely let go of his roots. Ken cleverly applied this to his design philosophy. He stands out for his unique technique, which explores the natural and organic forms found in nature. His creations beautifully mimic distinct textures. Even more impressive is that he uses indigenous and recycled materials such as  upcycled beads made from water plastic bottles, recycled sea glass and other sustainable material sourced locally. He will showcase his latest works in Paris this Sept. 27 until Oct. 2.
View this post on Instagram
View this post on Instagram
Carl Jan Cruz
Unlike Ken, Carl had his eyes set for fashion greatness from the start. After an internship during the Phoebe Philo era at Céline, the 26-year-old returned to his hometown of Manila, where he fell in love with the vibrant local lifestyle—eminent on his works. Looking at collection, he is proudly Pinoy. He uses organza, reminiscent of the barong, and his looks largely feature modern designs which gives ode to the Filipino pambahay (oh, if only we can wear an original Carl Jan Cruz everyday). His approach is something else, too. Guys, this is not your regular pambahay—this is couture pambahay—which requires rigorous toiling and sampling, as well as using articles that are familiar and have been tested over the years of the wear and tear process. Carl Jan Cruz's aesthetic is "underpinned by a strong personal instinct to explore nostalgia in form of clothing—promptly questioning the repetition of silhouettes, colors, and prints." Fans of his works in Paris can officially view his collection this Sept. 26 to Oct. 2.
View this post on Instagram
View this post on Instagram
Patty Ang
Patty Ang describes herself as "born with a love affair for fashion." Like Ken, although her course in college had nothing to do with fashion, you could tell she was set to make it big. But make no mistake, it wasn't fate that brought her to where she is today, but rather hard work, and never losing sight of her goal. After graduating in 2013, she wasted no time and started pursuing it her passion professionally. Without hesitation, she enrolled at the Fashion Institute of the Philippines and Central Saint Martins in London before launching her namesake brand. She's known for her timeless pieces, mirroring her constant desire to evolve, while keeping in mind her signature style of sophistication and understated elegance. An effortlessly stylish and graceful woman herself, Patty's minimalist and classic designs are made to become a staple in every woman's closet. She's come a long way from taking a chance on her dream and now has made a growing clientele of happy women, not just in the Philippines, but all over the world. Her latest collection will make its Paris debut on Sept. 29 to Oct. 2.
View this post on Instagram
View this post on Instagram
Art by Marian Hukom
For the latest in culture, fashion, beauty, and celebrities, subscribe to our weekly newsletter here  
Follow Preen on Facebook, Instagram, Twitter, YouTube, and Viber
Related stories:
Spotted: Mich Dulce, Carl Jan Cruz, and more on 'Teen Vogue'
Meet the Filipino designers who presented at Milan Fashion Week
Andi Eigenmann and Patty Ang get a nod from 'Vanity Fair'
Spotted in Manila: Drew Barrymore wears earrings by a Filipino designer
Teen Vogue recently gave a shout-out to seven Filipino designers that are taking over the fashion world, and we are living. The list included Rajo Laurel, Rosenthal Tee, Carl Jan Cruz, Mich Dulce, Seph Bagasao, Monique Lhuillier, and Furne One.
The article highlighted how each designer created clothes that local and international celebrities have worn on the red carpet. For example, Leighton Meester wore a Mich Dulce hat on Gossip Girl and Furne One collaborated with Beyoncé in the past.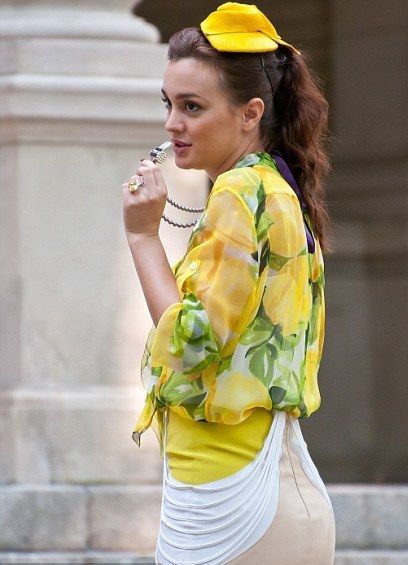 It also mentioned how their designs serve several purposes—from Carl Jan Cruz's modern take on pambahay to lavish Monique Lhuillier gowns. "The range of designs within the Filipino community is unlike any other—and what makes them extra special is the subtle nod each artist makes to their culture," Teen Vogue notes.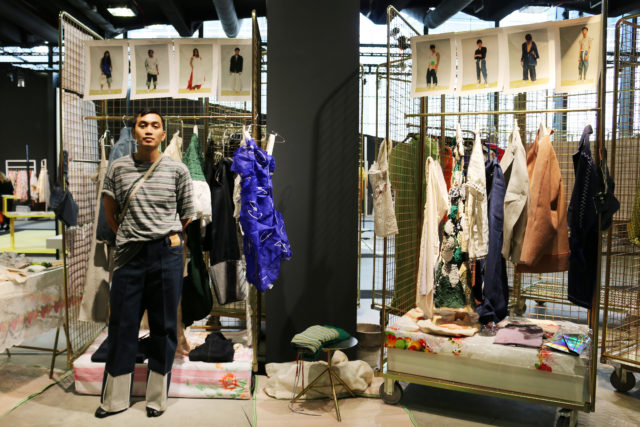 It's great that Filipino are finally getting the international recognition that they deserve. Maybe now we'll see more of their designs at red carpet and fashion week events.
Photo by Regine David for Northern Living
Follow Preen on Facebook, Instagram, Twitter, and Viber
Related stories:
Monique Lhuillier Designed Anastasia Steele's Wedding Gown for Fifty Shades Freed
Miley Cyrus' Favorite Platforms Are Made By a Filipino Designer
Meet the Filipino Designers Who Presented at Milan Fashion Week
Filipino Designer Seph Bagasao Mixes Denim and Knit for Amazon Fashion Week
How Designer of the Moment Rosenthal Tee Got Here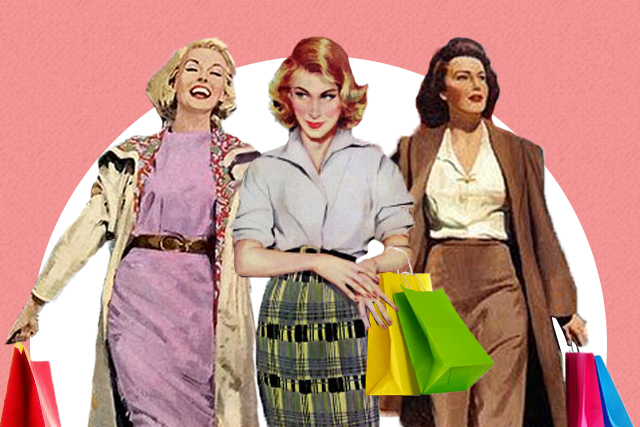 As Christmas draws near, the shopping opportunities get better and better. More than the usual spots that offer up holiday treats, the season is also when unique finds and exclusives are available. That hard-to-find designer that you save up for every year? Those special edition products that you can't find anywhere? Or even just brands that don't usually hit your radar but turn out to be just the one you need.
Over the past weekend, a lot of pop-ups and trunk shows went down, but don't fret! There are a lot more coming and ongoing so we listed them down for easy reference. Block out these dates and brace yourself!
Lanai x Halo Halo
https://www.instagram.com/p/BbtMYmFFN2z/?taken-by=lanai_manila
Better be a little smart and clear out your schedule for tomorrow if you want to catch this one. It's a one-day trunk show featuring bags, accessories, and home accents from Halo Halo. If you love their woven goods that are all-Filipino, you won't have any excuses to miss this.
Carl Jan Cruz Pambahay Launch
https://www.instagram.com/p/BbjVCDaFvHX/?hl=en&taken-by=tropa.store
CJ Cruz is a favorite of the in-crowd these days. So if you don't want to be left out, get ready for Thursday as the designer presents his Pambahay collection. It's also special since this is the first time CJ partnered up with a store for a launch as opposed to his previous ones held at his atelier.
Fete at the Park
Currently ongoing until Dec. 31, you can visit Fete at the Park to avail of the different upcoming brands such as Mantou, Shop Gala, Bare Essentials, Smell Chic, and a lot more. It's best for those who want to shop for everyone in their list in one go.
The Designer's Holiday Bazaar
Find your favorites from Joel Escober, Ken Samudio, Joyce Makitalo, and Arnel Papa at this bazaar. Piece of advice: Prepare some serious moolah and for the possibility of finding a gift for yourself this Christmas.
Minkle Craft Bazaar
https://www.instagram.com/p/Bbs8kiLlaIv/?tagged=minklecraftbazaar
If you need some fine leather goods, tassel, and semi-precious earrings, novelty food items to stuff those stockings this season, pop by Minkle Craft Bazaar from Nov. 24 to 26. Bring the whole family if you're up for it so you can make it a full-on shopping party.
Cura V Presents Au Courant Trunk Show
Featuring Patty Ang, Mark Bumgarner, Joanique, and Maureen Disini, this holiday trunk show will fill your need for something really special. Plus, you might just score what you need for the best Christmas interiors via floral atelier Ca Va and Kassa.
Vidro Glassware Exclusive Launch
We know that right now, you're shopping for more items that will make your table spreads look appropriate for the holidays. If you're smart, you can collect a few pieces from Vidro right now and get an invite to their exclusive launch next week.
If you missed out on the last ArteFino pop-up, we're giving you an early heads up for their holiday edition. Catch a few of the best that Filipino design has to offer. Last time, we caught Gabbie Sarenas, Marse Tropical Tinder, and Ito Kish.
Art by Lara Intong
Follow Preen on Facebook, Instagram, Twitter, Snapchat, and Viber
Related stories:
Design Your Home for the Holidays Like Ito Kish
Make Shopping a Breeze With These Tote Bags
Where to Christmas-Shop to Become the Best Gift-Giver Ever
A Last-Minute Gift Wrapping Guide for the Holiday Crammers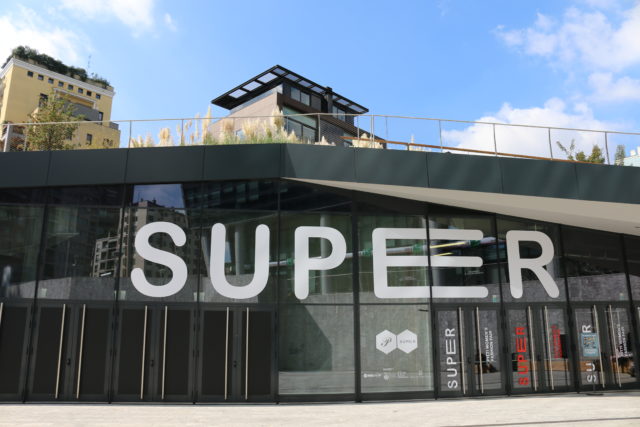 This year, opportunities seem to be bigger and more exciting for selected emerging Filipino fashion designers as they get the prestigious opportunity to showcase at Super Pitti Immagine. The trade show, which allows multiple brands from all over the world to present some of the best accessories and ready-to-wear pieces, is held yearly in Milan during women's fashion week every September.
Under the curatorship of Sara Maino, Vogue Talents reached out to certain designers from Manila and invited them to be part of the event. Know all about them: their humble beginnings, their newest collections and what's in store for their brands.
CHED Studio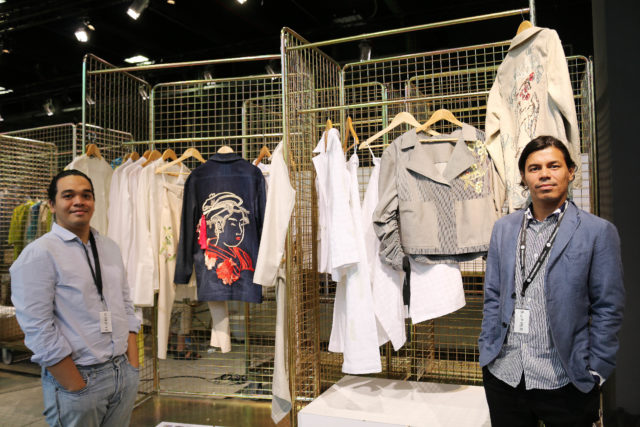 Led by power duo Christian Edward Dalogaog and Marjo Cruz, the CHED studio started in 2011 by launching a capsule collection of day-wear and easy evening pieces which are commissioned by private customers. The Fashion Institute of the Philippines' graduates share that their teamwork is essential in creating a cohesive collection, both equally contributing ideas and translating them into cut patterns themselves. One of their biggest breaks was sending pieces down the runway last 2013 at the Laos Fashion Week. As per the designers, that unexpected and positively surprising event opened more doors to the promising label.
For their new collection, the designers are inspired by Wong Kar Wai's Chungking Express. Fabrication includes silk linens and organic cotton made suitable and breathable for the warm summer days. Embroidery features tropical themes like palm trees and animal figures. Crisp and well-tailored, some pieces are embroidered with abstract monkey silhouettes and island foliage which at times are embellished with beading. Linen shirts come mostly in white, some of which are accentuated with a ton-sur-ton intricate pattern while others have the occasional pop of yellow ruffle details.
The power duo explains that the CHED woman can perhaps be personified as a 28-35 year old fashionable lady who wears smart clothes and loves to have sportswear in her wardrobe. With this in mind, the designers think that their vision of creating clothes with artisanal craftsmanship and original artworks sets their brand apart from the rest. The brand aims to further expand internationally after this stint with Vogue Talents.
Carl Jan Cruz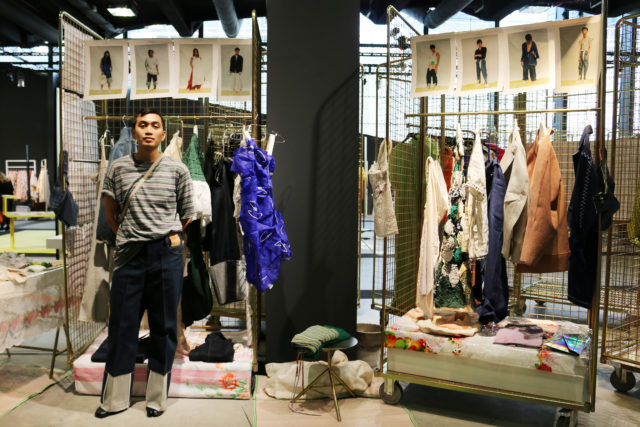 Carl Jan "CJ" Cruz, at the age of 25 is one of the younger designers to watch out for. He graduated from London College of Fashion with BA Fashion Design Technology Menswear and interned abroad for famous brands Céline and Vivien Ramsay. Upon his return to Manila, CJ worked for Melissa Dizon in Eairth while simultaneously acting as creative consultant and stylist to numerous local brands, until finally starting his own label "Carl Jan Cruz."
The new collection is a continuation of the Pambahay, Pang-okasyon, and Pang-alis lines, a predecessor compilation of works which solidifies CJ's strong aesthetics. It is a visual autobiography influenced by his Filipino and British roots. Textiles are experimental: tech bonded denim with canvas; crepe fabric, jerseys and silk linens. Reversible shirts have raw edging with inside-out stitching and denim pants are customizable to the client's preference as they can be cuffed to any desired length. Oversized coats are fully hand sewn which takes weeks to finish. A particular multi-colored dress composed of press-wrinkled circular panels, inspired by the common 'trapo,' stands out from the collection and happens to be a crowd pleaser.
The designer does not necessarily associate his brand with a specific customer. As he explains, he prefers for his designs to neither be limited to a specific person—no body type nor age restrictions. And for him, the familiarity of his creations to everyday pieces that consumers wear on a daily basis is a positive proof of how relatable his brand can be to the people.
CJ happily shares that the brand will also be showing at Paris for fashion week happening now. When asked about his future plans for the brand, he says that he is still overwhelmed with the support he is getting from people who believe in his craft and he simply hopes for the brand to grow and expand at its own pace.
Joana Almagro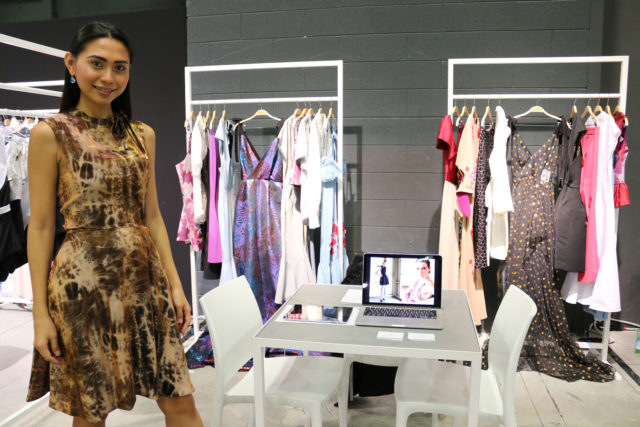 Originally from Dipolog, Mindanao, Joana felt the desire to be a fashion designer after finishing her nursing degree in Centro Escolar University. She decided to enroll at Slim's Fashion Design School for a course in garment construction and continued to further her studies in London while simultaneously participating internationally in fashion design competitions. It is with her graduate collection that garnered attention and put her in the list of new wave fashion designers. In contrast to the other two abovementioned designers, Joana participated already in the Super Pitti last year as an exhibitor.
Joana's latest collection is a remarkable evolution from her previous ones. Inspired by the baroque influences of Madame Pompadour and painter Theodore Vero's gothic color palette of burgundy, navy and black, the ready-to-wear pieces encompass elegance and easy wearability. In conjunction with her alpha and omega logo, inside-out triangular darting becomes interesting accents while half-rounded pleating details are incorporated in skirts. Lace layered boxy trousers, lightweight sheer tops and denim floral dresses offer a multitude of options for her clients. Evening wear in exquisite brocade and embellished organza complete the collection.
The Joana Almagro client is a powerful and fashion forward woman. The designer takes pride in creating pieces that will naturally complement a woman's body while keeping the timeless and sophisticated quality to them. She says that her current collaboration with Harrod's as a brand specialist made her understand more the realistic demands of clients while allowing her to also grasp the merchandising aspect of the fashion industry.
After Milan fashion week, Joana will be heading to Bilbao, Spain to participate anew in another trade show. She hopes to make it big in the British scene and hopefully conquer London Fashion Week.
Photos by Dania Angela Flores
Follow Preen on Facebook, Instagram, Twitter, Snapchat, and Viber
Related stories:
Milan Fashion Week Accessories Are All that Glitters
Milan Fashion Week Introduces to Us the Anti-Christmas Sweater
Maureen Wroblewitz and Kryz Uy Are Taking Over New York Fashion Week
5 Things From New York Fashion Week That Made US Feel FOMO